The 2013-2014 Notre Dame men's basketball season is a frustrating thing to deconstruct. On one hand, you have one of the most incredible snake-bitten season's possible with the academic suspension of Jerian Grant, Austin Burgett needing heart surgery of all things, Demetrius Jackson had his own academic issues for a short while, and Cameron Biedscheid going from redshirt to transfer. On the other hand, you have simply the worst Fighting Irish basketball season in the Mike Brey era, ending the season below .500 and winning only one conference game on the road against Boston College, an eight-win team.
The season was also full of multiple frustrating performances and some, like Indiana State and Ohio State, came while Grant was still on the roster. While I can certainly say, this team "never quit", the other side of that coin is that they could never quite get over the hump. When something like that happens, I can't help but look at coaching.
And perhaps this is a good time to take an aside. I'm far from Brey's biggest fan. My first experiences with him as a student weren't exactly great:
[table "" not found /]
Three incredibly mediocre-at-best seasons, with some court-storming worthy upsets mixed in, all ending with postseason disappointments. I thought that streak stopped during my senior year after a horrid 2005-06 campaign, but then I was slapped in the face with a 10 point loss to 11-seed Winthrop. Not exactly a great way to win someone over.
And that seems to be the way of things: meddle around, throw in a big win here and there, finally get a bit of hope, and get slapped in the face by postseason reality. And right or wrong, those postseason memories (or lack thereof) are the ones that stick the longest.
I do understand that Brey and Notre Dame are fighting a bit of an uphill battle as it is in men's basketball. ND isn't in the business of attracting the one-and-done superstar nor are they ever going to be heavily involved in the ever-increasingly shady AAU programs. Basically, I don't have any illusions that ND will ever be considered an annual national title contender, but I don't think it's too much to ask for a bit of postseason noise/excitement on a semi-regular basis.
I'm also aware of the other favorite excuse: sub-par facilities. While I know it isn't helping the cause, Brey pulling in two of his best recruiting classes ever seems to shoot that argument down immediately. Further, I'd argue it's easier to sell postseason excitement to a recruit than nicer practice digs. And while I hate drawing analogies to football, to me it would be like saying that we should've been more patient with Ty because the Gug was on the way or that Weis' two BCS appearances were a direct result of the Gug.
In short, for the past decade of watching Brey-ball (and for others that have seen this for four additional seasons), all the excuses and continual postseason disappointments have grown increasingly stale (and that's with my personal preference of boring play-style aside). However, this year, coming off Brey's two best recruiting classes, falling this flat, loss of Grant or not, is inexcusable.
Even worse, Brey had this to say about next season:
We were 6-12 in the regular season. How far were we from nine league wins? We weren't that far from nine league wins or I would be even more concerned…Nine league wins would be absolute heaven next year. That's where you start.
Absolute heaven?! I'm not sure trying to be next year's NC State, who just barely scraped their way into the Big Dance thanks to SMU's horrid out-of-conference schedule, fits that bill.  And while Brey believes this year's team was close to nine ACC wins, they were also just as close to only having three ACC wins as two came in OT and one by a margin of only three points.
I can understand Brey trying to deflect a bit of concern away from his team considering what happened to them this season, but to set the bar so low for next year is just mind-boggling. Going .500 in conference play should be a stepping stone of a season–nothing more, nothing less.
Perhaps that .500 mark is a good measuring stick for a young team rebuilding, but if Grant returns as planned that isn't a rebuilding year, that's getting back a potential NBA lottery draft pick. With Grant in place, if young players like Jackson and Zach Auguste play up to their potential, you have a team that, on paper, should have a much higher expectations that tripping over a .500 bar.
In short, I'm not exactly sure which direction this program is going. To crib from True Detective, Notre Dame is in a flat circle of time, going nowhere but right back to where they started a few years ago.
I certainly hope that I am wrong about all this and this is all simply my pessimistic bias of Brey taking over rational thought. At some point though, I need to see a spark that shows me 2014-15 is a new beginning for this team. Because if it looks like we are starting another classic cycle of Brey, I'm going to go mad watching the rest of the Brey-era.
#BreyBallIsDeterminedToKillMe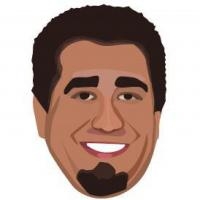 Latest posts by Ryan Ritter
(see all)