Scene: Bowling alley.
NDtex, Bayou Irish, and Irish Elvis are all on the same lane shooting a practice round. Elvis is at the line while Tex has recounted a story of how a large tree branch from an elm tree feel on a fence in his backyard, pissed that the damage isn't severe enough to even cover his deductible. Elvis, unaware of the story at hand, rolls a strike…
Elvis: WHOOO! I'm throwin' rocks tonight! Mark it, Tex.
Completely unaware, Bayou continues the conversation with Tex…
Bayou: So this was uh…
Tex: Yeah, man, it really tied the backyard together.
Bayou: So this was a valued, uh…
Elvis: What tied the yard together, Tex?
Tex: My fence.
Bayou: Where you listening to Tex's story, Elvis?
Tex: Bayou…
Elvis: Huh?
Bayou: Where you listening to Tex's story?
Elvis: I was bowling…
Bayou: So you have no frame of reference here, Elvis. You're like a child that wonders in to the middle of a movie and want's to know–
Tex: Bayou, Bayou–what's your point?
Bayou: There's no reason–here's the point, Tex–there's no fucking reason–
Elvis: Yeah, Bayou what's your point?
Bayou: Huh?!
Tex: Bayou, what is the point?! Look, we all know what is at fault here, what the fuck are you talking about?
Bayou: HUH?! NO WHAT THE FUCK ARE YOU–I'M NOT…we're talking about unchecked aggression here, Tex…
Elvis: What the fuck is he talking about?
Tex: My fence.
Bayou: Forget it, Elvis, you're out of your element!
Tex: Bayou, the branch that fell on my fence–I can't go give it a bill! So what the fuck are you talking about?!
Bayou: What the fuck are you talking about?! The tree branch is not the issue here, Tex! I'm talking about drawing a line in the sand here, Tex. Across this line, YOU DO NOT PASS–also, Tex, tree branch is not the preferred scientific nomenclature, Ulmus americana, please.
Tex: Bayou, this isn't a Boy Scout project, this is just a branch–
Bayou: What the fuck are you talk–
Tex: Bayou, it fell on my fence!
Elvis: It fell on Tex's fence.
Bayou: ELVIS, YOU'RE OUT OF YOUR ELEMENT! Tex, the tree branch is not the issue here!
Tex: Then, what?!
Bayou: Stanford. The only school lazy enough to make their mascot a tree.
Tex: Now that's fucking interesting, man. That's fucking interesting…
Bayou: Plus, they have the wealth, obviously, and they have the resources, so there's no reason, there's NO FUCKING REASON why they can be lazy nature-loving hippies and choose a mascot that has branches grow out of control everywhere, and then one comes down and falls on your fucking fence! AM I WRONG?!
Tex: No.
Bayou: AM I WRONG?!
Tex: Yeah, but–
Bayou: Ok then, <clears throat>. That fence really tied the backyard together did it not?
Tex: Fuckin' A.
Elvis: And a tree branch fell on it.
Bayou: Elvis, please…
Tex: You know this is the fucking school–Notre Dame is going to play this school–
Elvis: They're playing Notre Dame? Our alma mater is Notre Dame!
Tex: This is the school that should compensate me for the fucking fence with a loss. I mean they choose the worst mascot of all time and a tree branch falls on my fucking fence?
Bayou: It fell on your fucking fence.
Tex: It fell on my fucking fence…
Bayou: That's right, Tex. It fell on your fucking fence…
This aggression will not stand, man. Go Irish. Beat Trees.
The Roundup
The Friday Roundup has a logo! Thanks to the talented @phillykelly, the Friday Roundup now has a nice graphic that'll go with every post. This is only the first of many contributions of graphical awesomeness:
So Hoke got the dreaded vote of confidence. Even better, Brandon did it in blog form.
Speaking of Michigan, even the Ohio governor is throwing shade at you. And I quote, "When we beat you like a drum every single year, you better start looking for a new rival." BOOM.
So, Jameis Winston, you might want to lay low for a bit. When being investigated for a pretty serious crime, getting tied up in a BB gun fight and stealing soda from a Burger King seems like a series of pretty stupid decisions.
RUN THE DAMN BALL, SHAW! Seriously, that's two weeks in a row. I'm just dying of laughter.
And now, your moment of zen… via Spencer Hall and Blatant Homerism.
Put These Games on Your Radar
Now last week was more like it. 5-1, foiled only by my over-confidence in a slightly-homerific pick in the Aggies. That moves me to 23-19. Time to finish this sucker strong.
[table "" not found /]
Predictions
SupermanTDJesus has found his way on the board. With two games left, it's still anyone's game.
[table "" not found /]
Note: Due to the holidays some predictions might be more delayed than usual. Be sure to check back here again before kickoff.
This is another tough one to try and predict. I expect a game similar to BYU, but much more physical, which worries me because of the lack of defensive depth with all of our injuries. Although their offensive styles are similar, Stanford is a much different beast than BYU.
However, Stanford has proven to be mortal this season. Loses to Utah and a resurgent Southern Cal were both completely unexpected and now here come the Irish as a 14 point dog with Stanford knowing that their spot in the Pac 12 title game is secure.
Looks like a decent recipe for another Stanford loss.
ND 23 – Stanford 17
Via:
The damn tree.

Frankly, I'm impressed by what the post-Harbaugh staff has been able to accomplish at Stanford. Keeping recruiting going, capitalizing on the overall brand of Stanford, and sticking to a plan and executing it well. Last year's game was one for the ages and I STILL can't believe we held them. And yes, WE DID FREAKING HOLD THEM. Unbelievable! Still fired up about it!

But this year, Stanford will be a more complete team than Notre Dame. Both defenses will be tough, but the Tree will bring a bit more offensive firepower to the table. They'll be playing for a BCS berth, so this is pretty much a playoff game. A 1-loss ND team against an undefeated or 1-loss Stanford team? This has BIG GAME written all over it.

Unfortunately, we won't get those bounces this year. We can't always get them, and last year we got plenty (after giving them ALL away the year prior). Stanford and ND will be a battle to remember. It will have national implications, and the two 'smart football schools' will go at it toe-to-toe. The Irish will have a chance to win it, but I see the Tree pulling this one out in some freakish way, much like ND last year.

ND Loses 24-21

 1 Leprechaun – waaaaay up in the air.
I have the tree triumphant, but in galling fashion: Tuitt and Shembo both ejected for targeting in calls worthy of the worst WWE injustice. Our beleaguered fronts cannot withstand four quarters of ticky-tack penalties and personal fouls. Tommy throws three INTs as he gives back what the defense gives him.
Stanford 38, ND 24
Irish give us a BCS conversation with a 24-20 win over Stanford.
34-21 Stanford
Twin 2 "The Younger" Duex Secret of the Ooze: (@HLS_Podcast): It's fun to attack Stanford's #8 BCS ranking. To wit, of the five ranked teams they have beaten only one has improved its rank since then, Arizona State. A team ND beat. Two of their ranked opponents are no longer ranked. One of their unranked opponents is now ranked, USC. A team ND beat and Stanford lost to. Their combined rank for scoring and points allowed is the lowest of BCS top ten. Their combined rank in rushing and passing yards is the lowest of the BCS top ten. Their mascot is a plant. A quick overview does reveal some strengths. When they win, they win in a polished fashion. They control TOP and their 3rd down efficiency in wins is impressive. Turnover margin is a great predictor for them. Notre Dame can win this game, but only if a couple conditions happen. Stanford has to turn it over twice. And they have an Achilles heel which you wouldn't expect from a bunch of smart kids: penalties. Notre Dame is designed to slow games down which increases the per-play and per-penalty value of every whistle. Stanford is smelling BCS glory and Notre Dame is trying to send out some beloved seniors and NFLers with a bang.
ND is victim of some bad calls and a 24 – 24 tie goes to OT. Stanford prevails 31-27.
Twin 1 (@HLS_IT1): 31-27 iIrish & Jaylon Smith finally gets his touchdown.

Notre Dame wins the Pac 12 championship by uprooting the Trees.
ND 23 – Trees 20
I stand with Lou Holtz. Notre Dame wins a hard fought game. Tommy comes through with the biggest win of his career. Missing some players on D because of… something? Doesn't matter. Next man in, yadda yadda yadda. ND is Pac 12 champs. Again.
27-24 ND
I hate when I'm sure Las Vegas knows something I don't. The game opened with Stanford as two touchdown favorites and, much to my surprise, moved up to 15 points on Friday. Maybe those guys knew about the Elijiah Shumate & Eilar Hardy suspensions that would leave, and I don't have my notes handy, 26 of initial 33 man defensive 3-deep not suited up for Saturday night.
I just can't shake the feeling that these are two teams who play to the level of their opponents for better or worse. While Irish fans lamented lackluster wins versus Temple & Purdue, Stanford was squeaking by Army. Head scratching Irish losses to Michigan & Pitt are countered by Stanford's bad L's against Utah & USC. So … these are dysfunctional teams that have the ability and talent to dominate, but lack greatly in team-wide consistency.
I trust the Irish in a slugfest after rebounding against BYU. Is there any reason for ND to NOT want to control the clock more than normal to keep this defense off the field? I say a RB/TE heavy offense maintains a close score and the Irish defense does enough to limit multiple drives to 3 pointers. Kyle Brindza adds to his legacy with a late FG to secure a win. Pac-12 Champs ya'll!!
22-19 Notre Dame
I can't say a lot in terms if breaking this game down. It's gonna be a tough watch whether they start blowing ND or ND stays in it late. I expect to see a slow pace in this one although it may behoove the Irish to come out guns blazing. Stanford is crazy on D this year and I'm not sure I'm convinced we can hang for 4 qtrs. short of Folston running wild, were gonna need TJ to have a big day. Getting Corey Robinson involved in the vertical passing game could and would do a lot to help save Tommy from an awful Pitt-style performance with this pass rush.
I see it being decided late in the 3rd. Stanford takes the win 28-16.
The Booze
So, initially, last week's booze was going to be this week's as the theme of the post was planned for some time now. However, I felt like last week we needed to be more Dude-like in our bye week, so there went the White Russians.
Then someone threw this drink my way: The Lumberjack which is one part each of simple syrup, Southern Comfort, and Applejack and two parts gin.
I've also dug up something called a Tree Climber thanks to the wonder my booze app on my phone: in an ice-filled shaker mix one part each gin, Midori, triple sec, vodka, white rum, sour mix (recipe has 1 oz), shake and strain/pour into a cocktail glass and float cranberry juice on top.
Finally, if you want to mock Shaw and his phantom whistle bullshit in alcohol form, we have the shot for you, the Whistle Stop: layer half the shot glass with Grand Marnier and top the other half with a layer of Jack Daniels.
I make no guarantees for the taste of any of these drinks. Go crazy.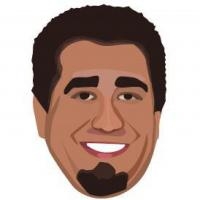 Latest posts by Ryan Ritter
(see all)