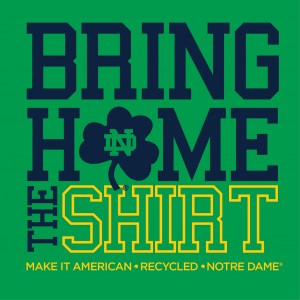 Our fellow Domer and former Notre Dame safety, Chris Yura, has an exciting new project that I'd like to share with you.
His company, SustainU, is an American clothing company that produces high quality apparel using fabrics made in the USA from 100% recycled materials to provide extraordinary comfort and wear, while reducing environmental waste, carbon emissions and water use. All of SustainU products are manufactured in the United States to decrease the transportation emissions and employ factories in need of jobs.
Chris Yura and his company SustainU are currently bidding to be the vendor to produce "The Shirt" for 2014. The Bring Home The Shirt movement was created to encourage Notre Dame to use alumni-owned, domestic and environmentally beneficial manufacturing, for the student shirt program. "The Shirt" offers the Notre Dame Family the unique opportunity to showcase their shared values of social, environmental and economic sustainability and responsibility.
"The Shirt was the inspiration behind creating SustainU" Founder and CEO of SustainU Chris Yura commented, "Notre Dame Apparel is such a unique, unifying identifier for fans and alumni around the world. We believe we have created an authentic and genuine line of clothing that properly represents the ingenuity and integrity that is Notre Dame". SustainU Clothing, started in 2009, and has worked with Fortune 500 Companies, Large Retail Companies, and hundreds of colleges and universities in creating 100% recycled, American made apparel. "I feel very blessed to say that I had the opportunity to earn my degree from The University of Notre Dame and letter 4 years in football, this company is a reflection of an institution that gave me so much".
A SustainU "Shirt" would not only complement, but dramatically increase the sustainability story Notre Dame would be able to tell. If Notre Dame were to choose SustainU to provide "The Shirt" this year, the social and environmental impact could be enormous. "I am from West Virginia and started SustainU in my hometown because Green, domestic job creation needs to start in areas like Appalachia. We have the people and technology to create amazing products to service universities like Notre Dame. We just need the fans and alumni to support the workers in America and the communities in desperate need of in-sourcing."
The Apparel Industry left many communities in the United States in desperation after the NAFTA Agreement. The lower labor wages offered by oversea economies has left the domestic apparel industry decimated with only 2% market share of the clothing worn in America compared to 40% in 1998. "There are bright spots in foreign manufacturing in terms of higher wages and better treatment of workers but it seems many domestic apparel companies have forgotten about the thousands of workers they left behind when they off-shored jobs. We are part of a global economy and we need a telescope for progressive, collaborative development to service the largest consumer market in the world, which is the USA. But, we also need a microscope to find the advantages in transportation and technology to develop opportunities for people and communities in America to compete."
Please follow The Bring Home The Shirt movement on facebook and help us spread the word!
Cheers!