Notre Dame's offense had its most efficient outing of the year against Navy last week. The Irish amassed 506 total yards and averaged over nine yards per play. With the run game firing on all cylinders, Notre Dame kept Navy's defense off-balance with some timely bootleg passes to tight ends Ben Koyack and Troy Niklas. If the offense continues using multiple-tight end formations, look for more bootleg passes in the coming weeks.
What are bootleg passes?
Bootleg passes are misdirection plays designed to get the defense flowing one way to stop the run while the quarterback rolls out in the opposite direction. They are constraint plays that force defenses to play honest. The threat of a bootleg can aid the running game by delaying backside pursuit and opening up cutback lanes for running backs. Teams frequently use bootleg passes in the red zone and in short-yardage situations when the defense is packed in and keyed to stop the run.
Bootlegs also perfectly complement a zone running scheme because zone blocking often shifts to the playside. Let's look at an example of how Notre Dame ran a play-action bootleg off of an outside zone play against Navy.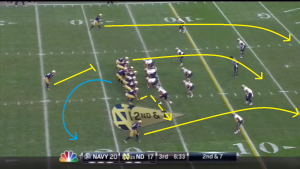 Notre Dame lines up in a balanced Ace formation with T.J. Jones and Troy Niklas lined up to the field and Ben Koyack and Davaris Daniels to the boundary. Navy is in a compressed 3-4 defense. The offensive line is responsible for blocking the playside defenders and the backside defensive end who is lined up between the right guard and right tackle. The hold-off player, Koyack, must account for the end man on the line of scrimmage (EMLOS) before releasing into the flat.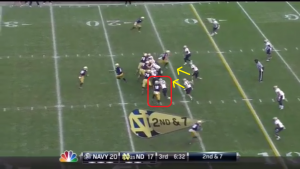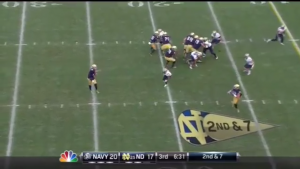 The play looks like an outside zone run to the field. The linebackers flow to the playside while Koyack seals the EMLOS on the backside. Rees appears to be reading the play from low to high and flips the ball to Koyack before the linebackers can recover. Koyack turns up field for an easy score.
[youtube id="8biKI2Jrk0o"]
Conclusion
If Notre Dame continues to run a heavy dose of inside and outside zone plays from two-tight end formations, bootleg passes like the one above should help keep backside defenders from over-playing the run. And while throwing on the run is not one of Tommy Rees' strengths, bootlegs give him a simple low to high read and do not require him to throw across the field.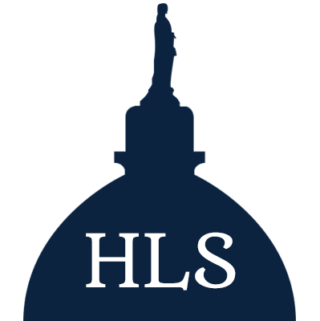 Latest posts by Blog Davie
(see all)