With Notre Dame clinging to a three-point lead late in the third quarter against the Boilermakers, Everett Golson connected with Corey Robinson for a 15-yard touchdown. The touchdown was Robinson's first of the season and is a good example of how Notre Dame uses the "Slash" concept in the red zone.
What is the Slash concept?
Slash is a two-man route combination. The outside receiver runs a seven-yard hitch approximately one yard from the sideline while the inside receiver runs a "Bow" route, i.e., an angled seam route, 15 yards deep and five yards from the sideline. The quarterback reads the boundary corner. If the corner drops to cover the Bow route, the quarterback should throw the hitch; if the corner plays shallow, the quarterback should throw to the inside receiver on the Bow. Like the "Smash" concept, Slash is particularly effective against Cover 2 defenses because it vertically stretches the corner.
Let's take a look at Robinson's touchdown.
On 1st & 10 from the Purdue 15, the Irish line up in a 3×2 empty formation with Robinson and running back Greg Bryant lined up to the boundary. The Boilermakers line up in a two-high shell with soft corners. Given the defensive alignment, Golson's pre-snap read is likely Cover 2 or Cover 4.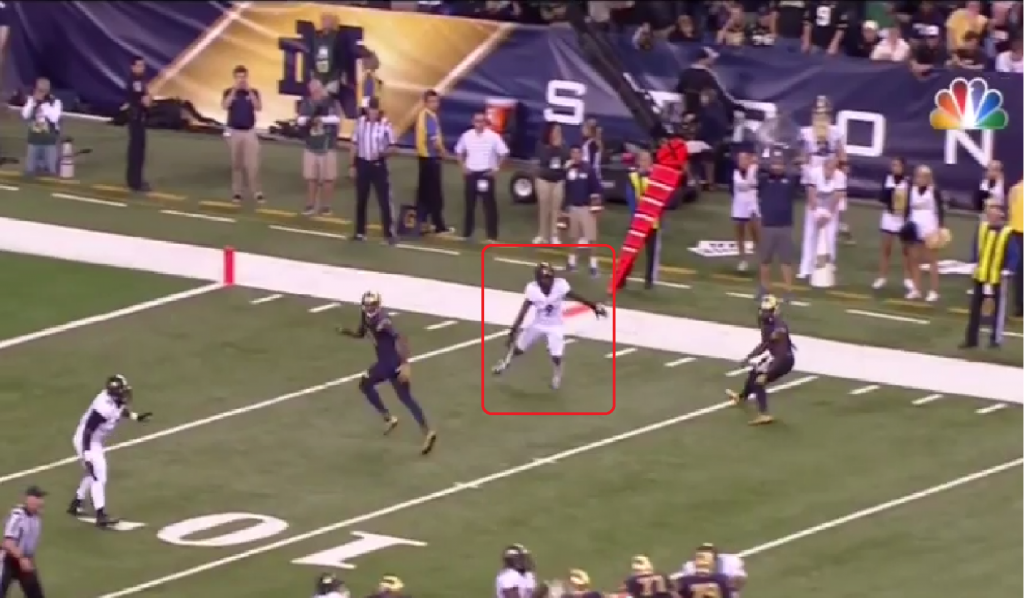 Purdue drops into a two-deep, five-under zone defense. The boundary corner is playing soft and gets caught momentarily leaning toward the hitch route underneath as Robinson heads for the goal line.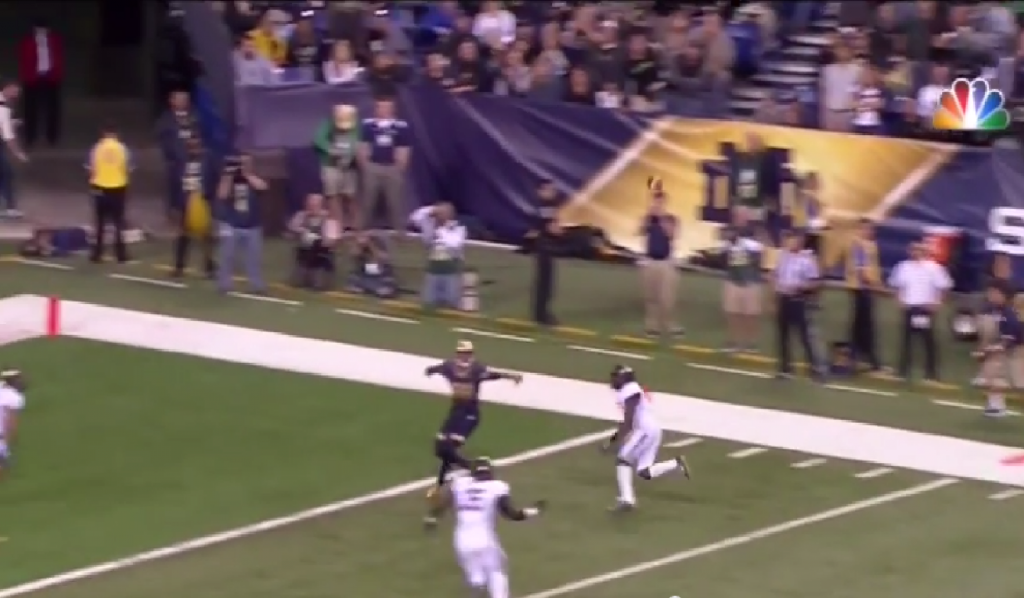 Golson recognizes that Robinson has the corner beat and makes a back-shoulder throw to keep the safety from making a play on the ball. The safety is late breaking on the ball, and the 5'11" corner is no match for the 6'4″ Robinson. Strike up the Victory Clog.
Conclusion
Slash is a great concept that fits Brian Kelly's philosophy of attacking the boundary. It allows big targets like Robinson or Ben Koyack to run fade routes without having to beat press coverage at the line of scrimmage, and it can create favorable mismatches for the Irish offense. Look for Notre Dame to continue using Slash in the red zone as the season progresses.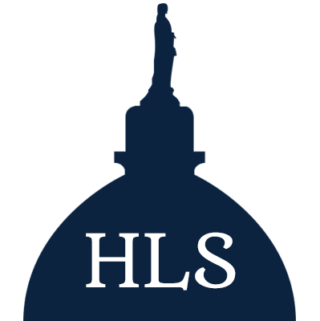 Latest posts by Blog Davie
(see all)