After a phenomenal performance against Temple, I took a waaay too early look at Tommy Rees vs. the the field of NCAA quarterbacks. After the first week, Rees ranked 4th in the country in passer rating (yes, a very flawed stat). While he has come down to Earth since then, Tommy is still 13th overall – 3 spots behind Johnny Manziel and 1 spot ahead of Aaron Murray. In total QBR, a much more thorough representation of overall quarterback performance (explained in detail here) Rees comes in at 39th in the country – 1 spot behind AJ McCarron and 2 spots ahead of Tajh Boyd.
In this post, however, we will look at the 2013 Tommy Rees vs. the 2011 Tommy Rees. Of course, it should be remembered that we are only 25% of the way through the regular season. Let's first take a look at some overall passing statistics.
While Rees's QBR is significantly improved, he is also on pace to throw for 28 touchdowns with 8 interceptions, compared to the 20/14 he put up in 12 games in 2011 (remember he played in all 13 games but didn't play the 1st half of USF or the 2nd half of Stanford). What might stick out to me the most, though, is passes completed of 15+ and 25+ yards. Rees is on pace to complete 92 passes of 15+ yards compared to 64 in 2011 and 40 passes of 25+ yards compared to 20 in 2011. We had a lot of concern about Rees's arm strength coming into the season, but he has helped to alleviate some of those worries early on. Rees's 4th quarter bomb to DaVaris Daniels against Purdue traveled 48 yards through the air before finding Daniels perfectly in stride.
Breaking down Rees's numbers by half, you'll notice a significant improvement in passer rating from 2011 in both the 1st and 2nd halves. Additionally, in both 2013 and 2011 Rees has performed noticeably better in the 2nd half compared to the 1st. One thing I've always respected about Rees is the ice running through his veins and his ability to step up under pressure. If the defense continues to struggle, it will be particularly important for Tommy to keep his strong second half performances going.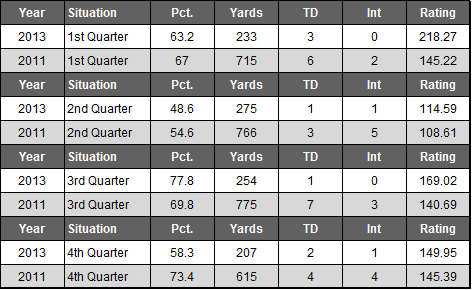 For an even more granular breakdown, Tommy has been better in every quarter so far this year than he was in 2011. To quickly touch on his completion percentage in 2013 vs. 2011, I believe much of the difference is due to the play calling rather than Rees's actual accuracy. The Irish are taking far more shots down the field this year, while in 2011 the vast majority of pass attempts were for 10 yards or fewer. Interestingly, the 2nd quarter has been Rees's kryptonite during his ND career, with his performance being considerably worse than the other 3 quarters.
And finally we take a look at Rees's performance based on field position. There has been a lot of talk about ND's struggles in the red zone through 3 games this year. During Rees's career, however, the red zone has been where he's prospered, while it's been at midfield that he has struggled most. While his completion percentage is low in the red zone this year, he's only had 16 attempts (the bulk of which came against Michigan). It is clear that Rees needs to pick up his performance in enemy territory this year – looking at all of the numbers, this is the first area we've really seen a drop-off compared to 2011. Maybe more important, though, is improving play between the 40s to give the Irish more chances at putting points on the board.