Yep, it's true what they say: chicks dig the long ball.
More than any other season since Brady Quinn left the Irish, Notre Dame wide receivers have been averaging HUGE numbers in terms of average yards per catch. So far this season, 6 ND receivers are averaging more yards per catch than anyone not named Michael Floyd or Golden Tate has since 2006 (with the small caveat of only including players with 10 catches in a season). TJ Jones, DaVaris Daniels, Hercules Niklas, Chris Brown, Will Fuller and Corey Robinson are all averaging over 14 yards per catch.

Since the start of the 2007 season, Floyd and Tate averaged over 14 yards per catch twice (both did it in 2008 and 2009), while Daniels has been the only other receiver to cross the threshold after averaging 15.8 last season. In addition, both Daniels and Jones are on pace to catch more balls this season than Floyd did in either the 2008 or 2009 seasons (injuries obviously played a factor).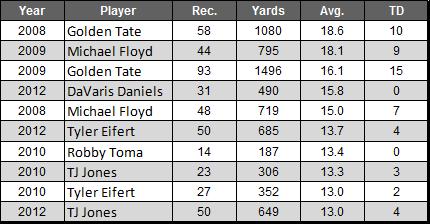 A few weeks ago, I wrote about Tommy Rees's strength in throwing the long ball. Nonetheless, I do not believe his ability to push the ball down field is in the same league as Jimmy Clausen's was during the 2008 and 2009 seasons. So why are so many receivers catching more long passes? First, I believe it starts with the offensive philosophy. When you look at the leading Irish QB's yards per completion over the past 7 seasons below, you'll notice that Rees's 2013 numbers are 1 yard higher than any previous quarterback's (including his own in 2011).
Rees has not been a world beater on deep routes, but has shown a very strong ability to keep the ball where only the Irish receiver can reach it. The chemistry he and TJ Jones have developed has been critical to the success of the passing game and incredibly fun to watch this season. DeVaris Daniels' speed and Troy Niklas's knack for finding more open space than any defense should ever allow a 6-7 man to find have been hugely beneficial as well. Most of all, though, what should stick out to us is the depth the Irish have built at the position.
TJ Jones and DaVaris Daniels are very, very good wide receivers. Troy Niklas is growing into one of the top tight ends in the country. At this point, though, they do not have the same skill sets that Golden Tate, Michael Floyd and Tyler Eifert brought to the table. At the same time, their supporting cast is so much stronger that it's given defenses more difficulty in coverage and has given Rees far more weapons to work with than in past seasons.
With the weakest stretch in Notre Dame's 2013 schedule coming up, we may very well see these numbers improve further. Or they could, ya know, run the ball against inferior defenses…