Every year, Keith Arnold over at Inside the Irish does an annual ranking of the top 25 players on the Notre Dame roster. This year marks the second year that I have been able to contribute and, this time around, I wanted to give a break down of my rankings.
Thankfully, I don't have to justify ranking a kicker #1 (NEVER FORGET) or leaving our starting QB off the top 25 list (NEVER FORGET THIS AS WELL).
So without further ado, let's get to the rankings.
#25 – #21
I'm splitting these into sections of five, not just because that's how Keith did it, but because that's how I tend to form the rankings in my head.
For the bottom five, I usually rank on pure potential. You'll usually see most of the incoming freshmen around this area, but every now and then you'll see a veteran in there as well. This year, that definitely happened.
#25 Chris Brown (Sophomore, WR) – Chris rounded off my top 25, mostly because I just couldn't shake the long bombs he pulled down last year out of my head. The one against OU was one of the top plays of the entire season. The kid has some serious breakout speed and I'm hoping he can parlay this into a Golden Tate-type breakout year in 2013.
#24 Ishaq Williams (Junior, "Cat" LB) – Ishaq is one of those guys that we have also seen flashes of brilliance from. He has yet to record a sack, but did manage to rack up 3.5 TFL in 2012. I'm hoping that his junior campaign is when we see it all put together.
#23 Jaylon Smith (Freshman, "Dog" LB) – I am really excited to see Jaylon play this season. I have him slotted in the "dog" LB position, spelling Spond. He definitely has the raw talent to succeed at the coverage LB position, so I'm looking for him to make an immediate impact.
#22 Steve Elmer (Freshman, T) – The 6'5″, 300 lbs., top-rated tackle will likely see quite a bit of playing time this year on the line. Thankfully, he early-enrolled giving him a much needed jump start in experience and conditioning. Usually, I want all linemen to redshirt since it is such a physically demanding position, but with the Irish needing immediate, talented depth, a spring head-start definitely works. I think he has all the physical tools to succeed (notice a pattern yet?), so I'm looking for another immediate impact from the young lineman.
#21 Max Redfield (Freshman, S) – I can't even remember the last time I was this excited about a safety recruit. I doubt he will start at the beginning of the season, but I could definitely see him winning a spot before the 2013 campaign comes to a close. The Irish secondary has needed a big-time recruit for quite a while. With Redfield coming into the fold, I feel he has the best chance out of this group to make an impact in 2013.
#20 – #16
This group tends to actually have some proven success. If I rate someone purely on potential here, I'm definitely high on them.
#20 Malik Zaire (Freshman, QB) – While he will likely see a redshirt this season (unless everything goes to hell like it did in my NCAA sim), Zaire is by far my favorite recruit in the 2013 class. Like Golson, he has a big arm and great mobility. There's a reason Gunner Kiel jumped ship and my gut tells me he felt Zaire seriously breathing down his neck. It'll be hard to project his impact, but I have no problem sticking my neck out for this kid, even with Golson's return in 2014.
#19 Greg Bryant (Freshman, RB) – I don't think I've ever considered putting this many true freshmen in the top 25 ranking, but I can't help it. 5-star RB recruit that will have the chance to take on a backfield that has some huge holes with the departure of Cierre Wood and Theo Riddick just has to make a huge impact, right?
#18 Ronnie Stanley (Sophomore, T) – Yep, that's two young tackles in the top 25. Much like Elmer, Stanley will be needed to fill some depth on the Irish line. He's had a full season under his belt, so he gets a bump into this group of five.
#17 Carlo Calabrese (5th year, ILB)
#16 Dan Fox (5th year, ILB) – I'm combining the reasoning for Calabrese and Fox into one because honestly, I see them as damn near equivalent in the ranking. They have loads of experience and you know what kind of play you will get from each.
#15 – #11
This is the group that starts separating talent and potential on the roster to moving towards the elite. To put it another way, this is the true middle-ground. Players here could end up being the true difference makers or the people that I will later be embarrassed to have ranked so high.
#15 DaVaris Daniels (Junior [RS], WR) – I can't help but feel like I'm waiting for Daniels to just break out. We've seen some signs of the potential before, with the huge reception on Golson's 45 yard bomb to help send the game into OT. He was also one of the few bright spots of the Irish offense against Alabama notching a career high 115 yards on six receptions, one of which was another long strike of 31 yards. I think he should be able to nail down a starting spot so hopefully we start to see him break out in a huge way.
#14 Sheldon Day (Sophomore, DE) – We all know that Tuitt and Shembo are the two big pass rushing threats, but don't sleep on Day. In his freshman campaign, Day notched two sacks, 3.5 TFL, and 23 tackles. With the departure of Kapron Lewis-Moore, Day will likely see quite a bit more playing time and he is my personal favorite to start along with Nix, Tuitt, and Shembo. In completely unrelated things tainting my objectivity, Day destroyed opposing offenses in my NCAA '14 sim and seemingly had at least one sack a game. Here's hoping reality mimics video game success.
#13 Matthias Farley (Junior [RS], S) – When Slaughter went down for the season, I was definitely terrified that the Irish secondary was beyond screwed. But then Farley stepped in and made an impact that I'm sure very few people saw coming and I don't see that stopping this season. Fear the beard.
#12 KeiVarae Russell (Sophomore, CB) – Because of a thin secondary, Kelly was forced to move Russell from RB to CB…and did that ever work out. Now, Russell is a returning All American and looks to continue the fantastic job that he began last season. The only reason I don't have Russell ranked higher is my fear of a sophomore slump and the overwhelming fear that gambles like this just don't work at Notre Dame so I'm awaiting the other shoe to drop somehow.
#11 Tommy Rees (Senior, QB) – Here are the facts about Tommy Rees:
He had an incredible run to close out his freshman year in 2010
His 2011 was completely awful and I want to forget it forever
He came up clutch in several situations during 2012
With that said, his start against BYU left a lot to be desired
There is definitely potential there for greatness, but there is also the potential for great disaster because none of us are really ever going to be able to shake 2011. Rees still appears to have issues with locking-in on receivers (see: Floyd in 2011 and Eifert in 2012), but if he can kick that habit, that alone will allow him to progress by leaps and bounds in 2013.
Here's hoping.
#10 – #6
Now we start moving into the elite parts of the roster. These are the guys I expect to be no-doubt playmakers during the season.
#10 T.J. Jones (Senior, WR) – T.J. made some great strides in 2012 and I still don't think he's found his ceiling yet. The WR corps needs a leader and a playmaker and I expect T.J. to fill this role.
#9 Chris Watt (5th year, G) – Watt has been one of the veteran anchors in the interior of the line and will enter his third year as a starter. With the departure of Braxon Cave, I'm looking to Watt to be the glue that holds the middle of the line together.
#8 Troy Niklas (Junior, TE) – Niklas is just a beast at 6'7″ 260 lbs. He made his biggest impact blocking in two TE sets, but with Eifert gone, it will be Niklas job to continue the amazing string of badass TEs from ND. At 6'7″, I am fully expecting Niklas to be a bit of a security blanket for a Tommy Rees jump ball and will soon be one of his favorite targets all season.
#7 George Atkinson III (Junior, RB) – GA3 still has some fundamentals to get down to truly be the best RB possible (One Foot Down has a great breakdown of this), but the bottom line is that GA3 is a straight-up playmaker. His speed on the team might just be unmatched and you can't help but expect something special to happen when he's in the open field. With two years under his belt, and the backfield begging for a breakout star, I'm expecting GA3 to take control.
#6 Bennett Jackson (Senior, CB) – Sure, Russell had an amazing, breakout year and Manti Te'o seemingly got all the INTs, but Jackson had a hell of a year himself. In 2012, he had 4 INTs (second only to Te'o) and broke up 4 passes (second to Nix, he led all DBs in this stat). I expect Jackson have yet another great season. With Te'o gone, the only people that can steal the spotlight from Jackson are on the defensive line — the rest of the show is all his to steal.
#5 – #1
The absolute elite on the roster and by far the easiest for me to rank.
#5 Danny Spond (Senior, "Dog" LB) – Spond was one of the best surprises for the 2012 defense and was a solid presence all year at the "dog" linebacker. He had one INT and broke up three passes, which was only second among LBs with Te'o taking top honors. I expect the arrival of Jaylon Smith to only further push Spond's performance this season. He might not light up the stat sheet, but his presence on the defense cannot be overstated.
#4 Zack Martin (5th year, T) – Martin was my top-rated lineman last season and I see no reason to change that. Martin helped anchor a line that gave up only 13 sacks last season (T-28th in NCAA). Sack numbers (most often) speak to the strength of the exterior linemen and considering where this line used to be just a few years ago, I can't help but give Martin all the credit in the world for that success.
#3 Prince Shembo (Senior, "Cat" LB) – Shembo was one of the people that helped us say "Aaron, who?" With 7.5 sacks and 10.5 TFL, Shembo was just an absolute beast on the line. To further blow your mind, consider that Shembo also led the team in QB hurries with 12. So that's at least 30 plays that Shembo hung around in the opposing backfield which is just incredible. But as impressive as he was…
#2 Stephon Tuitt (Junior, DE) – 11 sacks, 11 TFL, 9 QB hurried, a blocked kick, a forced fumble, and an incredible fumble return for a TD — there's no wonder why Bayou picked him as the Irish D-linemen to watch. Tuitt is simply incredible and the best pass rushing threat that we've seen in quite a long time. The only downside to Tuitt? He's excellent play will likely make this his last year with Notre Dame. Enjoy this while it lasts.
#1 Louis Nix III (Senior, NT) – With all respect to Bayou's selection, and to Tuitt, my pick at #1 was not hard at all. The success of the 3-4 defense starts with the nose tackle and Nix is one of the best that I have ever seen. Ideally, you just need a guy that can command and handle a double team on every snap. Nix goes well beyond that. NTs aren't supposed to light up the stat sheet, but Nix manages to do so: 50 total tackles (7th on team), 7.5 TFL (4th on team), 2 sacks (T-4th on team), 3 QB hurries (T-5th on team), and 5 passes defended (leads the Irish). Simply put, Nix causes all kinds of havoc and opposing offenses have no choice but to respect the damage that he can cause. That opens up opportunities for the rest of the Irish defense, leading to TFLs, sacks, and turnovers. Plus, how can we ever forget this: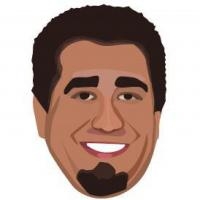 Latest posts by Ryan Ritter
(see all)