I've been trying to figure out the right words to describe how I feel about the national coverage of the Eddie Vanderdoes situation. No, not those words — those were to destroy a particularly lazy effort.
What I am referring to is this need to find moral outrage in the situation. Whether it is blaming ND, the NCAA, the NLI, Eddie Vanderdoes, or anything else, there is a need to point the finger at someone. Disagree with where the finger lands and additional outrage piles on top of the initially manufactured outrage.
There should be no villain in this entire situation. Vanderdoes signed a contract and Notre Dame is holding him to it. Vanderdoes and his family think he should be released and they are appealing, which they have every right to do. This situation should be allowed to play out, allowing the two parties to go their separate ways once it's all over. However, this doesn't seem sufficient for the majority of the media and even some fans.
Then it dawned on me: people require a heel, even when one shouldn't exist. College football seems to thrive on the face/heel dynamic much like the WWE and pro wrestling does.
Forgive me for the pro wrestling analogy (hey, it's better than using a cat and dead birds a la Doyel), but this is the only way I can wrap my head around the matter and articulate this. Plus, the more and more I think about it, the more and more it makes sense.
Without someone to boo, jeer, and hate, pro wrestling becomes incredibly boring. Back in its earliest days, pro wrestling once actually featured legitimate matches. The problem though was that they were long, tedious, and, after a while, people realized they didn't care about the two men in the ring. Eventually, people stopped showing up.
Reacting to waning interest, pro wrestling then began to morph into what we know it as today. Promoters created characters to "work" shorter matches. These characters eventually took "sides" as good/evil (face/heel), giving fans a reason to watch, react, and become better invested in the entire show.
College football never really suffered the lack of interest that pro wrestling once did; however, the sport, and its resulting coverage, is now bigger than it has ever been before. 24/7 coverage is now the name of the game. New dedicated networks are now emerging and even earlier than that message boards and fan blogs rose into popularity.
While there is analysis to be done with the actual game on the field, the face/heel dynamic is the fuel that drives the more casual fan into consuming the 24/7 product. And, let's admit it, it's damned fun. Rivalries, the lifeblood of college football, feeds on it.
As an example, let's take a look at the dynamic between Notre Dame and Michigan.
ND recently cancelled the series by handing Michigan a letter right before kickoff. "A true heel turn by the Irish!", Ann Arbor cried. Brady Hoke cuts a promo and calls us chicken. We respond, cut a promo of our own, and claim this is simply long-awaited justice for all the crap they put ND through.
We bicker back and forth. Other fans with no real affiliation pick sides. The end result: hype machine goes full-force, pushes all the angles and everyone tunes in for our showdown under the lights, live from the Big House.
It practically sounds like the WWE is pushing a PPV when it's broken down like that.
But the fact remains that drawing on this divide makes the victories sweeter and the defeats more infuriating. It brings people into a game they might not otherwise care in, even if it's simply to hope for the demise of the team they have now manufactured enough hate against.
And I love every minute of it. I don't ever want that to change. Detaching emotion from college football would be the worst.
But the Eddie Vanderdoes situation isn't a college football game. It's a contract dispute. That isn't to say the entire situation should be absolved from debate, but there is definitely no need for anyone to assign anyone as the heel.
And there is plenty to debate. From the ND side:
Eddie wants to be close to home because of a his sick grandmother. Fine, why pick a school that is eight hours away when there are plenty of closer options around?
Why remain so quiet about it for so long?
The NLI has been rejecting the appeals, doesn't this mean they, and not ND, see Eddie's claim for release isn't sufficient enough?
From Vanderdoes' side:
Had no control over a family member for being sick, why not release him from NLI?

Family issues are and should remain private.
The NLI system is entirely broken and punishes athletes far too much. This should change.
Now there are certainly other points on both ends, but I feel like I got the highlights. Notice that each point is a topic that is very much up for debate. Nowhere in any of those points have I slung mud in one direction or the other. No one is a clear heel or a clear face for that matter and that's how it should remain.
But it hasn't.
And that's my entire issue with how this whole situation has been covered at large. From the very start, Joe Davidson of the SacBee, started pushing heat (wrestling lingo for trying get the crowd to hate the heel) onto Notre Dame by telling a tale of broken trust with ND's Signing Day gaffe. Later, he released an old story about Mike Brey recruiting a kid in a classroom and continued to release non-updates, but made sure to mix in notes about Notre Dame fans being horrible and racist to Eddie on Twitter.
It wasn't that these stories weren't true. We know full well we have a group of lunatics in our fanbase (as do all schools), but it was all so unnecessary. Davidson can forever claim it wasn't his intent to make ND the bad guy, and it could even be true. In the end, the intent matters little — the heat was applied, immediately putting Notre Dame and all its fans on the defensive.
Inevitably, someone would pen the hackjob determined to push ND into full heel territory and Gregg Doyel was more than happy to fulfill the task. Gregg continued to push the angle, responding to any logical Notre Dame defense by calling us a bunch of message board parrots.
That too, is a complete WWE-style maneuver. Logic can be easily spurned and thrown out the window at any moment via scathing insult, joke, or catchphrase just to ensure the narrative remains and the proper heel/face relationship is maintained.
The Rock is particularly famous for this little maneuver:
http://youtu.be/pgBNBGAGJsk
It's immediately divisive. If you love The Rock or hate the guy he just shut up, you are cheering. Otherwise, you are just hoping the person on the other end of it punches him square in the mouth.
The other layer to the "it doesn't matter" bit was that The Rock would do this to everyone, no matter how famous or legendary they were. In other terms, if you're going to be a loudmouth, you might as well go find the biggest dog in the yard to pop off to and make the biggest splash. Once you've done so, all of a sudden you find yourself with loads of other little minions/fans ready to back you up because somewhere in the back of their minds they are thinking "YEAH, FINALLY SOMEONE TOLD THEM!"
That's exactly what the Eddie Vanderdoes coverage has turned into.
Davidson applied the initial heat. Gregg popped off to the supposed "big bad" that is Notre Dame. The rest of the media takes sides, either jumping on the illogical dogpile or trying to actually apply logic, not emotion, to the situation.
Further, if the school in question wasn't Notre Dame and Eddie Vanderdoes wasn't an elite, 5-star recruit, it doesn't even receive nearly the amount of coverage or attention that we've seen. Does anyone blink an eye if a similar situation happens at say, North Texas with a 2-star recruit?
Or, better yet, what if only the sport changes? Does anyone even blink an eye if Notre Dame has NLI issues with the top-ranked fencer of 2013?
Of course not. The Rock doesn't become famous if he only goes full throttle against X-Pac (if you don't know him, that's the point), but shies away when Stone Cold Steve Austin is staring him down. Likewise, Doyel doesn't get nearly the level of pageviews if he spews out his verbal diarrhea in a similar situation with a different school, recruit, or sport that barely moves the needle.
College football is full of passion. The illogical emotion that we can apply to it can seriously be one of the best aspects of following the sport.
But applying that emotion to situations, like Eddie Vanderdoes, where it doesn't belong? The worst.
Media types decide to both apply that emotion and feed on it in an attempt to further their own careers? The absolute worst.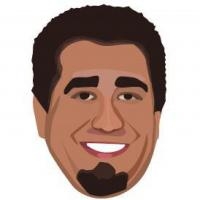 Latest posts by Ryan Ritter
(see all)