So Brady Hoke had a luncheon in Grand Rapids and decided to voice his displeasure over Notre Dame cancelling the Michigan series. More precisely, he claimed the Irish were "chickening out" of the series, much to the delight of the audience.
Hoke's insertion of his foot into his mouth is simply begging for analysis ridicule as is this entire article, so let's just get to it.
Brady Hoke has long trumpeted Michigan's three primary rivalries against Notre Dame, Michigan State and Ohio State.
Hoke is now entering his third season as the Skunkbears' head coach. How does one "long trumpet" anything when they haven't even eclipsed Ty Willingham's tenure at ND?
If two years is a long period of time for Michigan, I think I understand why some rather obvious history is soon to be forgotten.
But now he's losing one of them, at least for a time. And he's clearly not happy about it.

"The Notre Dame game, that rivalry, which they're chickening out of," Hoke said Monday during the West Michigan Sports Commission Annual Luncheon at the J.W. Marriott in Grand Rapids.

The remark drew thunderous applause from the crowd.
Ok, fair enough, he's angry, playing to a home crowd. Let's see how he justifies this…
"They're still gonna play Michigan State, they're gonna play Purdue, but they don't want to play Michigan"
Well, yeah, we are trying to, but that isn't exactly certain right now.
You see, Hoke, your B1G commissioner decided to do this whole nine conference game thing that is kinda screwing up everyone's schedule. Combine that with ND's new ACC scheduling agreement and, surprise, there are some issues.
Want to know why we are trying to work around that with Sparty and Purdue? Some history for you, long trumpeter: Notre Dame and Michigan State have played 75 times, and only took 1995 and 1996 off since 1948. Notre Dame and Purdue have played 84 times, uninterrupted since 1946.
But Michigan? Oh, we'll get to that in a bit.
Spoiler alert: Michigan has been a pain in the ass.
"I don't know how they made that decision…
I don't either, there is totally no history behind why we might decide to give Michigan the finger. NOPE, NONE AT ALL.
… I really do …
Wait, what?!
Hoke had to have done a shot mid-sentence or something. Or no one has the complete quote…you know what, I like my first idea better. Go home, Hoke, you're drunk.
But anyway, that's a great national rivalry game. It's a great game."
I'd argue it's a regional rivalry, and really, I have a hard time saying it's a rivalry because, let's be honest, we both hate each other and each consider another school a bigger rival.
Not exactly a ringing endorsement of just what this series means to you and why all of us under the Dome are running away scared. I'm sure your beat writer will help you out…
Michigan has played Notre Dame 40 times, including every season since 2002.
..or maybe he'll prove my point for me.
Michigan has treated us to three separate gaps in the past. After the 1909 game, we didn't play Michigan again until 1942. After 1943, we didn't face off again until 1978. Finally, we had a smaller two year gap between the 1999 and 2002 contests.
That's 70 years total of scheduling gaps if you are keeping score at home. Or, to put it another way, Michigan has avoided playing Notre Dame for 56% of our 125 year football existence.
But man, uninterrupted since 2002 after these Michigan scheduling disruptions. How dare we.
But the Irish last year cancelled their games against Michigan from 2015-17, as they make the move to a scheduling alliance with the ACC.
ND, the dastardly villain, ditching the history of the Michigan series, chickening out for their new ACC friends.
The rivalry already was scheduled to take a two-year hiatus in 2018-19.
Small addendum: Michigan did that. That brings to the total to four different occasions in which Michigan, not Notre Dame, messed with the scheduling of the series.
Here's the kicker: all Notre Dame has done so far is cancel two games — the exact same amount that Michigan already canned. But yeah, go ahead and blame us for chickening out on the whole thing. Solid logic there.
So, Michigan will host Notre Dame for the final time — at least, for the foreseeable future…
Now we've entered WWE-style promotion/hyberbole: "THIS WILL NEVER HAPPEN AGAIN…"
"…UNTIL IT HAPPENS AGAIN!"
— in prime time this year, then conclude the series next year in South Bend.
Notre Dame: chickening out…three years in the future.
The teams had been operating under a three-year rolling contract — meaning, either program could cancel the series with three games' notice. Notre Dame served Michigan athletic director Dave Brandon with that notice in the moments leading up to kickoff of last year's game at Notre Dame Stadium.
You mean to tell me Swarbrick did something within the terms of the contract? Man, we are truly awful.
Michigan State and Purdue are scheduled to continue their rivalries with Notre Dame, at least for now. Although, the Big Ten's new nine-game schedule, and Notre Dame's ties to the ACC, could also make those games more difficult to play.
And we've now come full circle. The B1G and ACC scheduling restrictions could make the MSU and Purdue series difficult to continue.
But the Michigan series? NOPE NO POSSIBLE ISSUES, CHICKENING OUT.
In conclusion, to Hoke and any other Michigan fan pissed off about this: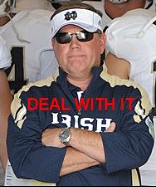 Latest posts by Ryan Ritter
(see all)