Ah, the NFL combine — the place where tenths of a second in a 40 yard dash and a couple of inches on a vertical jump can translated into millions of dollars. Truth be told, I think it is one of the more overrated and overhyped events the NFL does, but there is no doubt that the combine is a place in which draft fortunes can be made.
Eight Notre Dame football stars took to Indianapolis to try and boost their draft fortunes and their results are after the jump.
Tyler Eifert
[table "" not found /]
Before the combine, Eifert was already thought of as one of the best TEs available in the draft. After the combine, Eifert has likely sealed a spot in the first round.
Eifert remained steady in the top five of every drill that he participated in. No other TE was able to claim such well-balanced top honors. His 40 time and vertical jump alone would be enough to make coaches salivate, but considering that he was in the top three in the bench press was just icing on the cake.
I doubt any team will draft him as a "classic", smash-mouth TE, but with the way NFL teams are using TEs split wide and as receiving threats (much like Kelly did all season), there will be a team that will gladly snatch Eifert up.
Prediction: 1st Round
Manti Te'o
[table "" not found /]
Let's just get this out of the way: Te'o didn't impress at all in the combine. John Harbaugh agrees.
That being said, he still likely didn't hurt his draft stock. Te'o was always slated as a possible 1st round pick, but in the middle to late part of the round at best. The simple fact is that linebackers just aren't drafted that high. For Te'o to break that mold, he was going to have to amaze and he didn't.
Even though it was a storyline during the combine, I think it's safe to say the entire Leenay/Catfishing thing wasn't really a focus for most NFL teams considering him.
Te'o didn't help his draft status much, but I don't think he did much to hurt it. He still has a chance at ND's pro day to make a final impression.
Prediction: Late 1st Round – Early 2nd Round
Cierre Wood
[table "" not found /]
Cierre left a potential year of eligibility on the table to chase down his NFL dream. Thus far, it appears that he made a decent gamble.
No one really expected Wood to have a stellar 40 time, yet he turned in a top-15 time. His biggest victory though was tacking on top-5 performances in the vertical and broad jump, showcasing that he has more than enough athletic talent to justify a mid-round draft pick.
Enjoy the payday, Cierre, you've earned it!
Prediction: 4th-5th Round
Theo Riddick
[table "" not found /]
There is no doubt that Theo Riddick was just as much a part of the strong Irish running game as Cierre was, perhaps even more so when the tough yards were needed. However, Riddick simply didn't come up with great numbers in his combine drills at all.
Theo is on the lower end of the NFL's "draftable grade" rating, coming in at 51.05, with 50 being the cutoff for a draftable player.
The real question is what role a team thinks Theo could fill: third down back? Slot receiver? Backup/third RB for a changeup?
Theo definitely turned a lot of heads this season after a rather mediocre couple of years in the slot. Perhaps he will do so yet again, but most teams may just hope he slides into free agency and use their late round picks for other areas of need.
I have little doubt he's going to find a way on a NFL roster, but whether that happens during or after the draft is still very much up in the air.
Prediction: 7th Round – Undrafted Free Agent
Braxston Cave
[table "" not found /]
Cave was far from one of the more athletic linemen at the combine and not participating in the bench press makes it impossible to really compare his strength to other top talent.
Of all the Irish players to make a prediction for, Cave is by far the toughest. There were only 9 true centers at the combine so that alone works in Cave's favor. Hell, I watched I think three centers attempt to play for the Cowboys this season alone*.
(*Do not get me started on how atrocious the Dallas offensive line is…)
Someone will definitely scoop him up. He'll make a solid addition to a two-deep.
Dallas, please pick him. He at least knows how to pull of a shotgun snap which is already a huge improvement!
Prediction: 4th-5th Round
Kapron Lewis-Moore
[table "" not found /]
KLM was at the combine simply to interview as he is still recovering from his awful ACL injury suffered at the title game.
I feel awful for the guy as he probably would've been drafted had that not happened.
Get well soon, Kap. I want to see you destroying people in the NFL.
Prediction: Undrafted Free Agent
Zeke Motta
[table "" not found /]
Saying Zeke could've had a better day at the combine is an understatement. He had the lowest bench numbers of all safeties and the slowest 40 time of all DBs; in fact, he only bested linemen, a handful of LBs & TEs, and a couple of QBs & RBs in that category.
He did, however, end his day strong with top performances amongst all safeties with a top-5 performance in the 3 Cone Drill and was just .06 away from a top-5 finish in the 20 Yard Shuttle.
Hopefully, he has a much stronger showing at ND's pro day because his draft stock absolutely plummeted today. Originally, I thought he would have a chance to be an early round pick…now, I just hope he gets drafted.
Prediction: 6th Round – Undrafted Free Agent

Jamoris Slaugther
[table "" not found /]
Another unfortunate casualty to injury. There's simply no way a team is going to take a risk picking him with the 2013 draft class being well-stocked with DBs.
Prediction: Undrafted Free Agent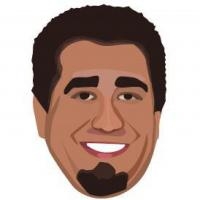 Latest posts by Ryan Ritter
(see all)