Sorry Tex, unscheduled rant coming…
Excuse me, WHAT THE HELL IS KATIE COURIC DOING? The whole world should be calling her out for the BS she displayed yesterday. Not gonna? Okay then, I will. Thanks Katie, for getting me back into RANT MODE.
Don't get me wrong, I actually thought 95% of her interview was decent. It wasn't soft, she asked some tough questions, but those questions deserved to and needed to be asked. For her to look at all professional, and to give Manti a chance to answer them.
But then Katie went too far. Katie went off the ledge. Katie went bat-shit-CRAZY when she started talking about how she would've handled the situation. How SHE would've done it differently. How SHE would've done it RIGHT.
GIVE ME AN EFFING BREAK. Let's break this down for a second.
First, and most importantly, Katie is about as far as possible from being Manti Teo. She's an old, white, washed-up reporter, and she's a she. Manti is a young, male, Morman, Samoan/Hawaiian wrecking ball of a linebacker that attended a Catholic school and played D1 Football. THIS IS A DIFFERENT FREAKING WORLD WOMAN! I mean, there are a ton of things closer to Manti than you…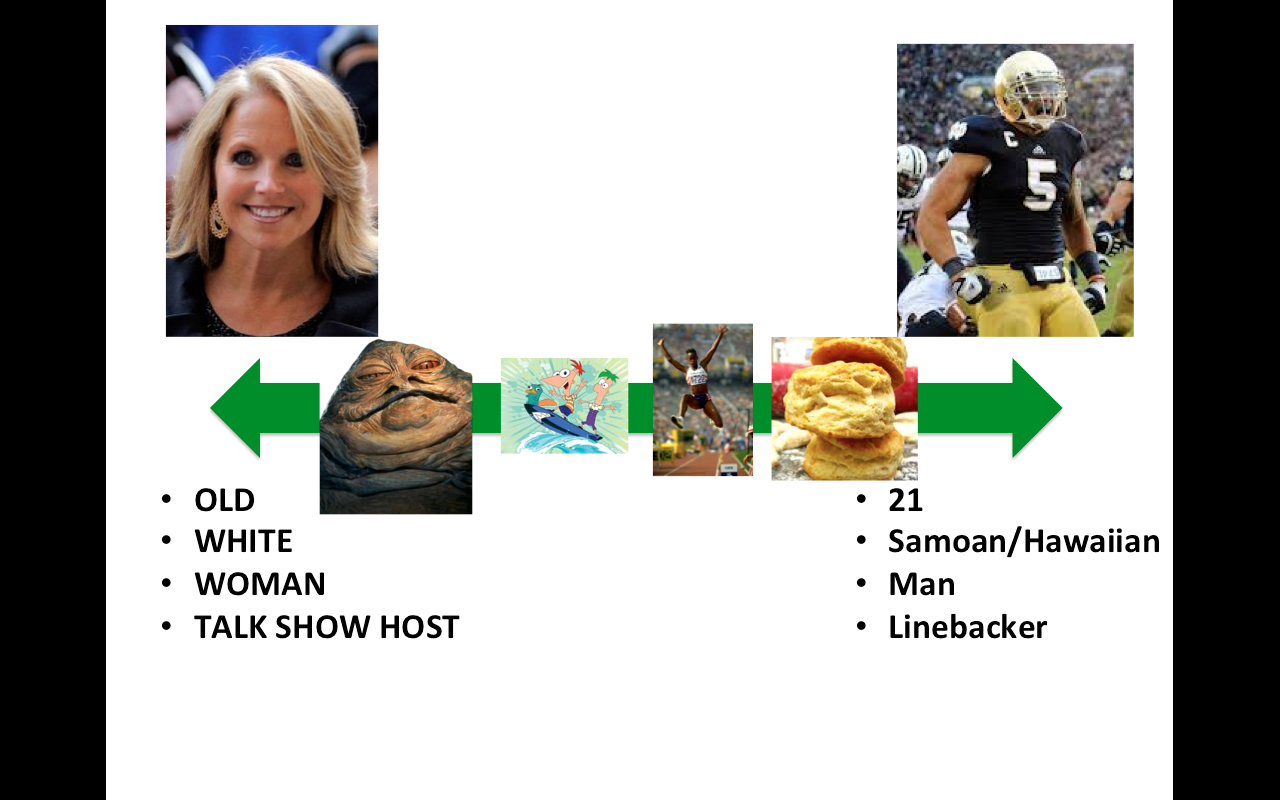 So that's point one. You have no idea what you'd do if you were him. BECAUSE YOU ARE LITERALLY NOTHING LIKE HIM.
But, Daytime TV Talk Show hosts spin BS all the time. So, moving on, the second biggest problem with her 'advice' was that she used the complete timeline of information to inform how she'd have reacted and behaved. Guess what Katie, when this was all going down MANTI DIDN'T KNOW EVERYTHING YOU KNOW NOW YOU SILLY WOMAN! You can't just take all of this data that you now have at your disposal and assume that, MONTHS AGO, Manti had the same information. Of COURSE he'd have behaved differently if he'd known it was all a hoax you twit. That tells us absolutely nothing.
Sooooo, since she's so perfectly able to rip apart past situations, let's find out What Would Katie Do (WWKD):
If she's Steven Spielberg, SHE would never put Jar Jar Binks in the prequels. #WWKD
If she were Brian Kelly, SHE would've never called that pass play against Tulsa. #WWKD
If she were the Jets Organization, SHE would've never taken Tebow. #WWKD
The rest of the interview, like I said, was fair. But this was so far over the line. It was pompous, full of righteous indignation that Teo didn't at all deserve, and disgusting from an 'adult'. I never cared about Katie Couric. Wasn't ever on my radar. Now she officially sucks.
And for all the 'haters' who may comment saying 'yeah Manti still lied' or 'I'm an idiot listen to my stupid point that's irrelevant' I am not saying any of this exonerates Manti. He didn't do everything perfectly and he is paying DEARLY. But that's not the point. The point is that Katie Couric had the chance to be a journalist. To get a story and to dig deep. She started off down that path. But then, at some point, she decided to switch to being a moron. That's the point. KATIE COURIC, you're on the HLS WatchList. You don't want to be there. I'll see you on Twitter. Loser.
Latest posts by The Biscuit
(see all)