Outside the Bubble
Put These Games on Your Radar
#20 Auburn @ #1 LSU (3:30pm EST, CBS) – This game just got a whole lot more interesting now that LSU's defense lost some key players. Auburn has been pesky all season and managing to win games that they shouldn't. It could be an interesting afternoon in Death Valley
#6 Wisconsin @ #16 Michigan State (8pm EST, ESPN/ESPN3) – Mostly, I would suggest keeping an eye on the score here as Sparty has a rather good chance of getting beating down like none other during this game. Somehow the Badgers are only favored by 8 last I checked the line so it seem Vegas believes Sparty can make a fight of this.
#25 Washington @ #8 Stanford (8pm EST, ABC/ESPN3) – Not trying to look ahead here, but there is no doubt Stanford will be the final big test on our schedule after USC. This will be Stanford's first tough test of the season as none of their previous opponents are above .500 right now. It should be very interesting to see how they handle a resurgent Huskies team whose only loss is to #11 Nebraska by 13.
USC Hate – My Story
Before I decided to go to ND, my college football mind wasn't really aware of the ND/USC rivalry much less the rest of the game beyond Texas schools. Once I made my decision, I did what any good sports fan should do and studied up on the history of my soon-to-be alma mater. It didn't take me long to realize that USC was supposed to belong at the top of the rivalry list.
Plus, they were a pain in my ass when I played them NCAA 2003.
But I still didn't have that emotional investment yet. I was pumped for the game in 2003 and had a rather surreal experience watching Carson f'n Daily talk about how much he hated USC at the pep rally. Fast forward to game time and an eventual beating at the hands of the Trojans and I realized I had entered what could possibly be hell on earth as the Trojan band continued to play the same damned two songs on a never ending loop.
After that game, I realized that just about everything USC did pissed me off. While everything ND does is rooted in strong, respectful traditions, USC was the polar freaking opposite.
Just as an example, take the "Pride of Troy" and Tommy Trojan. Both are adorned with flashy Hollywood prop reject armor. Their two songs, in my best guess, are an attempt to mimic some kind of unstoppable army marching all over you. Tommy Trojan stabs the damned 50 yard line with his sword which, to me, is just as infuriating as Sparty planting their flag at the 50. Their was just such an air of arrogance and cockiness about the whole show they put on.
You won't ever see the Leprechaun planting our flag at the opposing 50 every game and our band is the epitome of class and talent (which can handle more than two damned songs!!!).
Then you have the coaches. "Gigantic Douchebag" and "Failed NFL Head Coach" have to be requirements because I'm not sure how else you explain Pete Carroll and Lane Kiffin. The Poodle helped create a "lack of institutional control" according to the NCAA, which has damn near crippled USC in sanctions. His reaction? Run and flee.
And Kiffykins? If there was a list of d-bags worst than Pete Carroll, Kiffin is the list. The guy failed in the NFL, went to Tennessee, made "secondary violation" a part of their vocabulary, then left that program in ashes to help USC climb their way out of Pete's mess.
Holy freakin' logic fail.
That same cocky attitude gets filtered down to all the players, giving me such great glee when smack it right out of them. It took a kid from Texas with zero previous connections to ND no time at all to hate USC, well done, Trojans!
Predictions
NDtex – This is a USC team that nearly lost to Minnesota. They just aren't good this season. Add on to that, Kiffin has decided that it would be wise to give the Irish plenty of locker room material for this game. The Irish are going to be ready and will leave no doubt in this win.
ND 45 – USC 28
Poot – After a back and forth first half, the Irish head into half-time up 21-17. Brian Kelly proves he's the superior coach to Lane Kiffin with his halftime adjustments, ND comes out of the 2nd half and shuts down USC.
ND 38 – USC 24
Biscuit – Pain.
ND 27 – USC 17
DMQ – Fade In: Nearly packed ND stadium, fans singing Alma Mater in unison.
Fade out…
Fade In: (A bathroom stall of the visitor's locker room.) Kiffin trying to console himself with a batch of authentic Irish nachos and a shred of fabric he refers to as "blankey."
Fade out…
Fade in: (Jack Swarbrick's office lounge) About the same time, ND AD Jack Swarbrick and SC AD Pat Haden meet for a quick scotch before Pat's gotta head to the airport…
Jack (putting on his best smile): "Tough game for your guys, but I'm sure they'll rebound."
Pat: "Oh, I'm not worried about our players."
Jack: "And Lane? How's he doing?"
Pat: "Oh, I'm not worried about Lane."
Jack: "Would you say every thing's going according to plan then?"
Pat (taking a big sip, and then sucking on his teeth a bit as he considers the question): "Yeah. Yeah I'd say it's all going about how you'd expect."
Jack: "You know, Pat, in a year or two, I'd better not be hearing through the grapevine that you're trying to talk to any of our coaching staff."
Pat (doing his best SEC head coach impersonation): "Aw, shucks, Jack. You know that a Jumbotron will be up in Notre Dame stadium before I'd ever try something like that."
Pat grins a big, wide grin for a moment, and, silently, Jack joins him.
Jack: "That… that I do not doubt."
Fade out…
ND 35 – USC 20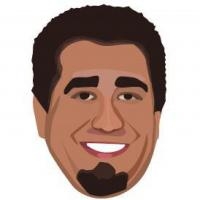 Latest posts by Ryan Ritter
(see all)