Notre Dame decided to unveil the rumored uniform adjustment for the USC game.  It wasn't green, it wasn't any form of a throwback, but a new helmet, and the difference between the new and old is downright staggering.
According to Notre Dame, the change is a permanent one, and one that Jack Swarbrick has been wanting for a while.  He tasked head equipment manager, Ryan Grooms (by the way, you need to be following him on Twitter), with trying to find a color that was more consistent with the look of the Golden Dome.
After going through five different paint mixtures during the 2010 season, the decision was made that outsourcing the helmet painting would be needed, with a goal of having the new helmets ready for the start of the 2011 season.  Obviously, we saw no new helmets then and that was because ND simply wasn't happy with the samples received as they either weren't the right shade of gold or failed field collision tests.
Finally, the 12th try was a charm and the design from Hydro Graphics, Inc. in Portland, Oregon won over Swarbrick, Grooms and ND (our helmets will still be provided by Riddell and Schutt).  HGI has also done football helmets for TCU, Georgia, LSU, Maryland, Oregon, Florida, West Virginia, Pitt, Ohio State, and Oregon State, which is quite a rather impressive client list.
While the tradition of of having the gold flakes form the Golden Dome is still in place, one tradition sadly did not make the cut: the tradition of the student managers painting the helmets.  Unfortunately for them, the process used by HGI is a very complex, 10-step process, including steps unique to Notre Dame, that student managers simply cannot replicate.
So as a former student manager myself, how do I feel about this change?
I cannot state this enough, I absolutely love the new helmets! They have a wow factor that is just hard to describe and I think the players and any recruit thinking about ND will love them as well.
On the other hand, this is the death of a long-time ND tradition, one of which I am sure some fans of ND as well as current and former student managers are very sad, and possibly upset to see go.
To be completely honest, I hated game-preps for the helmets.  It is a very time consuming process that, during my time as a manager, we tried to spread out throughout the week to try and make it more manageable.  Just to break it down, here is the process that we had to do for all the helmets:
Inspect helmets for any major damage
Remove facemasks, stickers, and chin straps from every helmet
Hand off helmets to sophomore managers for taping (to ensure helmet pads don't get stray paint on them
After taping, sophomore managers then buff out chipped paint areas to get a smooth surface
Tape and buffing is inspected and handed off to the managers tasked with painting (only a couple actually get to do this)
Helmets are painted and then set aside to dry
Once helmets are dry, they are reassembled and all stickers placed back on the helmets
To say the least, the entire process took quite a bit of time.  Sure, it was nice to say that you helped with the helmets and we all took pride in doing our part, but I can't say that time spent is worth it.  Especially now seeing that the managers would be busting their asses working on an inferior looking helmet.
I also asked a current student manager about this change. The response:
Yeah, it's disappointing to lose that tradition, but the real focus is and should be getting the color right, which we can't do.
That statement pretty much colors my feelings on the whole situation.
If any of you reading this are mad by the loss of this one tradition, don't be.  ND went through 5 different paint mixtures and 12 prototypes to finally get what they wanted.  The decision to "take away" the painting from the managers wasn't one made lightly and they are still responsible for basic maintenance of the helmets.  Now instead of taking helmets apart, taping, and buffing, managers will just grab some cleaning solution to spruce the helmets up again.
Believe me, managers put in loads and loads of work that are far more important than helmet painting.  They are still a very important part of the program and that won't be changing anytime soon.  Furthermore, there are still many other great traditions managers partake in and describing them all would take up quite a few posts.
At times, some traditions need to be laid to rest in order to give birth to new and better ones.  In this case, I think ND made the right decision.  The helmet is a major improvement and the managers are going to get some time back in their already busy lives.
If all that still doesn't sell you, check out this video about the new helmets which includes some player reactions to the new look as well: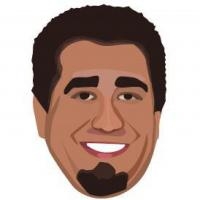 Latest posts by Ryan Ritter
(see all)