Typically, I'm a fan of the Shamrock Series uniforms. While we've never hit the apex of Adidas' last hurrah in Jerry World with the all-white look, I've been a fan of just about every single one. Most of them have ended up being Christmas presents from my parents as well.
It's fun. I enjoy mixing it up. And, admittedly, I enjoy watching heads explode at the mere thought of having a bit of uniform fun. Because, you know, doing a one-off with the uniforms is some kind of unholy abomination. As if the effort by a marketing and design team from Under Armour and Notre Dame somehow sucks all the potential national championship hopes right out from under the Dome.
That all being said, what in the Yankee-blue hell is this bullshit?
Thus far it seems the only people that are actually fans of this also happen to be Yankees fan–or are completely blind/trolling everyone.
Now, I hate the Yankees with every fiber of my sports being. I promise my hatred of this uniform has nothing to do with that. Going with some kind of pinstripe design was the super-obvious move, especially based on Under Armour's history with us. I figured it wasn't going to look too great as pinstripes and football don't mix in my brain.
But this?! I couldn't have conjured this up in my worst nightmares.
And the thing that's been driving me insane is that the more I look at the design, the more I see something that could have actually worked. For instance, the Yankee script Notre Dame is just awesome. The, what appears to me at least, darker shade of navy blue actually makes the pinstripe pants work better than expected.
But then pinstripes are added to the damn sleeves, cleats, and helmet. Not only that, but the helmet going matte in this darker shade just makes it look black, especially when you throw a logo with white on it for contrast. It just makes it look like a try-hard mess that should've been so much simpler.
For example, take a look at this jacket:
That thing is incredible. You have the Yankees inspiration, but you have something that is also uniquely and clearly Notre Dame. The Shamrock Series uniform is less inspiration and more Yankee copy and paste.
If you take the concept above and apply it to the uniform, you end up with something much better.
The first thing that has to go are the pinstripe sleeves. No matter how you slice it, it just looks ridiculous. Granted, I'm sure there was some idiot in the room that said "well this is the same ND jersey except for a script Notre Dame and we need something different to sell." And perhaps there was some Yankees chucklefuck screaming "MOAR PINSTRIPES! PINSTRIPES EVERYWHERE!"
But if you discard the pinstripe stupidity, you get a clean, classic ND look, with just a touch of Yankees inspiration that pair as good with crazy pinstripe pants as you can hope. The top and bottom are still clearly Yankees inspired, but much more Notre Dame.
However, we can do more. It may be hard to notice (color swapping pinstripes is a pain in the ass), but the pinstripes are now gold. The UA logo and ND Monogram also receive the gold treatment as well.
Overall, there wasn't nearly enough gold on the uniform save for accents on the numbers, gloves, helmet decal, cleats, and belt buckle. You can't relegate one of your primary colors to an accent like that unless you decide to heavily leverage green.
Bringing gold back into the uniform makes this more uniquely Notre Dame instead of a Yankees wanna-be. Plus, let's not forget the Shamrock Series is license to go a little crazy. Don't half-ass the ND/Yankee combo, go all the way. Do the gold pinstripes still look ridiculous? Absolutely, but it's a hell of a lot better.
Finally, put a damn gold helmet on this thing. I'm not one of those people that is "gold helmet or death" on the uniform, but you can't have the thing looking like it's something you stole from an Oregon uniform and put an ND sticker on it. Call it matte blue all you want, unless this thing has some kind of unique shine off the lights, it's going to look black against navy blue and that's just all kinds of unstable.
Ditch the decal while we're at it too. If you really feel the need to mess with the helmet, take a page out of the Rockne heritage playbook and have some pinstripes running down the helmet. Again, it's ugly, but a hell of a better option that what was displayed.
I really hope the next Shamrock Series design is much more inspired than this mess. What are your thoughts? Did I improve the design at all or does this thing have no hope at all?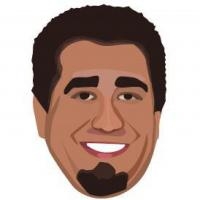 Latest posts by Ryan Ritter
(see all)