What was the best part of the Blue and Gold game on April 16th? Diehard Irish fans surely know the answer right away: No injuries! Besides that minor miracle, it was great to see the overall depth that the Irish displayed at various positions. While depth is a major plus for any football team, it also takes some individual star power to win a championship. Beyond the unquestioned talent at QB (Zaire/Kizer) and RB (Adams/Folston/Williams) a few more players have stood out as possible breakout stars for the 2016-17 Fighting Irish football team…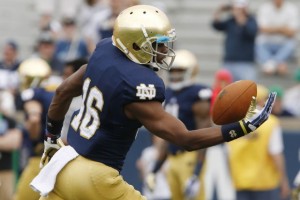 TORII HUNTER JR. showed off his dual-sport talent with an incredible over-the-shoulder slash one-handed-grab which emulated his father's stellar defensive play on the professional baseball field. The catch was by far the most impressive and exciting play of the day. It was also a very welcome sight for Irish fans, who are a tiny bit nervous about replacing the all-time great Will Fuller. With 28 receptions and 2 touchdowns last year, Hunter Jr. is the top returning receiver and he will be expected to fill Fuller's shoes.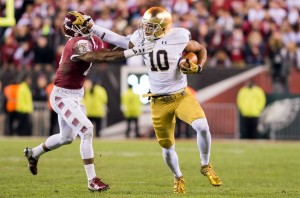 ALIZE JONES also had a good showing during the Blue Gold Game with a few 20+ yard grabs. The former 5-star recruit is a dynamic athlete with enough skill to line up as an extra-large wide receiver or in the slot as a traditional tight end. However, so far, Irish fans have only seen glimpses of Alize's potential (10 catches last year). Like many Loyal Sons, I am eager to witness more offensive production from the tight-end position in this upcoming season. After all, Notre Dame has been correctly dubbed "Tight End University." With a healthy Durham Smythe and a more experienced Alize Jones, this can easily be a comeback year for Irish tight ends.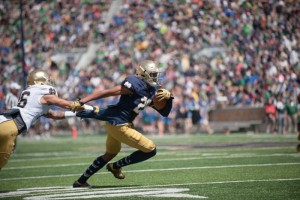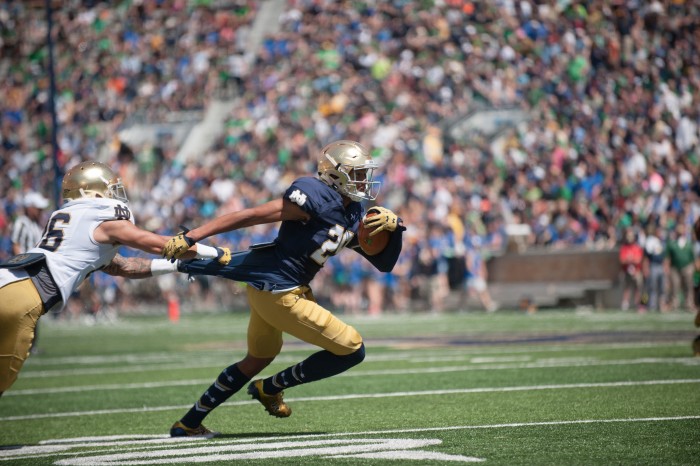 KEVIN STEPHERSON (a freshman) was targeted more than any other wide receiver on the field during the spring game. Since his arrival, the early enrollee has received many compliments from the coaching staff and players alike. When asked for a new receiver who has grabbed their attention, Mike Denbrock, DeShone Kizer and Malik Zaire all chose early enrollee Kevin Stepherson. Even Brian Kelly praised Stepherson saying, "I don't know that we have a player on our team in KJ Stepherson that can catch the ball at full speed as he cuts across the field, a very unique trait." Arguably the nicest surprise for the Irish thus far, Stepherson will add well to the depth at wide receiver and certainly has the potential to break into stardom. I love these early-enrollees!
DEVIN STUDSTILL (another freshman) looks like a stud…still. Despite playing an entirely different position Studstill's play during the spring scrimmage reminded me a bit of the wonderful Jaylon Smith. Twice the highly recruited safety ended up making tackles-for-loss, showing off his great speed. What's more, on one of those tackles I could have sworn the Stud did that ol' Jaylon Smith 'glide the grass' celebration! We will need more examples to make sure. Overall, Devin looked great out there and may already be considered the best Irish safety available – which is saying a lot considering Max Redfield, Drue Tranquill and Avery Sebastian have much more football experience.
PS: JAC COLLINSWORTH also made an impressive debut at the Blue Gold Game. He had well prepared questions for his interviews AND that patented Collinsworth voice was music to my ears!
Here! We! Go! IRISH!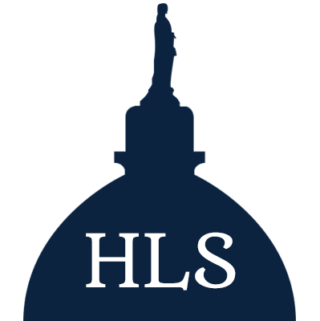 Latest posts by EricStFrame
(see all)