Last week, Notre Dame announced it had extended the contract of head football coach Brian Kelly through 2021.
Kelly already has 55 wins at Notre Dame and has the most career victories of any coach currently coaching a FBS subdivision program (226). If he stays for the entirety of his contract*, it's likely he could eclipse Lou Holtz for games coached (132) and Knute Rockne for wins (105).
But there will be no Brian Kelly statue erected outside Notre Dame Stadium when the coach retires.
COMPARING BRIAN KELLY TO LEGENDS
Here's the hot take: Brian Kelly is the worst coach Notre Dame has ever allowed to oversee its football team for at least 78 games.
WINS
Fans and alums want nothing more than for their football team to win.
[table "" not found /]
Imagine if the 2010 Tulsa, the 2011 USF, the 2014 Northwestern and the 2014 Louisville games had been wins instead of losses. Those were all winnable games! Brian Kelly's record at Notre Dame would be 59-19. Lou Holtz was 59-18-1 in his first 78 games in South Bend.
There is a major difference, however. Holtz won a national championship in his third season. Kelly went to the national championship in his third season; we all know what happened next.
Here's why I remain skeptical that Kelly will best Holtz. Lou wins his next 17 games – #79 to #95 – before the Boston College stunner in 1993.
If Kelly goes 11-2, 11-2, 11-2 and 12-1 or better in the next five years, that would not only be awesome. It would give him the exact record of Lou Holtz.
STRENGTH OF SCHEDULE

Brian Kelly said recently that he wanted to keep playing the Alabamas, Ohio States and Clemsons. I commend him, because that's the only way you're going to figure out what is keeping your team from being elite.
Kelly has faced tough adversaries who win a lot of football games. The only person with a tougher schedule? Lou Holtz.
[table "" not found /]
Nearly 45 percent of Lou's first 78 games were against teams ranked in the AP Top 25! Holtz went 21-13-1 against those squads, and 13-9-1 (.587) against those in the top 10.
Kelly is 11-12 against those in the AP Top 25 and 1-5 against those in the top 10. (The lone win was against then-#8 Oklahoma in 2012.) Simply put: While at Notre Dame, Brian Kelly almost never wins games against big opponents.
DAVID VS. GOLIATH

My experience is that Notre Dame fans hate to lose. The pain of that loss, however, is dulled if it's a good team. Any loss to a team that fans consider "inferior" creates a lot of message board bluster about firing coordinators and head coaches.
To Kelly's credit, he didn't lose to an unranked opponent in 2015. The sixth-year coach is now 26-3 when his team is ranked and his opponent is not. The losses are to South Florida in 2011 and Northwestern in 2014; both teams finished with a sub-.500 record. The third is to 7-6 Pittsburgh in 2013 (the game during which Stephon Tuitt was tossed for targeting).
Kelly is 18-8 (.692) when both his team and his opponent are unranked at game time, which is also last among the six coaches we're examining.
THIS IS OUR HOUSE
A home win is the perfect capstone to a weekend odyssey to South Bend. No one should come to your house and push you around.
In this respect, Holtz and Kelly boast similar records. Holtz was 30-7-1 in his first 78 games, while Kelly has been 29-8. Holtz's losses were to #3 Michigan, a 5-5-1 Pittsburgh team, and #3 Penn State in 1986; a 5-6 Stanford team and #18 Penn State in 1990, #13 Tennessee in 1991 and #18 Stanford in 1992. That loss to Stanford in 1990 was Holtz's only loss to a team that ended the season under .500. (He was 47-1 at ND).
Kelly's home losses: 7-6 Michigan, #16 Stanford, 10-3 Tulsa in 2010; 5-7 South Florida and 10-2 USC in 2011; #14 Oklahoma in 2013; and 5-7 Northwestern and 9-4 Louisville in 2014.
[table "" not found /]
ROAD DOGS
It's satisfying to go into an opponent's house and silence their crowd in a dominating win. My experience with our fan base, however, is they tend to forgive road losses more than home losses (unless they are against opponents deemed inferior).
Kelly's teams have struggled in true road games. They are 14-11, which puts him well behind the legends.
[table "" not found /]
CURB STOMPING
Fans constantly implore the Irish's head coach – through their televisions – to keep his foot on the accelerator.
Brian Kelly doesn't coach those kind of teams. Nearly half of his wins – 23 – at Notre Dame were by 9 points or fewer. If you're old enough to remember Lou Holtz, only a quarter of his wins in the time period studied were by less than 10 points. And if you've been a fan since Ara Parseghian, Kelly's margin of victory has to feel extremely frustrating. Through 78 games, Parseghian-coached teams won 27 games by 30 or more points!
[table "" not found /]
[table "" not found /]
YOU ARE MY BITTER RIVAL
Beating a historical rival is a feel-good elixir for many of us. I studied six historical opponents – most are considered rivals; a few are not.
Here's how each coach is doing through 78 games, with the caveat that Notre Dame has zero control over the ultimate successes or failures of other institutions during certain eras
vs. USC
Lou Holtz: 6-0-0 (1.000)
Frank Leahy: 5-1-1 (.786)
Brian Kelly: 4-2-0 (.667)
Ara Parseghian: 2-4-2 (.375)
Knute Rockne: n/a
vs. MICHIGAN
Lou Holtz: 4-2-1 (.643)
Frank Leahy: 1-1-0 (.500)
Brian Kelly: 2-3-0 (.400)
Ara Parseghian & Knute Rockne: n/a
vs. MICHIGAN ST.
Lou Holtz: 6-1-0 (.857)
Brian Kelly: 3-1-0 (.750)
Knute Rockne: 3-1-0 (.750)
Ara Parseghian: 5-2-1 (.688)
Frank Leahy: 2-1-0 (.667)
vs. NAVY
Lou Holtz: 6-0-0 (1.000)
Ara Parseghian: 7-0-0 (1.000)
Frank Leahy: 8-1-1 (.850)
Brian Kelly: 5-1-0 (.833)
Knute Rockne: 0-0-1 (.500)
vs. PURDUE
Lou Holtz: 7-0-0 (1.000)
Knute Rockne: 6-0-0 (1.000)
Brian Kelly: 5-0-0 (1.000)
Frank Leahy: 4-1-0 (.800)
Ara Parseghian: 4-4-0 (.500)
vs. STANFORD
Frank Leahy: 1-0-0 (1.000)
Ara Parseghian: 1-0-0 (1.000)
Knute Rockne: 1-0-0 (1.000)
Lou Holtz: 3-2-0 (.600)
Brian Kelly: 2-4-0 (.333)
DISCLAIMER
It is completely unfair to compare coaches from different eras because almost all aspects of the game have changed during the past 100 seasons. There are several issues that a head coaches can't directly control: academic issues, injuries/luck and transfers, to name a few.
However, I undertook this amateur analysis because I believe fans do this sort of "apples-to-waffles" comparison, especially those who look back at the "good old days" with a certain reverence.
LOGISTICS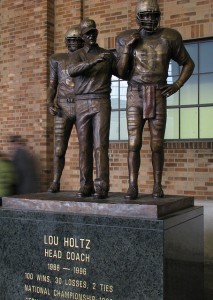 Notre Dame Stadium has just one gate that isn't already dedicated to a former coach.
Gate A belongs to Devine; Gate B to Parseghian; Gate C to Leahy; Gate D to Holtz, and the north tunnel to Knute Rockne.
Leahy's Lads raised funds for a statue of their coach, which was erected in 1997 on the stadium's east side. A sculpture of a seated Moose Krause, the former coach and athletics director, was added in 1999 outside the Joyce Center.
The university's Monogram Club expressed interest in erecting statues in honor of all Notre Dame football coaches who won one or more titles. Parseghian's went up in 2007; Holtz in 2008; Rockne in 2009 and Devine in 2011. All five coaches are also in the College Football Hall of Fame.
Is Brian Kelly a strong candidate for the College Football Hall of Fame if he wins more than 100 games at Notre Dame and close to 300 overall? Absolutely. But, lacking a national championship, I don't see a vestige of Brian Kelly cast into bronze and placed outside Gate E.
CONCLUSIONS
Flawed as it may be, I compared Brian Kelly and the four legends in 83 statistical categories. I assigned 1 point to the coach who had the most wins, least losses, most ties, best win percentage and so on. The coach in last place in each category received five points. As in golf, the lower the score, the better.
Here are the results:
Frank Leahy (1941-43, 1946 to game #1 of 1951): 193 points
Knute Rockne (1918 to game #3 of 1926): 195 points, 2 points behind Leahy
Ara Parseghian (1964 to mid-1971): 207 points, 12 points behind Rockne
Lou Holtz (1986 to game #5 of 1992): 226 points, 19 points behind Parseghian
Brian Kelly (2010-2015): 286 points, 60 points behind Holtz
By the metrics I selected, Brian Kelly is unquestionably the least successful coach who has been employed at Notre Dame for at least 78 games. My findings should not be construed as advocating for Kelly's firing. (I personally believe the opposite; I really like Brian Kelly.) I'd imagine Brian Kelly will be perfectly content with being a good, but not legendary, Notre Dame coach.
LOOKING AHEAD
If Notre Dame is successful this year, they will play either 13 or 14 games. Here's how each past coach did in games #79-92:
Knute Rockne: Now coaching in his ninth year (1926), Rockne compiles an 11-2-1 record in a 14 game stretch. His team hands Northwestern and Army their only losses of the 1926 season, and Georgia Tech its only defeat of the 1927 campaign. His team ties an undefeated Minnesota team, 7-7, in 1927 and loses to 19-0 to Carnegie Tech in the penultimate game of the 1926 season and 18-0 to Army in Yankee Stadium the following year. (The team is 11-1-1 in the next 13 games).
Frank Leahy: Leahy has also begun his ninth year, and there's some surprising struggles. The '51 team loses, 27-20, to a Southern Methodist team that will finish the season with a 3-6-1 record. It ties Iowa, 20-20. The Hawkeyes finish the year 2-5-2. Leahy's Lads are also blown out by #5 Michigan State, who finishes the season undefeated.
The 1952 campaign is more successful, including wins over #5 Texas and #9 Purdue who, frankly, did not deserve to be ranked that high. Leahy is 9-3-2 in his next 14 games. (The team is 8-3-2 in the next 13 games).
Ara Parseghian: Parseghian's 79th game as Notre Dame coach is near the end of his eighth season. He'll compile a 11-3 record in the next 14 games. In this stretch, Parseghian's teams plays only three teams that will end the season with a winning record – and lose to two of them (#14 LSU at the end of '71 and #1 USC near the end of '72). (The team is 11-2-0 in the next 13 games).
Lou Holtz: Lou's done with losing for a while. His '92 and '93 teams will go a perfect 14-0 during this stretch, including wins over previously undefeated (and #4 ranked) Texas A&M in the Cotton Bowl and then #3 Michigan to open the road slate in 1993. The streak would extend to 17 before being snapped by…yes…Boston College. Notre Dame's opponents during the 14-game stretch would finish their seasons a combined 75-88 (.460).
—
* As Blue & Gold Illustrated's Lou Somoygi noted:
"Whether Kelly actually lasts the full six years on the deal is debatable. … Contracts are mainly statements of buyout or compensation for a given number of years. With virtually any college coach, the objective is an ability to publicize that he is under contract at a minimum of four more years in order to "sell" it on the recruiting trail. To believe that it is gospel is naiveté at its finest."
Latest posts by andrewwinn
(see all)