Yes, I know it is quite early in the season to talk about the Heisman. No, I'm not trying to jinx the rest of Notre Dame's season nor am I trying to put a hex on everything awesome that C.J. Prosise has done thus far. I am, however, wondering that if the national media is already shoveling loads of no-doubt-Heisman-front-runner praise onto Leonard Fournette, shouldn't C.J. Prosise be right there with him?
In many Heisman watches, you will see Fournette right at the top and Prosise as either an afterthought or not even mentioned. I didn't think much about that situation until I saw this:
https://twitter.com/ISDUpdate/status/648868945093484544/
You did not misread that. C.J. Prosise is neck-and-neck with Fournette. And before you say "but Tex, Fournette has played one less game" (LSU vs. McNeese State was cancelled), you should realize that Prosise has only one more carry than the beast that is Fournette.
The next logical line of reasoning is to start comparing who they played and how their performances stack up. I decided to break down how they did each game and what the current rank of each rushing defense that they faced to get a clearer picture.
C.J. Prosise
[table "" not found /]
Leonard Fournette
[table "" not found /]
The biggest difference that jumps out is that Fournette is getting the ball a hell of a lot more than Prosise is each game. This shouldn't be too surprising as Brian Kelly has said on many occasions that he doesn't want his converted WR taking more than 20 carries each game if possible. Even with that limit imposed, Prosise is doing an incredible job in keeping up.
The strength of defenses faced, and resulting performances against them, should probably be filed as "too soon to compare". I was rather surprised to see Virginia and Georgia Tech rated as high as they were based on their most recent games, but Syracuse stuck out like a sore thumb. Going back into their schedule, you will see that they held powerful Rhode Island to 4 yards and their second impressive defense performance was against lowly Wake Forest.
We can certainly take some initial impressions away from each game; however, we may be a couple of weeks out before the numbers start to level out. What we can say for sure is that it is rather clear that neither Prosise or Fournette find themselves struggling no matter who they are facing. Both backs had their "worst" game at the beginning of the season. Since that point, they've been on another level.
There is one other factor that really got me thinking about Prosise and his too-soon Heisman chances: he's doing on this on a team with weapons like Will Fuller and emerging freshman backs Josh Adams and Dexter Williams. Fournette on the other hand is the LSU offense.
To double check my hypothesis, I calculated just how much each offense was dependent on each back.
C.J. Prosise
[table "" not found /]
Leonard Fournette
[table "" not found /]
While each player is getting a similar percentage of all rushing attempts, Fournette is clearly the focal point of the LSU offense, getting nearly 40% of all touches. Not only that, Fournette is clearly the only one having any consistent success on LSU's offense as he is responsible for over half of all their yardage and touchdowns.
So here is where the subjective part of any Heisman/MVP discussion comes in. Do you lean towards the guy that is clearly the only one doing anything for his team? Or do you give some love to the stud making a huge impact on a team of studs with limited touches?
Let me know which way you lean, but, either way, I can't tell you how happy I am that we can even think about having this conversation in September.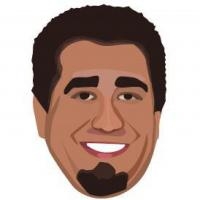 Latest posts by Ryan Ritter
(see all)