Notre Dame Football graced us with their annual teaser of football season with the Blue/Gold Game this past Saturday. Of course, this means that it is time for every ND blog in existence to throw out some reactions from the practice game. HLS, of course is no different (save for the fact that I think everyone else already has theirs up), so it is time for me to play my role in this annual rite before we enter the long summer of counting down the days until fall camp breaks.
Note: the assorted thoughts below may or may not always include analysis from the game.
I should be drunk right now…
So my first taste of #DadLife during football season came early. In lieu of tailgating (aka having an excuse to drink at my house at 8 or 9 am), I spent my morning moving furniture out of our guest bedroom to begin the conversion to a nursery.
I managed to finish the process about 30 minutes before "kickoff"; however, the first drink that I consumed was water. In fact, I only consumed one beer the entire game.
What is happening to me? Send help.
Oh hey, our QBs are dancing
SupermanTDJesus captured this wonderful moment from the pre-game in his highlight reel. We've heard that the QB competition is about as friendly as it could be and I'm not sure anything proves this more than our QB duo dancing a jig.
And now, they shall dance forever!
The QB competition went as expected
I wasn't expecting either Everett Golson or Malik Zaire to really grab the starting QB spot after Blue/Gold. Kelly said the competition would likely go until August and even if either of them had a terrible day it could be chalked up to something they'd need to work on during fall camp.
Needless to say, that (thankfully) didn't happen and both QBs put together solid performances. I still believe that this is Golson's job to lose, but, after seeing what happened against LSU, it just seems dumb to not give both playing time throughout the season.
That Zaire bomb though…
Straight football porn:
https://vine.co/v/ezTUDnErQD1
PEW PEW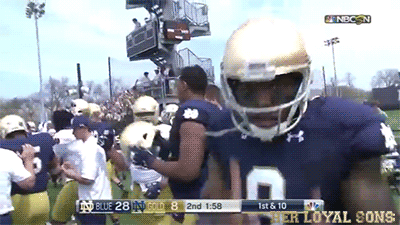 Not sure if offense great or defense terrible
Here's the annoying part of every spring game. When something incredible happens, you marvel at one side of the ball and then start to get worried if that great thing only happened because the other side of the ball is terrible.
Generally, I lean towards thinking that the offense usually has the advantage in these types of scrimages. Plus, some of those guys really are that good. That bomb that Will Fuller was wide open on? That's going to happen to a lot of DBs and not just poor Nick Watkins.
Still, after some of the nightmares that happened in 2014, I would be lying if I said I wasn't slightly concerned.
Jerry Tillery is going to be a monster
I can see why Kelly gushed over him most of the spring. After making a position change and just a bit of spring football under his belt, he looked like a natural on the D-line. He didn't make any huge plays, but he's going to give a lot of offensive lines nightmares and I can't wait to see what happens when he gets even better.
Welcome to the backfield CJ Prosise
Prosise is just one of those guys that needs to get the ball feed to him. He looked great in the backfield and will serve as a great compliment to both Tarean Folston and Greg Bryant. Added benefit: Prosise is likely going to continue driving those two to stay on top of their game so they don't lose carries. Everybody wins.
No one got hurt!
Save for one slight scare when Nyles Morgan needed to be checked out, everyone left the Blue/Gold game in one piece. Really, that's the biggest victory you can ask for.
Dan Hicks had to read my stupid blog joke
Dan Hicks has called play-by-play for an NFL playoff game. He's been one of the voices for the Olympics and is now the voice for Notre Dame football home games. And now, he can add this to his resume:
https://vine.co/v/eztzrYXpYEw
I'm still laughing.
I think this is better than winning the #NDCallThePlay contest. The most absurd thing that I could think of made it on TV. Dan Hicks had no idea what he was reading/seeing and I can only imagine the look on Doug Flutie's face too.
This might just be the highlight of my blogging career.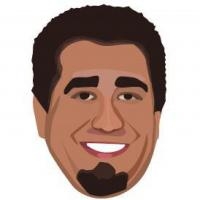 Latest posts by Ryan Ritter
(see all)