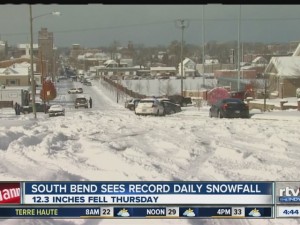 But let's be honest, they probably won't be. If the last two weeks are any indication, a prediction of an inch of snow followed by what South Bend saw this week would look far more accurate than our collective football clarvoyance.
We had only two, that's right, two people pick Arizona over Notre Dame straight up last week and one of those was Biscuit who continues to kick all of our asses from his August predictions. And the notes we had for the game? Oh good God, they aren't any better. Let's get to those before the standings and see if we have any bonus points to make up for it (spoiler alert: don't hold your breath).
By the way, this week's entry is here.
A Tommy Rees led team beat ASU last year. ASU lost by 1,000 to UCLA and it took a miracle against USC to have their #9 ranking today. ASU is top #25 good, but definitely not top #10. This is ND's "signature win" gift wrapped with a giant Lexus bow on it. I just hope the Irish don't shit the bed. – @NDClock
You wished in one hand and Notre Dame shat in the other. Guess which one filled up first.
We will go down by a field goal early, but will regain control and not have to sweat this one out too much. We pressure ASU into two picks, while Golson throws one. There are 27 mentions of how our defense will perform without our former walk on defensive quarterback . That's right 27. – @rhyno1515
You almost had the 27 thing right…had 27 been 34 and you said "unanswered Arizona State points that our defense will give up". And the turnover prediction has all the sadness. All of it.
As your new supreme ruler of picks, I declare an ND decisive victory. Also, I declare a burrito a sandwich. – @IrishMoonJ
ND comes out strong (just like every other week, duh) and takes a commanding lead early on. Lots of Jaylon finger wags and BVG fist pumps. ASU finally plays the part of #9 midway through the 3rd quarter and a Golson interception at the WORST POSSIBLE TIME results in angry tweets and heavy drinking. The defense remembers to make tackles in the waning minutes of the game and Golson leads 2 masterful drives to cap a comfortable 12 point win. – @tyvanvoorhees
Well, to your credit there was a turnover by Golson in the third at a terrible time, but man the rest of the prediction is just so far off, I don't think I can give the point.
I'm sorry, this game has made me bitter and I'm hording the bonus points because I'm angry.
There was a moment at FedEx Field, about midway during the fourth quarter, when Jaylon Smith decided that he, personally, had had just about enough of Navy's crap, and from then on he was an absolute menace, torpedoing the Mids' option attack from inside the backfield. One of the heretofore unconsidered silver linings to Joeusedtobeawalkon Schmidt's season-ending injury is that it now frees up #9 to make even more plays.

This will happen in Tempe.

Roughly halfway during the fourth quarter, Arizona State quarterback Taylor Kelly will see #9 in his usual spot as an outside linebacker. But when he goes to ID the mike, he'll see that it's . . . Jaylon Smith. He'll read a blitz coming from the other side from . . . Jaylon Smith. Panicking, he'll audible into a running play, drop back to hand the ball off only to find, ready to receive the handoff . . . Jaylon Smith. Sun Devil coach Todd Graham, frightened, will call to the booth to find out what the hell is going on only to find that instead of third-year offensive coordinator Mike Norvell, he's reached . . . Jaylon Smith.

In the ESPN booth, Sean McDonough, impressed, will say "Jaylon Smith is everywhere, isn't that right?" and turn to see not Chris Spielman, but . . . Jaylon Smith.

"That's right, Sean. I'm everywhere . . .

Everywhere . . .

E V E R Y W H E R E . . . "

The game actually ends on a forfeit as a psychologically broken Sun Devil team ponders whether they, and by extension all of us, are all just figments of Jaylon Smith's imagination. (Short answer: yes.)

#JaylonSmithExistentialismCrisisTrain – @irishmikecomedy
There is nothing right about this comment, but it's so beautiful and, if you think about it, aren't we all on a #JaylonSmithExistentialismCrisisTrain? The lone bonus point this week is yours. Treasure it.
And don't f*&king fumble it.
Standings
[table "" not found /]
As I said above, only one lone bonus point this week. We were all terrible and Biscuit's dancing leprechauns are back on top, tied with Moons.
HLS Predictions
This can't go any worse than last week…right?
[table "" not found /]
Animal Picks
Okay, so I'm convinced my cat, Gulliver, is picking against the spread because he's now 6-3. Yes, I know the bit was picking straight up winners, but when he's inverse ND there and more correct than our collective record against the spread…yeah, I'm going to start listening to the cat because that's logical and shut up and stop judging me.
Anyways, the pick:
And I'm not picking against it (see above).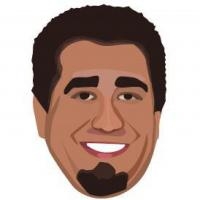 Latest posts by Ryan Ritter
(see all)