Yes, this is a post about that play or, more specifically, that penalty. We have two weeks to digest the entire Notre Dame and Florida State epic. That game shouldn't be defined by that one penalty nor do I want it to be. However, I'm mad as hell and can't get that moment out of my head so it's time to vent.
Today, Brian Kelly mirrored my feelings perfectly as to why I'm so full of piss and vinegar right now:
Brian Kelly: "Florida State blew the coverage and they got rewarded for it." #NotreDame

— Rachel Terlep (@eTruth_Irish) October 19, 2014
I stand behind Kelly 100% in that statement. I can understand why the refs believe Will Fuller went a step too far in fighting for position with the DB. What I don't understand is how they believed Fuller's action actually impeded anyone from making a play.
Let's take a look at this play from two different angles taken by The Observer and ND Insider (South Bend Tribune):
#NotreDame's reaction regarding the negated TD: http://t.co/38QCARK89J https://t.co/ta5zxUjAmh

— Observer Sports (@ObserverSports) October 19, 2014
Our view of the penalty call that will be debated for quite some time. #NotreDame #FloridaState #NDvsFSU #NDFB
The two DBs engaged with Prosise and Fuller never make an attempt to go towards Robinson; in fact, they aren't even looking at him until the ball is in the air and by then it's far too late to do anything. #26, P.J. Williams, is the only one that makes a move towards Robinson, but even he recognizes what's going on far too late. He is hopelessly out of position and Golson throws the ball almost immediately.
Simply put, the play call was perfect. Florida State was completely out of position and no DB attempted to switch off in order to try and get Robinson covered. Had either one of the FSU DBs done that, I'd be singing a far different tune. Prosise and Fuller could have just stood there and Robinson would have still scored. That's how bad FSU botched the coverage here.
So we can talk all day long about who engaged who, who got more contact, and dumb comparisons to the roughing the snapper penalty last week. The Seminoles blown coverage still remains. No yellow flag will ever wipe that out.
If you watch the FSU's secondary reactions after the play, you can easily see that was their initial reaction too. They all started screaming at each other in frustration for, what they thought, was a game-blowing play. Not a single player motioned for a flag.
What they did do, specifically P.J. Williams, was remove his helmet during the screaming match. Today, Brian Kelly stated that the officials told him that they missed this and blew the call. That wouldn't have offset the OPI call; however, it would have granted Notre Dame an automatic first down and would have been on the 8.5 yard line instead of the 17–wait, no, the final play was run from the 18 because these refs, paragons of the rules that they are, granted a bonus penalty yard for mysterious reasons.
So, if we really want to go down the road that this call was "technically right", we also need to apply the same scrutiny in which the refs were technically wrong. Missing a removed helmet, but managing to focus on the borderline OPI is beyond laughable.
Go back earlier in the game and you will also see a celebration no-call as Florida State high-stepped into the endzone. Normally, I would roll my eyes at such a call as I hate the rule, but ND fans are being lectured about OPI technicalities while that no-call goes largely forgotten and it drives me up the wall.
Make no mistake, that flag was not the sole reason why we lost that game and that will be a topic I will certainly expand upon another time. However, that flag did take away the win on a drive that was absolutely incredible and included a gigantic 4th and 18 conversion.
It's frustrating. It's aggravating. And it'll probably take me another day or two to not be angry by the mere thought of that play and that flag. And the worst part of it all was that the person at the center of one of the most famous no-calls in ND history, the one in which we were all told that no ref should ever throw a flag on to decide the game, tweeted this:
Wow not sure about that call

— Reggie Bush (@ReggieBush) October 19, 2014
Hate to see a game decided on that

— Reggie Bush (@ReggieBush) October 19, 2014
Salt in the freakin' wound.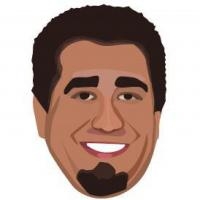 Latest posts by Ryan Ritter
(see all)