Touchdowns
Golson to Brown
Golson to Koyack
It only took two TDs for Notre Dame to top Stanford. Brown's TD allowed us all to breathe going into the half and Koyack's catch, on a 4th and 11 no less, sent us into jubilation.
Turnovers
Golson's Fumble
Golson's INT
Golson struggled once again in protecting that ball. The fumble was once again a result of him holding the ball waaaaaay too far out from his body. The INT was a result of Golson trying to force a play that wasn't there.
The good news? Golson learned his lesson, at least with fumbling, on his 33-yard run:
There was no way in hell he was going to lose the ball again. Thank you, Golson.
Botched Holds
Hunter Smith on FG Attempt #1
Hunter Smith on FG Attempt #2
I have never written about #99 here at HLS and I never should when your one job is to hold the football for Brindza. You could almost excuse the first botch as the ran was coming down pretty hard. The second one though? In his own head.
Thankfully, Hunter discovered the wonder of gloves, incredible devices that help you catch and hold a ball, and allowed Brindza to get to attempt one FG without craziness. Third time's a charm!
Instances of Shaw whining like a baby.
2012: The Phantom Whistle
2014: The Band Playing Music
We all thought there was no way Shaw could ever top complaining about his whole team hearing a whistle that didn't exist, but lo and behold, he got into the ears of the (terrible) Pac 12 ref crew. His issue was that the band played a little bit too long, so ND got a warning and Stanford basically got a free timeout.
Much like his phantom whistle complaint, the band issue accomplished nothing but allowing us to hate the guy more. Also, the band got the last laugh:
THE DRUM MAJOR HAS BETTER HANDS THAN TY MONTGOMERY!
Gigantic Upsets
Arizona def #2 Oregon 31-24
#11 Ole Miss def #3 Alabama 23-17
We should have known this entire week of college football was going to be insane when Oregon fell to Arizona on Thursday night. There were certainly more upsets than the ones listed above (#4 OU, #6 Texas A&M, #8 UCLA,#16 USC, #17 Wisconsin, and #18 BYU), but Oregon and Alabama were by far the biggest shocks of the week.
If you had an undefeated record, you were in serious danger. Florida State had to be thanking their lucky stars they were playing Wake Forest. Somehow, Notre Dame joined the Seminoles in the select group of six undefeated teams still standing.
The lesson learned here? If Katy Perry picks against you, be afraid. BE VERY AFRAID:
/dead pic.twitter.com/pzaIz9cAVw

— Isaac (@WorldofIsaac) October 4, 2014
Rival Losses
Rutgers def Michigan 26-24
Arizona State def #16 Southern Cal 38-34
Michigan continued their downward spiral by failing to beat yet another Power 5 opponent. This time, it was well-established B1G powerhouse newcomer Rutgers. I'm sure when Michigan saw that they would welcome Rutgers and Maryland to the B1G, they weren't aware that they'd be the welcome mat.
Southern Cal, however, probably had the more satisfying upset because, let's be honest, we don't expect Michigan to win anymore at this point. The Trojans came into this game without giving up a single passing TD. They surrendered 5 in this game with the final one occurring because of the worst Hail Mary defense that I have ever seen.
Thumbs on a Happy Guy
#DORK pic.twitter.com/coFPPMPk09

— HLS_SupermanTDJesus (@SupermanTDJesus) October 4, 2014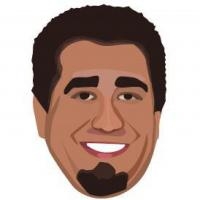 Latest posts by Ryan Ritter
(see all)