Ever the politician, a plaid-suited Brian Kelly sidestepped a question ripe for opposing locker room material. Sure, the end of the Michigan series has opened the door for some very exciting future games for Notre Dame football, but he wasn't about to proclaim it a "good thing" and provide Michigan with additional motivation.
Instead, Kelly called future games with Texas and Georgia the "silver lining" of no longer having Michigan on the schedule. Afterward, he looked to the eager press asking how he did in delivering the political response and even jokingly praised the reporter for doing a good job in phrasing his question for the potential trap. As the press conference ended, he stated with relief that he got through the thing without getting into any trouble.
And there was plenty potential for such trouble. Earlier in the conference, he refuted the idea that he would use the final Notre Dame/Michigan matchup as additional motivation for his team. Instead, he stated that he would frame the unique situation as an opportunity for his squad, doing his best to downplay the finality of the series.
But as calm and political as Kelly appeared on the outside, I couldn't help but wonder what was really going on inside his head. Previously, he practically admitted that he was tired of losing to Brady Hoke. He's been on the wrong end of the scoreboard and chicken comments. Somewhere deep inside, you just know this game matters more than he'll publicly state.
Part of me wishes this presser went scorched earth on Ann Arbor, but, for now, Kelly's cooler head prevails. Hopefully, drunk on victory come Saturday night, we get some of what Kelly is holding inside.
Presser Highlights
On Rice: Highlighted good predictors for victory, specifically +11 in field position, +2 in turnovers, and 9.0 yards/play. Mentioned that a "great effort" on special teams helped to deliver the great field position that the Irish enjoyed all game long.
On Michigan: Called Devin Funchess a problem matchup now that he's moved from TE to WR. Noted that Gardner has "played great" against the Irish in the past and that ND will face a veteran defense. Later in the presser, Kelly noted that Michigan will heavily press his WR and that Michigan will deploy a very aggressive defense much like Brian VanGorder does.
On the academic investigation: There is still no update, but that could all change quickly. This is definitely Al Lesar's favorite topic.
Injuries: Torii Hunter is out for Michigan, but could be back in time for Purdue. Kelly is "hopeful" in regards to Jarrett Grace's progress, but notes he is still a few weeks out. Once healthy, Kelly is confidence that Grace can be thrown back into the mix immediately at LB and contribute for the team. Corey Robinson's hand was a bit sore after the Rice game, but is fine and he is still a full go for Michigan.
On secondary communication failures: Kelly very delicately stated that VanGorder more or less chewed the safeties out for their failures against Rice. He stated that he "could hear our safeties communicating" while he sat in his QB meeting. While I personally love that kind of fire, it only works if the players respond to it and, by Kelly's account, it looks like they are.
On James Onwualu: The converted LB got tons of praise during this presser. Kelly noted that Onwualu's toughness and demeanor lead him and his staff to believe that he should get a shot at playing defense. After spring ball, VanGorder was sold. Later in the presser, Kelly also noted that Onwualu is someone that can be on the field for practically every snap, including special teams in which Kelly the day for that unit, largely in part for sniffing out the fake punt.
Where is Ben Councell? Kelly noted that the SAM LB position was largely unused against Rice because of how they spread the field. He noted that Council would see much more playing time against more physical offenses that like to deploy 2-TE sets. Based on what I saw from Michigan this past week, don't be surprised if Councell sees more of this playing time that Kelly refers to.
Brian Kelly, trolling hard: The first thing he credited for the improved special teams play was the Irish's ability to "stick [their] foot in the ground" thanks to the new FieldTurf. He admitted that he knew it sounded ridiculous, but I don't care. Kelly praising the new turf, no matter how truly genuine, will always make me laugh.
On rotating punt returners: Cody Riggs is definitely the #1 PR, but will see split time with Greg Bryant based on how long Riggs has been on the field. Kelly stated that, especially with his secondary depth hurting, he needs Riggs out on the field on defense. If he thinks he needs a blow, he'll run Bryant out there instead.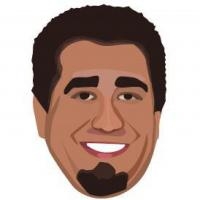 Latest posts by Ryan Ritter
(see all)