The Notre Dame football twitter account has been on full #TurfWatch alert. I can't help but being reminded of a certain other popular "watch":
Anyways, the vigil of the wonderful folks over at Fighting Irish Digital Media has paid off as we have our first look at the interlocking Notre Dame monogram at midfield:
We Are ND #TurfWatch pic.twitter.com/dvx1DGFvF9

— The Fighting Irish (@FightingIrish) July 24, 2014
I must say, the monogram looks great in the morning light in ND Stadium. It looks a touch crooked right now, but that's either my eyes playing tricks on me or the logo isn't fully set yet (as the endzone strips and other markings aren't on the field at all right now too).
Oh, and that nice green turf looks pretty nice too. I'm definitely excited for the first full shot of the entire field, sidelines and all, when it's finally complete.
37 more days, folks.
EDIT: Looks like my eyes were playing tricks on me as Leigh Torbin just tweeted out another photo:
A nice sunny morning to welcome the monogram to ND Stadium RT @NDFootball: What a beautiful sight #WeAreND #TurfWatch pic.twitter.com/BAIjie1N83

— Leigh Torbin (@LTorbin) July 24, 2014
Nice photography work by the way, Leigh! Make that Christianne Harder's handy work on the photo (which appeared first on the ND Football account, which, if you weren't aware, she runs). #TurfWatch comes fast and furious and the news stops for no one and I really need to do a better job of seeing "RT" in a tweet and not just looking at the pretty pictures.
EDIT #2: Here's the first panoramic shot of the field, courtesy of Tim "Oak" O'Connor of FIDM which also comes with a confirmation that the midfield logo isn't sewn in:
https://twitter.com/oaknd1/status/492326124962463744
EDIT #3: And now we have a bird's eye view of the stadium. Just a few more touches and it will be complete.
Bird's eye view of the new turf at #NotreDame Stadium. pic.twitter.com/o589qzBT4Y

— Dan Murphy (@DanMurphyESPN) July 25, 2014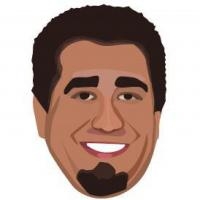 Latest posts by Ryan Ritter
(see all)