Earlier this week, Notre Dame unveiled their new FieldTurf design that will debut this season. Jack Swarbrick made some waves by announcing there would be a midfield logo and shamrock kickoff markers, elements of design that have never been seen in Notre Dame Stadium.
But if you think that announcement caused an uproar, you should see one of the design finalists that was rejected in favor of what was announced this week. That design was…well, it was certainly different:
And yes, Notre Dame was very close to going with this option. I was able to speak to Swarbrick, or at least someone that I believe might be Swarbrick, and he emailed me the press release that was to accompany this announcement.
The press release and justifications for the field might just be more shocking than the design itself. Let's just FJM our way through this:
I'm pleased to talk about the new concept field at Notre Dame. After years of listening to people complain about FieldTurf and jumbotrons, we have decided to take an aggressive expansion and renovation posture that is sure to, well, probably piss of most of the fan base. Those guys are never happy.
Well, that's certainly an aggressive way to handle the situation. I mean, I get frustrated with all the hair-pulling over something as silly as a field and am always happy to troll those folks.
This, however, is basically a declaration of war.
First, I could not be more proud of our association with Under Armour. Their dedication to excellence matches our own, and it is entirely appropriate to place their logo prominently on the field. This will start what I hope is a long tradition of highlighting our corporate sponsors' logos and making the field look more cluttered than Dale Earnhardt's race car.
Well so much for that promise.
And I tell you what, he wasn't joking about prominent placement of the Under Armour logos. I don't think I've ever seen a kickoff marker that large before.
I guess the benefit to this is that Adidas must be really pissed, but I think we're a bit overzealous in the whole "Protect the House" thing.
Second, you'll also notice the dog at midfield.  I was really excited to put Eddie from the hit NBC sitcom "Frasier" on there. It's part of my continuing campaign to have NBC bring back the show. Someone also pointed out that it's a nod to the days of Clashmore Mike, and I guess that's kind of neat too.
When I first saw this design, I figured the inclusion of Clashmore Mike was a nice nod to Notre Dame's history and traditions.
It was also the only thing on the field that could at least use that kind of logic.
However, I'm shocked that Swarbrick really didn't recognize it. A campaign for Frasier?! Really?!
Hey, Jack, why don't you use your NBC powers for good and get Community back on the air forever? That show deserves prime-time exposure and not streaming relegation.
Third, it's no secret that I've embraced social media to the fullest extent. Not only does it promote our brand to a younger audience, it's also a great way to meet girls. That's why you'll now see hashtags in our end zones in hopes of getting Notre Dame….what's that term again?  "Trending." Yes, trending on Saturdays.
Jack either didn't notice FIGTHING or is just sitting back, smiling, and watching people explode over a dyslexic typo once again.
I suppose we're just going to ignore the Comic Sans font too? Did Dan Gilbert consult on this design?
I mean, I appreciate the social media efforts. FIDM is awesome, WatchND is one of the best things ever, and it's great to see ND reach out to Twitter and Facebook even if it results in a big, heaping dish of stupid.
I love Twitter myself, but holy crap the last thing I ever wanted to see was a hashtag on the field.
Go home, Jack, you're drunk.
Finally, in response to everyone who asked for FieldTurf–have we got a surprise for you. We took it one step further and installed gold colored turf.  I don't know how this is going to look on television and frankly I don't care. People naturally assume I drew inspiration from the Dome, or perhaps our helmets. I actually came up with this idea while eating an entire box of Cheez-Its during a recent trip to Colorado.
Nevermind, you're high–actually, come to think of it, just what kind of "Irish grass" are you putting by the mums this season?
Perhaps the Colorado trip explains how this design got so out of control. I'm glad cooler/sober heads prevailed in this matter. I could only imagine how hard the FieldTurf folks would struggle actually making the field look gold considering how we've been trying to get our pants to look gold on TV for quite a while now.
This entire concept is proof that no matter how bad you think something is, it can always get much, much worse.
The Roundup
Michigan men take their Michigan football seriously. Even during fake games.
So, you mean backing up the Brink's truck doesn't guarantee you a coach? Perhaps we can finally put that talking point to rest with this revelation regarding Alabama head coach Nick Saban and his flirtation with Texas (Saban, of course, is denying everything).
Teams struggling with attendance are looking to MLS for answers. I wonder if "lower the ticket prices and stop playing terrible teams" is a part of the advice they got.
And now your moment of Nix… Les Miles being Les Miles and talking about soccer of all things
https://www.youtube.com/watch?v=gXnVn_NhP10
The Booze
It's going to be a rainy weekend here in Dallas. I was trying to think of a rain themed cocktail for the weekend and I couldn't get (blurry) memories of Purple Rains from the 'Backer off my mind. So what the hell, I'm going with it.
In a highball glass filled with ice, pour in 1.5 oz gin and fill with cranberry juice. Add in a splash of blue curacao, sour mix, and soda water. Add in more blue curacao until you get the purple color desired.
For a true 'Backer-like experience, spill a little on yourself and your friends and/or add in more gin than needed with Toto cranked up as high as possible.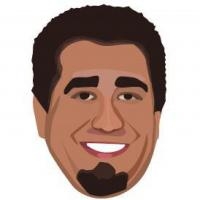 Latest posts by Ryan Ritter
(see all)