Notre Dame spent most of last week's practices working on third-down situations on both sides of the ball. While it's hard to glean much from two or three-minute video clips, it was interesting to see the offense running the "two-man" concept out of a tight formation—something we haven't seen too often the last couple of seasons.
What is the "two-man" concept?
The "two-man" concept consists of one receiver running a five or six-yard stick and looking for a crease between defenders while a second receiver runs to the flat. The route combination stretches the flat defender horizontally. If the flat defender widens, the stick should be open; if the flat defender drops back into coverage, the flat should be open.  It's a very simple concept used in some fashion by almost every team from high school to the NFL.
Below is a diagram illustrating how the "two-man" concept stretches the flat defender.
Although the "two-man" concept can be run from a variety of formations and personnel groupings, Brian Kelly has frequently used it in short-yardage situations from tight (or compressed) formations. The advantage of using the "two-man" concept from tight formations is that the flat receiver has more room get open and make a move before reaching the sideline.
Let's take a look at the offense using the "two-man" concept in last week's practice.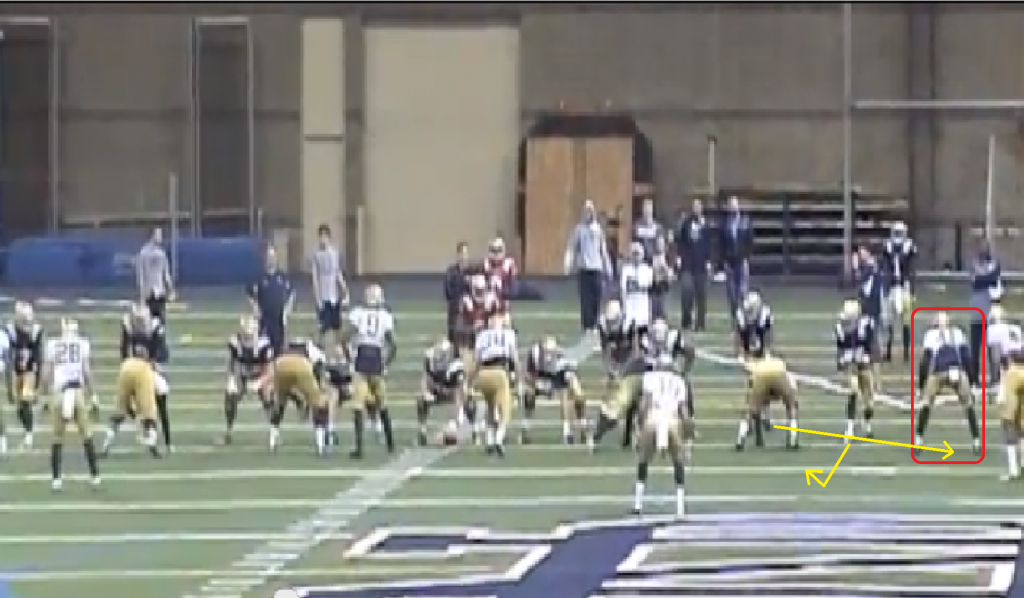 The offense is lined up in a 2×2 compressed formation. All four receivers are within five yards of the tackles. Justin Brent will run a five-yard stick route while Amir Carlisle will run to the flat. Matthias Farley (highlighted) is the read defender. If he widens, Brent should be open on the stick route; if he stays in, Carlisle should be open in the flat.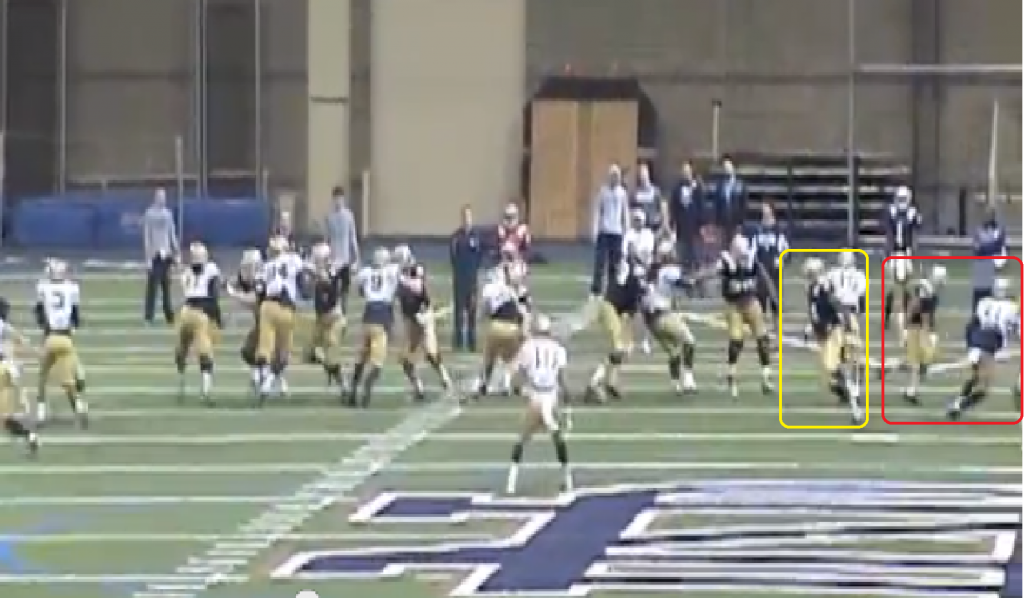 Both Farley and safety Eilar Hardy widen and leave Brent open on the stick. But Golson never looks to Brent and forces the ball to Carlisle in the flat. The end result is a completion, but the proper read and better play would have been to throw to Brent.
Conclusion
The "two-man" concept is a simple but effective chain-mover. If you see Notre Dame lined up in a tight formation on third-and-short next season, there's a good chance you'll see some version of the "two-man" concept.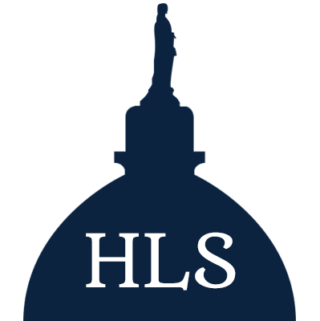 Latest posts by Blog Davie
(see all)