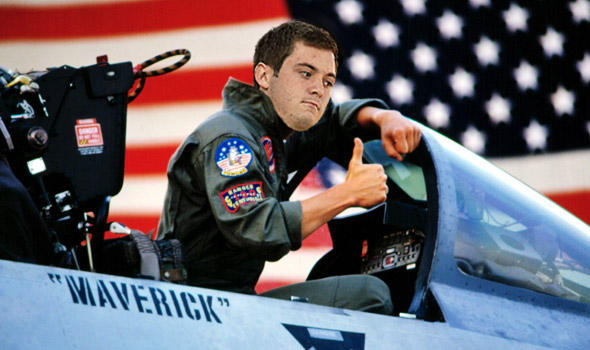 On November 1, 1913 Notre Dame established the forward pass as a legitimate offense in college football. Its purpose was to make the quarterback the most feared player on the field and propel the team to greatness.
They succeeded.
Today, the Navy calls him the guy that embarrasses them every year*. The Fighting Irish call him….
TOP QB
*2007, 2009, and 2010 didn't exist…why the hell is everybody acting like they did?
—————————
Tommy Rees and Andrew Hendrix stand outside Brian Kelly's office. Everett Golson walks out, in a cold sweat, clearly upset, and shaken-up…
Hendrix: "Golson?"
Golson: "Good luck, Tommy…"
Kelly: "MAVERICK! GOOSE! COME IN HERE!"
Rees: "The hell is going on?"
Hendrix: "I donno."
Rees: "Shit…"
Rees and Hendrix enter Kelly's office, his face is a dangerous shade of red — both QBs know purple isn't too far away.
Kelly: "Maverick, you did an admirable job in 2012 — BUT YOU STILL THREW TOO MANY DAMNED INTERCEPTIONS!!!"
Rees: "Coach, seriously, what's with the call signs? It's freaking me out."
Kelly: "Your arm is writing checks that your body can't cash. Don't even get me started on 2011–I can't even count the number of interceptions that year and that disaster under the lights!!!"
Hendrix: [Trying to whisper to Tommy] "Which one? Michigan or Southern Cal?"
Kelly: [Glaring at Hendrix] "And you, asshole…you're lucky to be here after tripping over yourself against Air Force!"
Hendrix: [snaps to attention] "Thank you, sir!"
Kelly: "And let's not bullshit, Tommy. The mere sound of your name scares the hell out of everyone in the stands. You need to be doing it better, and cleaner than the other guy. Now what is it with you?"
Rees: "Just want to serve Our Lady's University, sir. Be the best QB that I can be, sir."
Kelly: "Don't screw around with me, Tommy. You're a hell of an instinctive QB. Maybe too good. I'd like to bust your butt but I can't. I got another problem here. I gotta send somebody from this roster out on the field as the starting QB. I gotta do something here, I still can't believe it. I gotta give you your dream shot! I'm gonna send you up against the best. You two characters…are moving up the depth chart. For 12 weeks you are going to go up against the toughest schedule in the nation. You were number two and three, Golson was number one. Golson cheated on a test and got kicked out of ND. YOU GUYS are one and two. [Glares at Tommy] You remember one thing…you screw up just this much…and your ass will be on the bench for the rest of your eligibility!"
Rees: "YES, SIR!"
Kelly: "That is all…"
—————————
The season progresses, but disaster strikes against Southern Cal. Tommy Rees is standing over a sink with a bag of ice on his neck as the team departs. Brain Kelly enters…
Kelly: "How ya doin'?"
Rees: "I'm okay."
Kelly: [sighs] "Hendrix is dead."
Rees: "What the hell, coach?! He had a horrible game, but you sound like someone with wishful thinking on my Twitter mentions."
Kelly: "You play football long enough, games like this happen."
Rees: "He was my backup, my responsibility. It should have never been that bad."
Kelly: "Look, in my career, I've seen many QBs go down. First string goes down, next man in. But there will be others. You can count on that. You gotta let it go. You gotta let it go."
—————————
Rees comes by Kelly's office the following day for a heart-to-heart. He's still sore and shaken up from the injury, concerned his interception-happy ways could return, and Malik "Iceman" Zaire could take his spot.
Kelly: "What's on your mind?"
Rees: "My options, sir."
Kelly: "Simple. First, you are healthy enough to be cleared to retake your QB1 spot, or you can quit. There'd be no disgrace. That hit was hell–and you've been through hell these past couple of years, it would've shook me up."
Rees: "So you think I should quit?"
Kelly: "I didn't say that. The simple fact is you feel responsible for every single bad thing that happens with this football program and you have a confidence problem. Now I'm not gonna sit here and blow sunshine up your ass, Tommy. A good QB is compelled to evaluate what's happened, so he can apply what he's learned. Out there, we gotta push it. That's our job. It's your option, Tommy. All yours."
Rees: "Sorry to bother you on a Sunday, sir, but thank you very much for your time."
Kelly: "No problem. Good luck."
—————————
Tommy takes the field against Air Force. After a slow and shaky start, he comes alive and finishes with 284 yards and 5 TDs. A jubilant Notre Dame team celebrates in the locker room and Zaire gets Tommy's attention…
Zaire: You…you are still dangerous…[flashes a smile at Tommy]…but you can be my backup any time.
Rees: Bullshit. You're going to stay mine.
The Roundup
The NCAA has been busy this week. It's clear that a major restructuring is in the works and based on Delany's comments, there could be a clearer line between the have and have-nots. Along with this news also comes some new recruiting rules.
The Chip Brown rumor mill is back! Oh, Chip, we didn't miss you (and if you forget him, he's the conference realignment rumor-monger that got things so, so wrong), but we will still laugh at you and the wild accusations that you make/get fed with the Texas AD search. This week, Chip unveils Oliver Luck as the favorite, but also manages to toss Jack Swarbrick's name into the hat. Trying to keep up, the Austin Statesmen pegged Ohio State AD, Gene Smith, as a candidate which he denied.
War Damn Filmgate. Bret Bielema is apparently oh so ready to make friends in the SEC by claiming Auburn doctored the film they sent him. The best part of his public accusation? Lack of a swinging gate on the film. Seriously.
Cierre Wood feels your pain, Carl Pelini. Even coaches aren't immune to the allure of the sticky-icky.
Opponent injury watch: Stanford DE, Ben Gardner is now out for the season.
Quack, quack and f#*k you, Oregon fans. A former Oregon player writes a letter to the editor and says everything you've wanted to say to a crappy fan…well, minus the Spartacus references.
And now your moment of zen…
[youtube id="VnG8eXIQBZU"]
Put These Games on Your Radar
Well last week was horribly mediocre as I went 3-3 with my picks against the spread. I would like to thank Vandy for failing to do anything with their 100 turnovers they forced and Mizzou just blowing their lead. Bastards.
Anyways, that moves me to 11-8 thus far. Let's see if this week can be better.
As always, picks are in bold and have the spread listed next to them (Firefox is still buggy on the bold, unfortunately).
[table "" not found /]
Predictions
Twibby narrowly edged ManCaveQB with his 45-14 prediction by a single point (ManCaveQB had 38-10, a 7 point miss). Here are your standings:
[table "" not found /]
The weather sets up for all kinds of potential for this to be an ugly, sloppy game. However, Mav–I mean, Tommy and the Irish will be able to use it to their advantage in an easy win. Unrelated, the poor field will lose so very badly.
ND 41, Navy 13
Via:
2 weeks in a row of Option Ball! Well, couldn't schedule it better, that's for sure. ND will have 2 full weeks of option preparation before facing Navy this season, and it will help. Navy came on in ND's down years and this became a game. Last season, things finally (FINALLY!) seemed back to normal with ND really enforcing their will on the men in the middle of the ship. Anchors may be away, but the Irish aren't. They're here, and ready to play. No love for the Navy offense this week as the Irish force multiple turnovers and hold Navy to less than 200 yards rushing for the only time all season. While Air Force gives ND a bit of a fit in the first half the week before, this one is in the bag by the time the band takes the field.

ND Wins 30 – 10

   3 Leprechauns! No more Navy heroics when it comes to the Irish. Save it for the battlefield fellas. (And thank you so much for your service, you guys rule)
Navy is a team that makes me more nervous than any other on our schedule, because if you screw up against them, they're like an anaconda. There should be a "Notre Dame" proviso under the Federal Tort Claims Act which would give all of us who watched a game like 2010 one fifty minute hour on the psychologist's couch. I'm glad we played Air Force last week and (hopefully) addressed our issues with the option. I'd love it if we can hold Navy scoreless for more than just the second half. While they blew out the Delaware Blue Hens 51-7 in Week Two, their production plummeted against Western Kentucky and only broke 35 points in its October 19 loss to Toledo in double overtime. Like last year, I expect us to win going away. We should be without Big Lou in the middle – no "knee"-d to risk him against the blocking technique the Middies use. And if we use the DBs to seal the edge like we did, after some time, against USAF, we should be in business and get to see Tommy put up some more insane numbers. Expect big tackle numbers from Jaylon Smith, again, as Navy runs away from Tuitt.
ND 49, Navy 9
Irish 38, Navy 10. Another week of smooth sailing for ND.
TBA
Twin 2 (@HLS_Podcast):
Brian Kelly famously lost to Navy in his first meeting. Ever since, he has righted the ship (ha!) and beaten Navy at their own game: rushing. Consider both 2011 and 2012 in which the Irish did things they rarely do: accumulate rush yards and TDs, and score 50. In the past two years combined, ND has logged an eye-popping 475 rush yards, 106 points, and 12 TDs on the ground. The Irish may flip the everyone-gets-a-touchdown-trophy from receiver to RB coming off of Air Force. Look for the rain to continue causing turf problems and both teams will be slowed. The Irish will have more success resorting to the air than the Midshipmen.
Irish keep control in a mud bowl:  38 – 17
Twin 1 (@HLS_IT1): 34-27 Irish win
The Irish start slow but end up dropping anchor on the Midshipmen.  Notre Dame 40 – Navy 21
Alright. Again, I'm Mr. Bad Karma. I hate picking this one because when taking friends to a game in 2009 I picked Navy specifically hoping for an easy victory. What we got was an up close, live viewing Jimmy Clausen taking a crucial momentum killing safety in the north endzone. So while I want pick a ND to win 42-3, a whole lot of psychological pain has conditioned me to expect something ugly like 27-17. Those swabbies have grit. The want revenge for Ireland. And they are plating better than late, so I go with a close one.
Navy has another young playmaker at QB who will give the Irish D a few more fits on Saturday than the boys from Air Force were able to muster … and that's whether rain or shine. By "a few more" I of course mean they can actually tack on a garbage TD against the Irish 3rd string.
Tommy throws four more TDs because why not and Amir Carlisle confuses the backfield depth chart more by leading the group in rushes, yards, and scores.
ND rolls 38-17
Going to keep this one short and sweet.
It's gonna be cold, it's gonna be wet, and it's gonna be ugly for Navy. Tommy Rees tosses 3 TDs and the RBs get 4 more. Navy musters 2 FGs and a garbage time TD. Give Brindza a 3 in there for a nice 52-13 final score.
The Beer Booze
I'm making an executive decision with this section. With Subway Domer, and the Anti-Preview, now gone and considering HLS has picked up the rest of the Subway Domer crew, I feel we are missing a serious alcohol void in the ND blogosphere. It's as if millions of livers cried out in joy and are now kicking back and relaxing.
To hell with that.
So "The Beer" section is now "The Booze" because I'm going to be mixing it up from here on out. Craft beer suggestions will still find their way in here, but that won't be the exclusive purpose.
For this week, considering playing Navy is a game in which the focus is on the basics, we are going to do that ourselves with this week's beverage. Sometimes, a simple gameplan and be strong and potent when given enough time to work. With that in mind, open up your bar and find your favorite whiskey, Irish fans. Mix it, put it on the rocks, have it neat, or just chug from the bottle — it's all acceptable.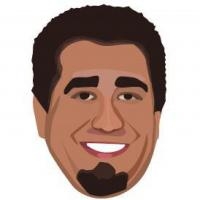 Latest posts by Ryan Ritter
(see all)