I can find no other way to describe Notre Dame/Oklahoma than a game of mistakes.
Yes, we are all well aware that the three Irish interceptions were by far the most costly. Each of those three interceptions resulted in Sooner touchdowns and you don't need a blog post from me to tell you that handing an opponent 21 free points will end poorly.
However, what was more mind-boggling to me was that ND even had a shot at making a game out of this. Oklahoma was practically spotted 14 points in the first five minutes and the Irish ended up losing by that very same margin. How in the world is that even possible? By all reasonable logic, this game should have ended in a complete blowout.
To look for some answers, I took a look at all the drives from the game, excluding only ND's kneel down to end the half. I focused on a few different stats/efficiency factors and listed them in the table below. I will get to the further details of what stood out to me throughout the rest of the post.
[table "" not found /]
* As mentioned earlier, the ND kneel down drive was excluded. OU's pick-six does not count as a drive.
† OU's turnover on downs counted
‡ ND's kneel down to end half excluded

The first thing that jumps out is that 5 of the Irish's 12 drives ended in three and outs and that doesn't include the previously mentioned INTs that started the game. That totals 7 of 12 drives that ended in three plays or less. Yes, 58.3% percent of all ND drives were absolute failures and you can bump that up to 8 of 12 failed drives (66.7%) when you add in the third INT.
As if that wasn't enough futility, five of those failed drives resulted in 0 yards or fewer. Just let that sink in for a second — nearly half of the Irish drives resulted in absolutely no progress.
Switching gears to successful ND drives, let's take a look at the Irish touchdown drives. In all three Irish TD drives, an explosive play (a play of 20 yards or more) was required for success. Two of these plays, George Atkinson III's 80 yard run and a Troy Niklas 30 yard catch ended up being the resulting TD plays. The third explosive play, a Tarean Folston 36 yard run, put the Irish right on the doorstep with a 1st and Goal.
The Irish had no real methodical drives of 10 plays or more (in fact, their only 10 play drive had the aid of an explosive play). Remember, 7 drives were three plays or less, there were 3 TD drives, and the other 2 were 8 play drives that resulted in a punt and an INT. The INT in particular was especially crushing as that drive started near OU territory (ND's 43), was the Irish's best field position of the game, and was a chance to tie the game (the Irish trailed only 14-7 at that point).
On the other side of the ball, it appeared that the "bend don't break" mentality of the 2012 defense returned. Of OU's 12 drives, 10 of them ended up in "plus" (aka Notre Dame) territory (and one started there, an eventual TD) and 4 of those drives ended up in the red zone. Of those 10 drives, the Irish gave up 3 TDs, 2 FGs (both drives ended inside the ND 10), forced 4 punts, and had 1 turnover on downs.
ND's defense also only allowed three explosive plays all game, but unfortunately two were TD plays. The other drive that contained an explosive play resulted in only a FG. With all that in mind, ND's defense really only "broke" twice (and I'm inclined to give them a pass on the TD from Rees' second INT).
While I don't put too much stock into time of possession these days (especially when offenses these days go up-tempo), the T.O.P. difference in this game is just too large to ignore. Further, OU absolutely dominated in the sheer number of plays they got off throughout the entire game. OU ran 24 plays more more than the Irish. Breaking that down per drive, OU ran two more plays per drive than ND, making the defense's performance that much more remarkable.
You would think that with that kind of domination by OU, the Irish were at a huge starting field position disadvantage as well, but they weren't. ND's average drive start was on their own 25 and OU's average starting position was their own 31 — a difference of only six yards! Take away the Irish INT that put OU on the doorstep and that advantage reduces to 2 yards as OU's average starting position was on their own 27 for all other drives.
The starting field position stat is perhaps the most frustrating stat of them all. Even with the INTs, ND and OU were practically on even footing when their drives started. Considering that ND's defense appeared to be in 2012 mode, taking away those costly mistakes would most certainly make this a completely different ball game.
So what conclusions can we draw from the above?
Firstly, and most obvious, the Irish completely shot themselves in the foot. They spotted OU 14 and never recovered. Even when they tried to, they gave up 7 more points on the heels of yet another INT.
Secondly, the defense did an admirable job, especially when you consider that OU's offense was seemingly on the field the entire game. Further consider that OU managed to end up in ND territory on nearly every drive and the job they did is even more impressive.
Third, ND won the special teams battle. OU only had one punt pin the Irish inside the 20, which is crazy considering they had four punts in plus territory. OU also had a disastrous kickoff return that only reached their own 12 yard line. The Irish though managed to flip the field on every single punt and even pinned OU on their own 9 on one. Usually this "hidden yardage" doesn't have a large impact on a game, but this time around it certainly helped keep ND within striking distance.
Fourth, we can thank OU's defense from falling asleep at the wheel. The Irish were dependent on explosive plays in order to score and OU definitely coughed them up. The 80 yard GA3 run in particular kept the Irish in this one far longer than they should have been.
Finally, say whatever you want about this team not having the talent it did in 2012 or blast them for making multiple mistakes, but they simply didn't give up. By practically every metric listed above, Notre Dame should have been blown out. We've been used to seeing ND teams dig their own grave and then happily jump into it while their opponent buries them. The Irish simply refused to let that happen which is the silver lining in this truly awful loss.
Perhaps if Rees throws one less INT or if the defense gives up one less costly explosive play, we are talking about a comeback for the ages.
Either way, this is the kind of fight you want to see. I'm reminded of Cam trying to run through a backwards gauntlet in fall camp. There should be no way in hell that's a winnable battle, but, by God, they are going to run headfirst into it and try — even if it does result in a crushing and costly mistake.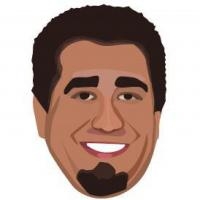 Latest posts by Ryan Ritter
(see all)