Michigan State will enter Notre Dame as the #1 defense in the nation. Sure, their schedule has been an absolute cakewalk thus far (Western Michigan, South Florida, and Youngstown State), but, despite that, holding opponents to only 177 yards/game is impressive no matter who you are playing.
But then you look at the other side of the coin and you realize that Sparty's offense is objectively one of the worst things to ever grace a football field. Ignoring Youngstown State (which you should because wins against FCS teams should never count), Michigan State has scored a grand total of two offensive touchdowns — one in each game to be specific.
Yes, the mighty Spartans could only muster a single touchdown against two 0-3 teams who have both lost to FCS teams (corollary to ignoring FCS wins: losses should never be ignored — see: Michigan/Appalachian State). Further, only one of those teams, South Florida, is actually in a BCS conference. Yes, The American is a weird shadow of it's former Big East self that is basically now Louisville and whoever's left, but I guess that still counts.
Needless to say, this isn't exactly a version of the Spartans that I'm overly fearful of.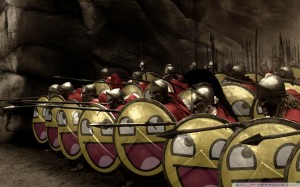 But on the other hand, Notre Dame isn't exactly Xerxes' feared Persian army in this story either. Our defensive line of Immortals aren't exactly turning in the kind of performances that we all expected. Plus, that line could very well come into this game short-handed. To be fair though, the entire line isn't solely to blame for the defensive woes as both the linebacking corps and secondary haven't exactly stepped up in the absence of Manti Te'o and Zeke Motta.
The offense has had it's own brand of struggles as well and shockingly enough Tommy Rees hasn't been the cause, but the running game that we were so excited to see. Despite the five very talented backs and a veteran line, the rushing game still has yet to find it's stride.
Despite the fact that Notre Dame walks into this game a favorite, but with some glaring issues. Still though, there should be no reason that the Irish will fall to a team who can't mount any offense and simply relies on an impenetrable defense…
…wait, hold on a second…
/revisits history of Sparta
/remembers the Phalanx was a legitimately terrifying thing
Crap…
Well, uh…good news is that history says we eventually win!
…after quite a bit of pain and suffering.
Stock up on the booze.
The Roundup
I guess this makes Mack Brown a dead man coaching. I figured the Saban to Texas rumors would eventually start, but not this soon. But fear not 'Bama fans, Saban is just too damn old to go anywhere else. His word is his bond, just ask LSU and the Miami Dolphins.
Bo Pelini wants to get fired. And not just for the two year old f-bomb tirade (NSFW audio within) aimed at the media and fans that Nebraska had to address, but getting into a war of words with Tommie Frazier. There's a solid way to get the fanbase behind you — go after one of their all-time favorites!
A new form of Clemsoning? Uppercut sucker punches to the face.
The Irish will be facing one of their own. Transfer Chris Badger went to BYU to be with his sick mother after his Mormon mission. The NCAA granted his hardship waiver this week.
Remember, Notre Dame is a serious, historical rival of Michigan. Which is why the week after their thrilling victory against the Irish, Michigan athletics paid for a skywriter to put "GO BLUE" prominently in the sky…of East Lansing…right before the Spartans played Youngstown State.
Speaking of Michigan…while this actually happened at Grand Valley State, we have a new entry in the "Pure Michigan" category. Have fun unseeing this (videos within probably NSFW).
Welcome to the Frekbass Hall of Shame, Trojans. Embarrassing yourself on the football field clearly isn't enough:
[youtube id="5a3INbzhp00″]
Put These Games on Your Radar
Not going to lie, most of this week will be rather dull.
Utah State @ USC, 3:30pm ET, ABC/ESPN2/WatchESPN – Utah State is no slouch so feel free to hold out hope for another weekly dose of Trojan schadenfreude.
#23 Arizona State @ #5 Stanford, 7:00pm, FOX – This game should be a great measuring stick for both teams and give us a decent idea of what we are in for in the future.
Auburn @ #6 LSU, 7:45pm, ESPN/WatchESPN – Auburn isn't that great, but their offense under Malzan might just make this game interesting enough to justify some attention.
Predictions
Irish Elvis is your winner once again giving him 2 points to my 1.
Note for this week: I was slammed at work and forgot to ask for predictions. I will edit in as I get them.
Tex
Much like ancient history, I have the sinking feeling the Irish will struggle far too much before finally pulling off the victory.
ND 17 – Sparty 10
Biscuit
Via:
There will be no flag-planting for MSU. With the loss of their entire offense (Bell) and the lack of a clear answer at QB, MSU will rely on a pretty legit defense (despite the loss of Gholston). So you'll have 2 really solid defenses lining up, and 2 less-great offenses. But ND has an edge in defensive talent with the stellar front line, and an edge on offense due to skill positions and experience at QB. MSU always comes out gunning for the Irish, and this one is Home where, for some reason, the Spartans always play better. I think this will be a nail-biter, as we can't always play great. ND eeks it out though….

ND Wins 17-14

 So up in the air. One Dancer. But we should win this game.
Bayou Irish
Notre Dame 20
Michigan State 12
Here's how it happens: our lines show up. Not that they've been terrible, but Saturday they click. Where Sparty has pushed around the garbage it has faced to date, the Irish O-line rise to the occasion and hold their blocks just long enough to turn two yard runs into three and a half yard runs and, as the day drags on, to turn GAIII and CMcD loose altogether. Expect a lot of trickeration involving Amir and TJ, too.
On D, the Irish have spent this week getting right with Jesus. And by "Jesus," I mean the coaching staff's ass-kicking shoes. Sparty's inexperienced QB is going to see the eyes of Nix and Shembo and Tuitt and he's going to do something stupid and the crowd, yes, the fearsome Irish twelfth man, will get in his head to the tune of three turnovers and a shit ton of Macklemore on repeat.
Expect more competency from Tommy who will run his consecutive streak of 300 yard plus passing games to four. While I am comfortable with an Irish W tomorrow, I think the score could actually be a lot higher if my thoughts on the lines play out.
Twibby
Irish 20, Sparty 14
Irish Elvis
1st Quarter: Start Fast
Our opponents still do this better. ND trails 10-0 early.
2nd Quarter: Attention to Detail
RBs finally see the running lanes in front of them. ND leads 14-10 at half.
3rd Quarter: Effort & Enthusiasm
One hundred Internet points to any Irish player involving the MSU Band in TD celebrations.
4th Quarter: Finish Strong
ND defense still has lots of question marks, but Sparta puckers.
The Beer
This Saturday kicks off Oktoberfest so it's time to bust out the Märzen-style brews.
My personal local favorite is the Shiner variety, but as I will be travelling up to South Bend this weekend, I am going to be on the lookout for Yuengling's entry into the Oktoberfest market as I have heard nothing but good things about it to this point.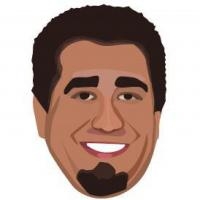 Latest posts by Ryan Ritter
(see all)