Tommy Rees kicked off the 2013 season by completing his first 3 passes for 115 yards and 2 touchdowns, leading all Notre Dame fans to a very rational thought: Tommy Rees is the Heisman frontrunner. Okay, okay – that is a bit of a stretch. But for a kid who has had a college career full of peaks and valleys it was a phenomenal way to begin his senior campaign. While the Irish didn't continue to score at the same pace through the rest of the game, Tommy Football continued with what was the best performance of his ND career.
Rees finished 16/23 for 346 yards, 3 TDs and 0 interceptions and a quarterback rating of 239.0. That 239 rating was 3rd best of all quarterbacks during week 1 (Note: I am writing this before the end of the FSU/Pitt game and it appears Jameis Winston may be on his way to the top spot in his college debut), right behind consensus NFL first-rounder Teddy Bridgewater of Louisville.
The charts below show all BCS conference quarterbacks (with a few notable exceptions like Johnny Manziel who didn't play enough to qualify) ranked by quarterback rating from week 1 with Notre Dame opponents highlighted in gray.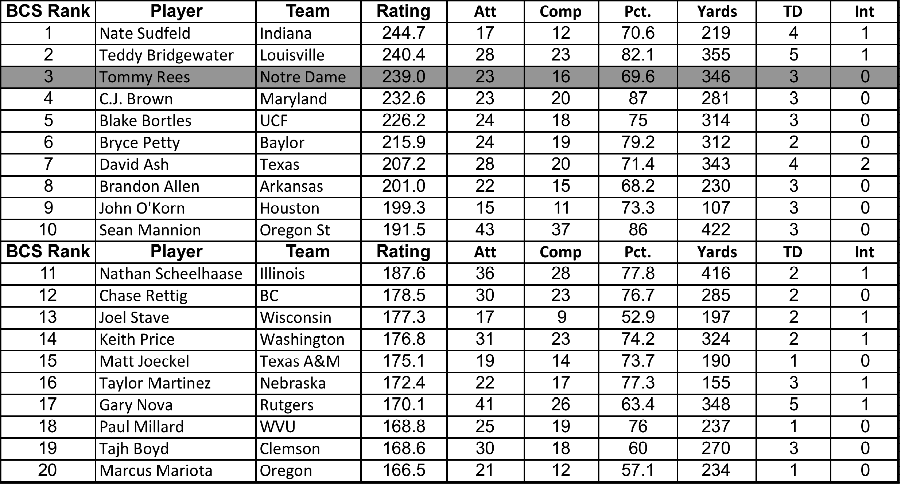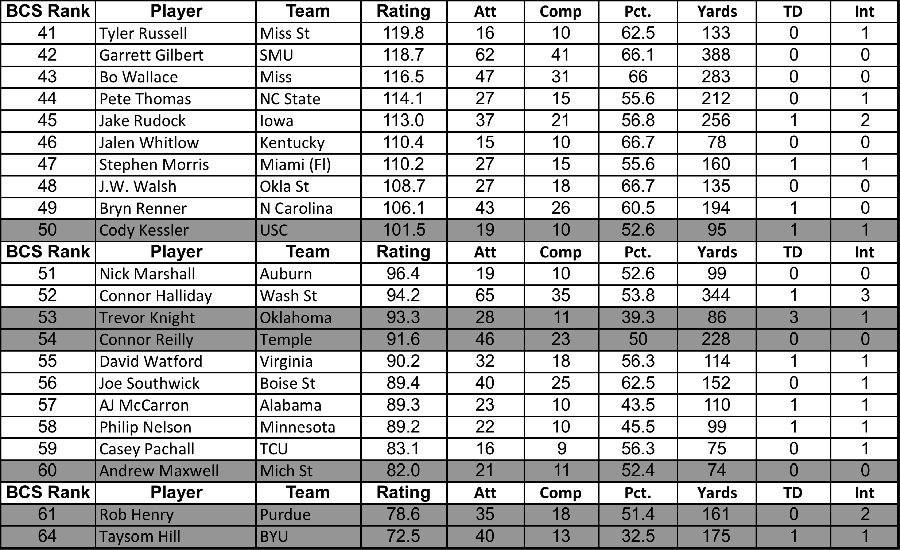 While it would be very, very premature to think any quarterback could keep up a similar pace once the competition toughens, the decision making and precision on deep balls Rees showed, along with what appeared to be some more zip on short passes than we had seen from Rees before, could be a good sign of Tommy's ability to lead the Irish through the next 11 games.
What also sticks out from the week 1 numbers is how generally weak Notre Dame's opponents' QBs performed. Devin Gardner looked strong on the ground but threw two picks against Central Michigan, while QBs like Cody Kessler of USC and Trevor Knight of Oklahoma struggled against very inferior competition in their college debuts. Kessler may be replaced by Max Wittek against Washington State, but Kiffykins will not announce who the starting QB is in advance. MSU's Andrew Maxwell was unimpressive and remains in an uncertain situation with Mark Dantonio planning on continuing to play two QBs going forward, and BYU's Taysom Hill had a very rough go of it against middling Virginia as he only completed a third of his passes.
A few other performances of note: AJ McCarron, the nation's 2012 leader in passing efficiency, fell near the bottom of BCS QBs as his line struggled to give him any protection against Virginia Tech while Tajh Boyd's ranking of only 19th doesn't come close to doing him justice for how dominant he was in a huge winner over Georgia.