Man, 51 days until college football season. This is taking forever. How can we keep ourselves occupied?
What does it mean to #BeADude? @BCFootballNews head coach @BCCoachAddazio explains… pic.twitter.com/Fr1mBLsz71

— BC Eagles (@BCEagles) July 1, 2013
Oh yes. Yes, this will do quite nicely. This is the official Twitter account of Boston College athletics. Why didn't we notice this before today, when this was originally posted on July 1? Well, because no one around these parts reads the BC Athletics twitter feed until things like this are posted.
Enhance!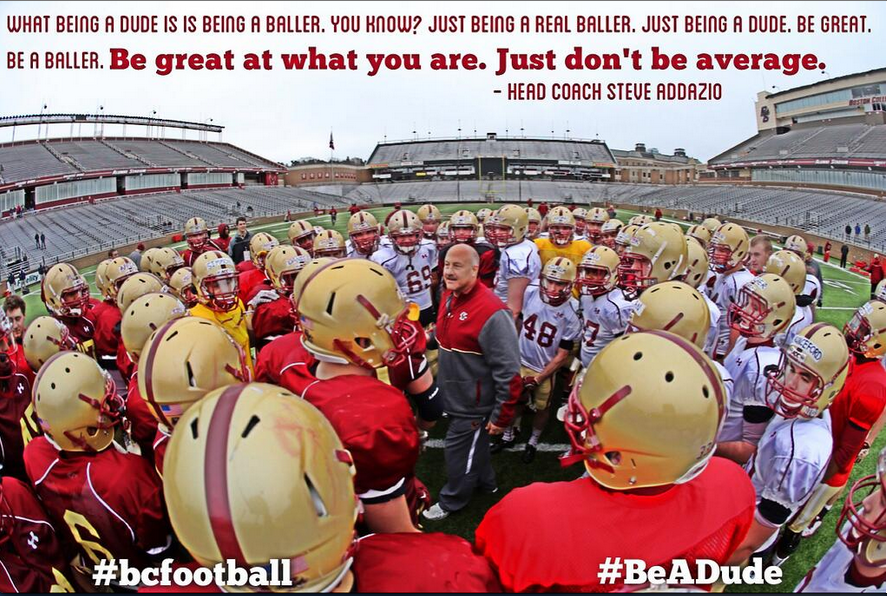 What being a dude is is being a baller, you know?
ENGLISH, DO YOU SPEAK IT?! Actually, no. This guy's a football coach, and he's just giving some off-the-cuff speech that will get transcribed into Photoshop and posted on the Twitterwebs for all to see. No editorializing necessary.
Just being a real baller.
Real ballers and fake ballers. Don't be the latter. Got it.
Just being a dude.
Wait…am I trying to be a real baller or a dude?
Never mind. Questions like these ruin my zen. Let's refocus. Breathe.
When I think of a dude…I don't think of a dude ranch somewhere on a Texas ranch or a California surfer dude ridin' some tubular waves. Nope. First thing that springs to mind when I think "dude" is Boston College Football.
Be great. Be a baller.
You know what? I *am* great. Good enough, smart enough, etcetera. I am great, and I am a baller. Therefore, I am a great baller. Q.E.D.
Be great at what you are. Just don't be average.
Well, a 2-10 record in 2012 isn't "average" — but it's not exactly great.
On the other hand, the NCAA tells us student-athletes go pro in something other than sports ALL. THE. TIME.
Maybe you're great…you're just not a baller. Dudes, the coach is hinting in the most subtle way he can: Be great at what you are.
#bcfootball
This photo, taken just prior to kickoff, demonstrates the greatness and the dudeness of the BC Football fanbase, dressed head-to-toe in silver/gray in unified support of their team.
#BeADude
The Dudes vs. Villanova on August 31. Be there — it'll be great.
Latest posts by IrishElvis
(see all)