Two veteran presences will be missing from Notre Dame's roster in 2013.
On Tuesday, running back Cierre Wood announced that he would forgo a fifth year and enter the NFL draft. Last night, Blue & Gold Illustrated's Dan Murphy reported that safety Jamoris Slaughter's petition for a sixth year of eligibility was denied.
Wood's decision really didn't come as much of a surprise. With a crowded backfield that already includes George Atkinson III, Amir Carlise, and Cam McDaniel, Wood would have likely had to split carries once again in the 2013 campaign. Even if he were to be the featured back in the Irish offense, running back is a position that gives an athlete a short shelf-life. The potential of a horrific injury is always a concern as well, which would simply crush Wood's future draft potential.
But beyond that, Cierre had another pressing concern:
I had to weigh many factors over the last month, but ultimately it came down to what I felt was the right decision that would most benefit my family.
With a one year old daughter to care for, the risks listed above were likely too much for Wood to risk. Wood is currently projected from anywhere as high as a third-round pick to even going undrafted. Clearly, the Irish running back likes his chances on the higher end of that spectrum.
Wood will leave the Irish ranked seventh in total rushing yards (2,447) with an outstanding 5.4 yards/carry average on his 450 carries which is tops for any ND running back with as many carries.
While I personally would have loved for Wood to make a return in the Irish backfield, I definitely understand his move. The man will have his ND degree and leave a solid career behind. Godspeed to him and his young family.
The news of Slaughter on the other hand, comes as a great disappointment. Especially considering the Irish safety seemed rather optimistic that his appeal to the NCAA would be approved while he was interviewed in Miami.
After rupturing his Achilles tendon against Michigan State, Slaughter was lost for the 2012 season and saw his fifth year cut short. In order to get Slaughter the rare sixth year, Notre Dame argued that Slaughter's redshirt year in 2008 was due to injury as well. However, the NCAA clearly didn't agree.
BGI's Dan Murphy reported that a source close to Slaughter confirmed that the NCAA denied that petition. The Irish can appeal this decision, but, at this time, there is no word as to whether or not Notre Dame will do so.
There's no other way to say this: if this decision stands, it flat out sucks for Slaughter. Not only does he lose a potential sixth year, but his injury will not be healed in time for Notre Dame's pro day. At best, Slaughter might be able to work out for an NFL team over the summer. As Dan Murphy reported:
A week ago, he planned to return to his home state, Georgia, and continue to work out if his request was denied. He hoped his ankle would be strong enough for a tryout at an NFL camp this summer. He said he talked to former teammate Jonas Gray, who went through a similar process after tearing his anterior cruciate ligament in his final home game in 2011.

"I talked to him about it," Slaughter said in south Florida. "He's been in my same shoes. You've got to have the same type of mentality that you're playing and you've got to put that energy into what can make you better. For me right now that's rehab."
The only silver lining would be an additional slot opening for another recruiting in Notre Dame's 2013 class. This factor alone might keep Notre Dame from appealing. On top of that, to John Infante (of Bylaw Blog fame) didn't seem too surprised about the NCAA's ruling. His analysis of the Slaughter's case on Twitter makes it seem rather unlikely that the NCAA would change their minds:
Slaughter's sixth year is a classic case of trying to go back and argue about a year well after the fact.

— John Infante (@John_Infante) January 16, 2013
The lack of contemporaneous medical documentation in those types of waivers almost always means they are denied.

— John Infante (@John_Infante) January 16, 2013
Like I said, this flat out sucks for Slaughter. Best of luck to him in the future as well. Get that foot healed up and turn some heads in the NFL (or make them roll), my good man…
…or of course we can all beg the NCAA to #FreeSlaughter. That works too.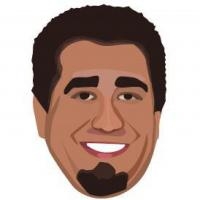 Latest posts by Ryan Ritter
(see all)