By now, most Fighting Irish fans are familiar with a certain kind of article about Notre Dame football. You know, the kind that serve mostly as click-bait to drive up the pageviews, coming in two flavors: "irrelevant" and "Notre Dame has sold it's soul for football". They, and their target audiences, simply can't reconcile that any school, much less Notre Dame, can achieve success in football by "doing it the right way" off the field as well. ND's current success simply must be a product of some kind of compromise of standards and they will gladly try to tell the world why until we face off against Alabama next month.
Let me make one thing abundantly clear: Notre Dame is far from perfect.
Take a break, go back to the last sentence and re-read the bold over and over again before you continue. Realize this is a post written by an Irish football fan, former student manager, and proud alum, but also a person that has been severely disappointed by the way in which his alma mater has handled certain situations.
For instance, the Declan Sullivan tragedy, usually a must-mention in any anti-ND story, was completely avoidable. I wrote about this at length in my pre-HLS days after it happened. As a former manager, it frustrated me to no end that simple precautions were ignored. Sure, Notre Dame was fined and took action to prevent it from ever happening again, but it was all reactionary. Notre Dame shouldn't have needed a death to figure out that high winds and lifts were a dangerous combination.
However, this tragedy being used as evidence that ND shows cracks in the "doing it right" foundation is a bit of a stretch, especially since the Sullivan family is at peace with the incident and holds no ill-will toward ND.
But what of the Lizzy Seeberg case, the go-to argument these days to show ND's failings? After all, the alleged assailant is still on the football team and, unlike the Sullivan family, the Seebergs are far from happy as to how the investigation of their daughter's reported sexual assault was handled.
I honestly can't blame the Seeberg family for being angry. The timeline of events leaves quite a bit to be desired, especially in terms of how long it took to interview the accused. Further, while I understand the reasons Fr. Jenkins refused to meet with the family (as he wanted to remain impartial should he need to serve as a final disciplinary appeal), I think that refusal did a lot more harm than good, especially when juxtaposed with his dealings with the Sullivan family (and yes, I realize those are two very different cases).
In the end, the evidence wasn't sufficient enough for any further legal action and the same decision was made on the disciplinary side. As far as football was concerned, it would be rather hard for Brian Kelly to suspend a player after two different entities withheld punishment. Further, doing so would have exposed the identity of the player publicly which is a whole other can of worms.
Unfortunately, these events are warped and sensationalized into a conspiracy that Notre Dame was protecting the football program at all costs. This misguided focus made Notre Dame football the story, cheapening the tragic events of two years ago. Upon each new mention of the Seeberg case, that same misguided focus remains, which completely ignores the fact that Notre Dame has revamped the way all sexual assault cases are handled in the summer of 2011, a move that the Seebergs hope will help young women in the future.
Much like in the Declan Sullivan case, I wish these new procedures weren't reactionary. Considering that one in four college-aged women nation-wide are victims of rape or attempted rape (source), any policy revamp such as the one Notre Dame did is always a step in the right direction, but that's not where the focus is. Instead of being lauded for attempting to prevent future tragedies, Notre Dame will continue to be vilified in print for the one they failed to prevent.
Some articles though go further than just the Sullivan and Seeberg tragedies. They wish to suggest that there has been a major institutional change at Notre Dame to aid the football program, citing the stepping down of Fr. Mark Poorman from the position of Vice President of Student Affairs, ND's disciplinary wing, in 2009. Also often mentioned along with this change was a quote from a then recently fired Charlie Weis when asked what the biggest problem at ND was:
Oh, it's Residence Life (the disciplinary arm of the office of Student Affairs), it's not even close for second.
AHA! There's the proof! A fired coach said ResLife was the problem, so ND removed it for Brian Kelly!
How else can you explain light punishments for Michael Floyd's DUI (suspended for spring, zero games), Tommy Rees' arrest (one game), Carlo Calbrese "my people will get you"-ing a cop (one game), and Cierre Wood smoking some weed (two games)? And then compare that to someone like Will Yeatman in 2008, who found himself suspended for the whole year, after blowing a .02 at a party (he was underage at the time) on the heels of being charged with a DUI (in a golf cart, supposedly) the previous spring.
Smoking "ND has sold its soul gun" found?! Not so much…
While there is definitely a start contrast, as usual with such pieces, that isn't the whole story. First, let's take a look a Weis' entire quote about ResLife:
Oh, it's Residence Life (the disciplinary arm of the office of Student Affairs), it's not even close for second…I didn't even know Residence Life existed when I went to school…I think if you took a poll of the students at Notre Dame on what's the biggest negative issue, I would bet at least 50 per cent of them would say Residence Life…Without getting into the names of people who work at Residence Life…I just think that, not understanding all the principles of du Lac (student conduct manual) and everything else: I just think that these are college kids and college kids do what college kids do…Let's say a kid has been too loud because he had some alcohol, why wouldn't you just tell him to go to bed ? Why would that be something that ends up in the hands of Residence Life…? I'm just saying that boys will be boys and I'm just defending them; we as parents know what we interpret with our own kids what is out of line, and we all wish the best but we know our kids are going to be in trouble in their lifetime — but there are so many things that I think border on petty.
Much different in context, no?
Weis wasn't just referring to ResLife from a football perspective, but from a student perspective as well.
I was a student during the start of Weis' tenure and his assessment of ResLife would be 100% dead-on for that time. Punishments bordered on Draconian. Some rules seem like they were from another era in time. My favorite: no hard liquor on campus even if you were 21 or older. Hard liquor, by the way, was defined as 14% ABV, making some wines illegal contraband.
The other issue was that ResLife wanted to make examples out of athletes that got in trouble. It was a completely different standard from what normal students would experience. Considering part of the Notre Dame "doing it the right way" includes treating students and student athletes the same, this made no sense.
For instance, let's take a time in which yours truly had a run in with a duLac violation my sophomore year. I got busted while drinking in a friend's room. By the letter of the law I could've been sent to ResLife for not just the white Russian in my hand (hard liquor violation), but also for underaged drinking as I was 19 at the time.
I wasn't even sent to ResLife. I was fined $50 and that was that.
As Weis said, "college kids do what college kids do" and our rector knew it. Sure, he could've sent me to ResLife if he wanted, but he didn't feel that punishment fit the crime. In fact, most punishments in our dorm were handled in-house as most issues were minor offenses. Of course, if something more serious went down, ResLife would be brought into play; however, our rector still had the power to decide which direction to take the case. Weis simply wanted the ability to do the same without ResLife trumping him no matter what.
In other words, Weis wanted the football team to be treated just like every other student and, really, when every Notre Dame fan talks about how ND "does it right", this is what we mean. Notre Dame doesn't just pay lip-service to the "student" part of student-athlete. It is a part of the culture of Notre Dame and striving for, and obtaining, excellence on and off the field is what separates us from the rest of the college football world.
For years, Notre Dame fans have been told that the old days of college football was done. You simply can't expect excellence in the classroom and on the field. As an example, take a look at what Pat Forde had to say about Notre Dame in the wake of firing Ty Willingham:
Notre Dame, football factory, fired its coach Tuesday.

The athletic director stressed that the football coach has done wonderful, inspirational work off the field. The academic performance has never been better, he said. The coach is a man of unassailable character who has recruited players of similar ilk.

"In a lot of ways," the athletic director said, "this program hasn't been this healthy in a long time."

Except for one way. The wins-and-losses way. Which is what truly matters at all football factories.

Tyrone Willingham committed the fireable offense of going 21-15 in three years. As AD Kevin White said, Willingham did great work Monday through Friday.

"We just were not meeting those competitive expectations on Saturday," White said.

Athletic directors, presidents and alums everywhere want the big lie: they want Harvard during the week and Oklahoma on the weekends. Clearly, the Fighting Irish weren't getting enough Boomer Sooner when needed.

This move makes one thing clear: the Golden Dome might as well be located in Auburn, Ala., or Lincoln, Neb., or Tallahassee, Fla. All the things Notre Dame used to hold dear — the class-and-dignity stuff, the special-institution stuff — is officially of secondary importance.
Hilariously enough, here's what Forde had to say yesterday about ND:
But in many ways Notre Dame remains a major-college athletic anomaly. The world's most famous Catholic university aspires to win like a football factory while educating like an elite institution, and it largely succeeds.

The school ranks No. 1 in the NCAA's most recent Graduation Success Rate. It is the smallest (in enrollment) and most academically prestigious (in national rankings) school to play for a championship in the BCS era (1998-present). It also is the only religiously affiliated school in that time to compete in the title game.

After decades of declining football returns, this season is the return to glory. And it's been accomplished with players who are still part of the fabric of everyday campus life.
For too long, the powers in college football have perpetuated the "big lie" that Forde refers to as Notre Dame faltered in the win column.
We've talked a bit about GSR all season, and celebrated when we became the first school to hit #1 in both the BCS and GSR rankings. Notre Dame hasn't just excelled in overall GSR, but also in graduating black male student-athletes in which they rank second at 81%, just two percentage points behind Northwestern (source).
And in comparison to the rest of the BCS top 10 — it's a complete joke:
[table "" not found /]
Then again, when you have schools like Alabama participating in oversigning, it's rather clear that the only math that matters is how to trim the total number of scholarships on the roster to 85. What's even sadder is that many media outlets don't seem to care.
In fact, here's a piece on ESPN about the nine scholarship seniors on the 2012 Alabama roster. Four of those are redshirt seniors, one senior is a JUCO transfer, and one walk-on was awarded a scholarship, leaving three as true seniors from the recruiting class of 2009, which had 27 members sign a LOI according to Rivals (and yes, that's already two over the annual limit of 25).
Two members of that same class went to the NFL and eleven more are currently on the roster as redshirt juniors. One more is listed as a sophomore, making him a "grayshirt", that is, a player that enrolls in the second semester instead of the first. This allows the player's scholarship to count against the following year's count of 25 instead of the current year, which is how Alabama can do things like sign 27 players in a single recruiting year.
To recap the math there: 2 (NFL) + 3 (seniors) + 11 (redshirt juniors) + 1 (grayshirt sophomore) = 17 scholarship players still on the roster. That's a full 10 less than the 27 listed by Rivals or 63% of the class still retained and 10 less kids that found their paid education taken away from them.
Notre Dame doesn't play this scholarship shell game. Unlike most schools, who treat scholarships as a renewable single year agreement, when a player is awarded a scholarship at ND, it is good for all four years. The only way a scholarship is pulled before that time is if the player decides to leave ND due to the NFL draft or to transfer to another school. For the Irish, a scholarship isn't just a spot on a roster, but a commitment to the student-athlete that extends to the classroom, a commitment to their future.
And that commitment is the heart of ND "doing it the right way." It isn't about Notre Dame being perfect — it never can be. Notre Dame will fail in striving for perfection both on and off the field. People will gleefully write about it, convinced that they have finally proven that ND has indeed finally fallen completely into irrelevance or that they've finally sold their soul for football glory.
However, ND will continue to learn from mistakes made, continue to strive to prevent future ones, and above all else, keep that same commitment, the eye on that same prize, that excellence on and off the field isn't just some big lie.
Former Irish and current Vikings safety Harrison Smith summed it up perfectly:
You're expected to go to class and not just be a football player. That's real. It's going to be hard academically, just like it's hard academically at a lot of schools. But we're all just college kids, we're all playing football, and we're all going to make mistakes. Notre Dame is not some golden perfect place. It's a place that tries to do the right thing.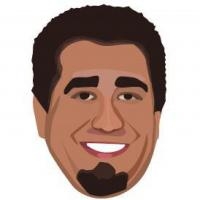 Latest posts by Ryan Ritter
(see all)