Yes, I'm not pulling any punches with that headline and for good reason. Somehow Manti Te'o, the leader of the best defense that has led the Irish to a 12-0 season against a gauntlet of a schedule, is somehow an after-thought to Johnny "Football" Manziel.
Many have called this race "wide open" with "no clear favorite"; however, if the Heisman voters are actually paying attention to what their award stands for the choice is simple: Manti Te'o in a landslide.
Now, I do truly recognize that Manziel has had an incredible season in his freshman campaign. I know he's crushed SEC records. Truth be told, I really love watching the kid play and gladly stop down to watch him turn some plays into a video game.
However, the Heisman Trophy doesn't go to the "offensive player that puts up big numbers and is fun to watch". The Heisman Trophy, in the Heisman Trust's own words, is meant for the following:
The Heisman Memorial Trophy annually recognizes the outstanding college football player whose performance best exhibits the pursuit of excellence with integrity. Winners epitomize great ability combined with diligence, perseverance, and hard work. The Heisman Trophy Trust ensures the continuation and integrity of this award.
Please note that the Heisman Trust highlights integrity. Further, they state that great ability alone isn't enough, but ability combined with diligence, perseverance, and hard work.
Quite frankly, Te'o soars above Johnny Football on all of these qualities.
Back in the offseason, before Johnny Football became Johnny Football, he was arrested. Now, the details of Johnny's crime are admittedly light and I don't want to paint the kid as some kind of degenerate. However, that is still a black mark on his record this season while Te'o has none.
If the Heisman Trophy is to reward integrity, how in the world can a voter justify giving the trophy to someone that found themselves on the wrong end of the law this past summer?
The sad fact is that the media has only focused on Manziel once he became "Johnny Football" and started giving opponents fits. The arrest has long since been forgotten.
It isn't the end of his world, but it should be more than enough to disqualify from him on ballots alone for this year. Next year, clean slate. Hell, it would show diligence and perseverance that Manziel learned his lesson and stayed out of trouble after his slip up.
Speaking of perseverance…has anyone in college football come close to having to demonstrate the kind of perseverance that Te'o has and then played to the level that he has?
Spoiler alert: no.
The world was talking about Te'o overcoming the loss of his grandmother and girlfriend in September while turning in stellar performances against Michigan State and Michigan. Te'o never stopped excelling, despite the fact that opposing offenses did their damnedest to avoid him. All the way up until his final INT and leading a goal line stand against USC, Te'o has been simply dominant.
However, the media decided to move on and ignore all that. Collin Klein became the Heisman darling simply because he was the QB of an undefeated team that was putting up big numbers, mostly against soft Big XII defenses. Johnny Manziel then started to get some attention after leading Texas A&M to an upset of Alabama on the road. Once Klein fell to the terrifying 120th ranked defense in the nation, Manziel went to the front of the pack.
It's almost as if the media and voters are determined to make the Heisman a glorified QB award. They and anyone in Aggieland will cite Johnny's impressive numbers, compare them to previous QB Heisman winners and wonder why we are even bothering with Te'o's campaign.
Why bother? It's simple, Te'o has transcended his position.
There is only one player in the nation that has more INTs than Te'o and that's Fresno safety Phillip Thomas. No LB in the past 13 years has ever recorded as many INTs has Te'o. No LB in the past 13 years has even found themselves ranked higher than sixth on the INT leaderboard. Yet here is Manti breaking the mold and excelling beyond even the nation's best DBs.
Oh, and while he was doing that he also amassed 103 tackles, 5.5 tackles for losses, 1.5 sacks and 11 total passes defended (source) — and remember, this is with offenses actively avoiding him. And that is also not including things that the stats can't track, like how many turnovers he caused just by creating pressure on opposing QBs (just ask Denard Robinson).
And as one of our Loyal Readers, Marko Pesce, pointed out, Manziel has benefited from padding his stats against simply awful teams. He compiled a full list of Manziel's stats against each opponent and further broke it down into games against good opponents and bad ones.
He was even more generous than I would've been in his analysis, including now unranked Mississippi State in the "good opponent" category.
The results:
[table "" not found /]
Further note that there are two FCS opponents in the "bad" category. One of these FCS games happened immediately after the Alabama game in which Manziel started to get some Heisman buzz (Sam Houston State). Hilariously enough, once Klein's Heisman hopes bit the dust, A&M went all in against Mizzou in which he scored 5 total TDs — the same number he scored against Sam Houston State just the week prior. That should put Mizzou's defensive "prowess" in perspective.
Of course, it definitely helps that Manziel doesn't have to worry about opposing teams avoiding him as Te'o does. While this allows him to pad stats, it also means that losses can fall squarely on his shoulders…and the LSU game definitely qualifies as a Manziel INT led to what would become LSU's game winning TD. In that game, he also failed to collect a single rushing or passing TD. And while he didn't directly cause the Florida loss, his line certainly didn't help the Aggies' cause and was hardly Heisman-worthy in that game (23-30, 173 yards, 0 TD, 0 INT, 60 rushing yards, 1 rushing TD).
It seems voters have forgotten those games just as easily as they've forgotten Manti's story.
In the end, you have a QB with two loses, one of which that can be blamed directly on him, in comparison to the leader of a defense that has iced wins with INTs and goal line stands. You have a kid making an unfortunate mistake next to a veteran with an impeccable record. You have a QB that has preformed phenomenally has his own position next to a LB that has transcended his. Finally, you have a player who hasn't faced any kind of strife like someone that lost two people close to him and then turned that tragedy into fuel for success.
I again ask: how is this vote even close?
#HEISMANTI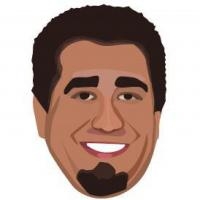 Latest posts by Ryan Ritter
(see all)