The last time I dared to enter enemy territory, I was a senior at Notre Dame. During that 2006 season, I was hopeful that somehow the Irish would manage to upset Southern Cal on their home field and try to find their way into the national title picture.
Six years later, I found myself on a bus to Norman hoping the Irish would pull off a different type of upset (by Vegas standards) against the Sooners with 50+ young alumni…and my father.
After that 2006 trip, my father made one more trip into South Bend to watch the Irish get demolished by Southern Cal the following year. After that season, his football attention shifted towards Auburn, which my sister attends. While the Irish struggled mightily at the end of the Weis era and began their transition into the Kelly era, my dad and sister celebrated a national title victory in Glendale, Arizona.
I can't particularly blame him either. It wasn't like Notre Dame football had inspired much confidence to convince him that dropping money on tickets, plus a flight, and lodging in South Bend was a particularly good investment. To add to that, he doesn't have the same attachment that I do to the university like I do.
However, with the Irish making a trip to a bordering state to face the Sooners, his interest was again piqued. Perhaps this would be a good game to get back into the Fighting Irish spirit and take a leap of faith on this game. And as the season unfolded, excitement started to build, rewarding his leap of faith with an epic top-ten matchup.
So there he was, on a bus full of beer-fueled twenty-somethings with a busted bathroom.
We arrived in Norman and headed to the ND Club of Oklahoma City's tailgate. Of course, the entire affair could only be described as perfectly Notre Dame.
All you can eat, all you can drink (hell, they even had Shock Top on tap), the Notre Dame band did their pre-game concert, and an Irish band played throughout the afternoon — bagpipes included. And of course, there is nothing quite like meeting random Irish fans and alumni.
As we sat at our table, we were graced by several different fans. Perhaps my favorite was one fine gentlemen that was at the famous streak-snapping game over 50 years ago. He was there by himself, but was awaiting the arrival of his son. As he finished his meal, he became increasingly worried that his son, and therefore his ticket, was going to arrive too late for kickoff.
Of course though, his son arrived…with not only his ticket, but new ND cold weather gear for his father, a nice bottle of scotch, and a box of cigars, prompting my dad to demand that I pay attention to all this because that's how expected to be taken care of later in life.
You got me ND/OU tickets, dad. Noted.
This same son also brought a bar with him. I'm not exaggerating either. Out of nowhere he started mixing Manhattans into Dixie cups. The guy had everything, right up to the bitters and his own jar of cherries that had been soaking in bourbon.
Yes, I will definitely strive to be this man later in life. Hero.
We then started our walk to the stadium and I was very interested to see the OU tailgating scene and how the fans would react to a couple of people decked out in full ND gear. It seems that the OU fans that were raging against the Irish last week were either absent or simply keeping it to themselves. We caught some good-natured ribbing as well walked to the stadium, my favorite of which was the Sooner fan that wished us good luck…next week.
Having visited the Big House, Michigan State, and Southern Cal, I must say that OU was a great change of pace. Everyone was having a blast and was simply excited for good football. No beer bottles went flying by my head and continuous streams of four-letter words were non-existent (in fact, the only ones I heard all night were directed at their own team).

We took our seats in the stadium, which were strategically placed right below a gigantic jumbotron with speakers directly in our ears. I know as ND fans, we have often talked about the merits of putting such a thing in our sacred grounds. I will say this though: it was a rude welcome to my seat and those damned speakers made it near impossible to hear the band or organize chants for a good chunk of the evening.
As for the pre-game content though…my dear God, hilarious.
Once we got settled, we were treated to a feature of "Did you know, OU is actually better than ND in recent history?" We were treated to slideshow of cherry-picked stats that, not surprisingly, put OU on top of ND. My personal favorite was the bowl wins, especially considering ND kept themselves out of bowls on purposes for many, many years.
Then came a feature to educate everyone on the wonderful OU tradition that is "Play Like a Champion Today", you know that thing that I've never heard any OU fan ever talk about despite being around them all my life. This thing seriously drug on for a good ten minutes and didn't even mention Notre Dame (or our supposed "theft" of this "sacred" tradition) once.
I didn't mind the omission (after all, I'm at OU), but once the feature called it a unique tradition specific to OU, I died laughing. Even my father thought they were trying to overcompensate with the Irish in town. Once you have a non-ND alum/subway alum saying that, you've jumped the shark in impressive fashion.
Final note on the jumbotron: want a cheap pop in Oklahoma? Put Barry Switzer on the screen. My God.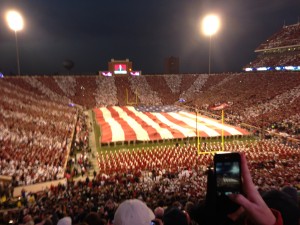 The game got underway and OU's first drive made me beyond nervous and my dad had a look of "how much money did I spend to watch an ass-kicking?" on his face. Thankfully, OU decided to see if they could snap the ball into their own endzone and I could breathe again.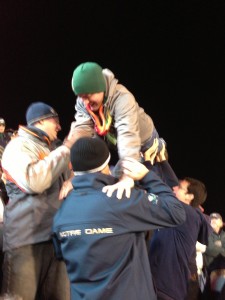 Then Cierre Wood shut the crowd up. The only thing that matched the stunned look of Sooner fans on that run was their reactions to all of the Irish sections breaking out in push-ups. Sooner fans then started to take on the same look my dad had just a few minutes prior.
The game resembled a heavyweight fight. ND played the part of the boxer that knew he had the lead and refused to blink, lest they screw it all up. OU on the other hand, was desperately looking for a weakness, frustrated that any time they seemed to gain momentum, they'd get punched in the mouth yet again.
Everett Golson, whom my dad has been very critical of, started to receive his glowing praise. He didn't look like a struggling redshirt freshmen this night. He was poised, making smart decisions, and taking care of the football.
Of course, I can't mention the QB position without also mentioning Tommy Rees who apparently got ice water injected into his veins during the offseason. To come into the game on a third and long in a hostile crowd during the biggest game of the season and then throw an absolute strike to Eifert — ONIONS!
When OU finally struck back and the Belldozer found his way into the endzone without the benefit of a hold, the entire atmosphere of the stadium changed. OU fans erupted louder than they had all night. It was as if they felt the last three quarters were a nightmare that they'd finally woke up from.
While the Sooners were still buzzing, Golson shoved them back into their nightmare yet again with a perfect bomb to Chris Brown. The Sooner defense couldn't hold the Irish after that play and all of a sudden ND had a lead once again.
Then Manti was Manti. From my seat I couldn't quite see who dove and picked the ball off, but somehow I just knew it had to be him.
The Irish section was deafening. Chants alternated between "Man-ti" and "Te-o". Fans put "five" in the air once again. Even my dad joined in.
The only time we were silent was when the ref announced the result of the review. With seemingly the entire section holding up "five", after further review, the ruling stood and the party began.
As Notre Dame drove down the field for their field goal, Sooner fans began to leave. Although the game was far from over, it was as if Sooner fans knew the writing was on the wall.
Being a ND fan though, I was still nervous. I've seen the nightmare comebacks before. Even as the Sooners lined up for 4th and 8, I was still a wreck. My dad probably didn't help matters by saying in his excitement: "This is for the national title!"
But Landry's pass fell to the ground. 2012 isn't the year for nightmares. I should know better by now.
The mass exodus of Sooner fans started in earnest. Our side of the stadium became South Bend, Oklahoma and even the jumbotron/speaker guy was too depressed to play anything to drown us out. The overacting, Jim Carey-like PA announcer found his cheery tone stomped out as well.
The rest of the game was academic, but Theo Riddick made sure to give us more reason to cheer with his TD run. But after that, the following Sooner drive might have been the funniest thing that I've ever seen in sports.
Notre Dame, predictably went into a prevent and OU managed drive down the field and apparently score a nice junk TD to make the score not look so bad. Fireworks went off in the stadium, the few Sooner fans left were joyous…
"After further review…"
The TD was overturned and all the Irish fans had a good chuckle. One of the fans in front of me yelled "Sorry, put the fireworks back in, try again!" much to my amusement.
"Big Game" Bob though wouldn't have his junk TD overturned and went for it again and scored…
"Pass interference, offense…"
Now we were all dying laughing. But Bob made sure to give us one last laugh by trying yet again for his junk TD. The result: Landry Jones flattened by the ND pass rush to put a final exclamation point on the game.
As we left the stadium, I was on cloud nine and my dad was positively giddy. It was impossible to stop smiling and re-live the events of the evening. We couldn't believe that we had witnessed that game.
Invasion: success. Good call, dad.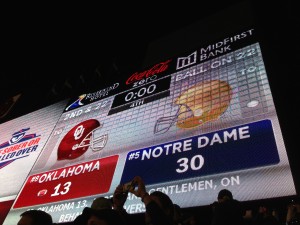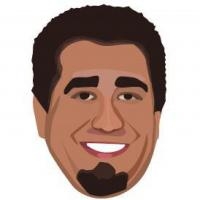 Latest posts by Ryan Ritter
(see all)