As the clock struck midnight on July 10th, EA Sports released NCAA 2013, yet another signal that the long college football offseason is drawing to a close.
Last month, Twibby took a look at some of the leaked ratings for Notre Dame to whet our appetite. With the game's release though, we now have the full ratings and EA's projection of depth charts as well.
Inspired by Adam Kramer's (you may know him as @KegsNeggs) annual simulation and summary of the entire 2012 season, I decided to run my own, but keeping my focus on the Irish. I didn't want to stop there though. I also made sure to log every single rating and depth chart position for the Irish.
After hours of staring at my TV screen, I am pleased to present the fruits of my labor. The "Depth Chart & Ratings" tab provides not only every single rating for every stat of every ND player in the game, but also allows for sorting and filtering by each column. This will allow for easy viewing by position, name, or stat.
Do note that EA's rosters aren't perfect and some things like jersey numbers won't match. Other players are also missing completely (mostly freshmen, even Gunner Kiel didn't have the chest to make it in). I did my best to match everyone up properly which wasn't all too hard by using height and weight. I'm confident that the names match up with who they should.
As for the simulation of the season, I made no edits to the depth chart or roster in any way. I simply advanced my season all the way to Conference Championship week and then simulated the bowl game.
Below are the results week by week. Unfortunately, I couldn't track everything like I'd hoped (for instance, I wanted to track ND's ratings every week, not possible with bulk simulation). However, I think this simulation still paints quite the picture despite that.
Week 1: @ Navy
After a long and hotly debated QB battle, Brian Kelly not only names Everett Golson the starter, but Andrew Hendrix as his backup, causing Grantland-X much grief amongst our joy.
The Golson-led, and 24th ranked, Irish start off slow, netting only a FG in the 1st, but quickly pick up the pace with a Theo Riddick rushing TD and FG to close the half. Navy scores the first points of the second half, but the Irish hit their stride, scoring 17 unanswered points on the back of two Golson TD passes to Goodman.
Even better: the Irish turn the ball over zero times.
Final: 30-10 ND
Week 2: Purdue
Bayou's expected "bye week" starts off as planned…until Golson is knocked out of the game with an injury. The stunned Irish go into the half leading only 10-7. ND fans brace themselves for the worst, but Andrew Hendrix makes a statement and leads the Irish to a TD on their first drive of the second half.
Purude puts up 10 unanswered points, but a 21 yard connection from Hendrix to Toma puts the Boilermakers away despite the Irish's three turnovers in the game (1 fumble, 1 INT by each QB).
Final: 24-17 ND
Week 3: @ #12 Michigan State
And thus begins the 2012 gauntlet.
With Golson ready to roll once again, the Irish and Spartans trade TDs in the first two quarters going into the half tied at 14. It remains that way until 10:14 left in the 4th when ND notches a FG.
The Irish defense continues to hold the Spartans for the rest of the game and a Golson TD run with less than 4 minutes to go ices the game.  A Riddick rushing TD two minutes later twists the dagger in Sparty's back.
Final: 31-14 ND
Week 4: #9 Michigan
ND's quest for revenge under the lights starts with a heart attack: Golson is knocked out of the game just minutes in. Hendrix once again steps in and finished the first Irish drive off for a first-blood TD.
Then Michigan runs all over ND and scores 17 unanswered points and go into the half with a 17-7 lead. As Notre Dame Stadium collectively thinks "here we go again," Michigan tacks on another FG.
The Irish manage to score a TD before the end of the 3rd, but it is quickly mitigated by two more Skunkbear FGs in the 4th as they lead comfortably under the lights 26-14.
Then the unthinkable happens: Michigan turns into 2011 Notre Dame.
Hendrix torches the Michigan secondary, capped off by a Goodman TD with 1:44 left. After an onside kick recovery, the Irish find pay dirt again on a Riddick rush. The 2-point conversion fails, but there is no 30 second comeback this time and somehow the Irish are a shocking 4-0.
Final: 27-26 ND
Week 5: BYE
We all spend the bye week laughing at Michigan. Repeatedly.
Week 6: Miami
Golson is still out and the Irish look rusty after the bye. A subpar Miami teams hangs with them at the half trailing by just 1. Brain Kelly must turn purple in the locker room because Hendrix leads the Irish on a TD drive that lasts only 55 seconds. As the 3rd wins down, Bennett Jackson finds himself in the endzone with a pick-six. Miami tries a late comeback, but can't recover.
Final: 42-30 ND
Week 7: #20 Stanford
The Irish are now 5-0 and we are all just waiting for the other shoe to drop. The still Golson-less Irish have yet another rough first half, trailing 17-7, but two quick TDs in the 3rd save the Irish who shut the Cardinal out for the remainder of the game.
Final: 21-17 ND
Week 8: BYU
Hendrix apparently doesn't get started until the second half. After the Irish let BYU hang around 7-7 in the first half, Hendrix lights the Cougars up for 3 TD passes in a comfortable victory.
Yes, the Irish are still undefeated. Is this real life? (no it isn't…)
Final: 31-14 ND
Week 9: @ #5 Oklahoma
The thought is now starting to creep in: "if we find a way past OU, we could find ourselves in the title game."
Yep, that thought should have never happened. OU curb-stomps the Irish in Norman in an ugly, ugly blowout.
Final: 44-14 OU
Week 10: Pittsburgh
Golson finally returns to the Irish and finds himself a bit rusty throwing 2 INTs in his return. Thankfully, his running game bails him out, starting with a 65 yard Cierre Wood TD run in the 1st.
The Irish put up 199 rushing yards and 3 total rushing TDs in an ugly victory that sees four Irish turnovers.
Final: 28-19 ND
Week 11: @Boston College
Golson is once again shaky starting the game off with a pick-six and then fumbles twice more in the game. Despite his new Rees-like syndrome, Golson still manages to throw 2 TDs and rush for one on his own. The Irish gave Fredo many chances, but the game was never close.
Final: 30-10 ND
Week 12: Wake Forest
And on the third week, he rose again.
Golson remembers how play football once again, throwing 3 TDs and rushing for one himself. He isn't perfect as he does cough the ball up again on a fumble, but it doesn't matter. Wake gets absolutely murdered.
Final 45-10 ND
Week 13: @ #2 Southern Cal

It's come to this. The one-loss Irish still have an outside chance at the title if they can manage to beat their rivals in their own house. Title hopes for both teams are on the line–it doesn't get much bigger than this.
ND leads off with an opening FG and Southern Cal immediately responds with a Barkley TD pass just 53 seconds later. As the first quarter winds down, Golson responds with a TD pass of his own to T.J. Jones. On the ensuing drive, Barkley comes out and throws what will end up being the first of his two interceptions on the evening. ND capitalizes with a FG taking a 13-7 lead.
Fast forward to the 4th and the Irish have kept the Trojans at bay, leading 23-21. Much like they did in Kelly's first year, the running game takes over and the Irish score two rushing TDs in the 4th while the defense shuts the once Heisman hopeful down.
Final: 37-21 ND

Weeks 14 & 15
At this point, I was able to check out the BCS standings. Surely the Irish would be at least #2 after that kind of a schedule right? In fact, there is only one undefeated team–UCF. Who somehow is ranked #1 in all polls. Coming in at #2 with one loss is K-State.
I'm not even sure how to describe this kind of bizzaro-world in which ND's title hopes could be crushed by those two.
Thankfully, UCF falls flat on their face in the C-USA final, allowing the Irish to claim the #2 slot despite being ranked #3 in both human polls (yes, the voters tried to get UCF in…).
ND manages to win some hardware as well. Stephon Tuitt allows us to not miss Aaron Lynch at all as he takes home the Bronko Nagurski and Lombardi Awards. Also of note in both awards, Kapron Lewis-Moore was also a finalist.
Ben Turk also brings home some hardware by winning the Ray Guy Award.
Championship Week: vs #1 Kansas State
This game could only be described as a complete disaster. Early on, Tyler Eifert gets a brutal nine week injury on the biggest stage in the nation. Golson and company fail to pick up the slack and it's Norman all over again. The Big XII owns ND in 2012 and everyone starts bitching that ND got an "undeserving" title shot as the other 2 one-loss teams (Wisconsin and Texas) begin their bitching in earnest.
Final: 44-14 K-State
Epilogue
The polls backlash on ND, dropping them to #5 in the coaches' poll and #7 in the AP.
Hilariously enough, Kelly's job security only slightly slides into the "safe" category despite taking his team to the BCS title game against one of the toughest schedules in the nation. I'm sure much of the debate in this theoretical offseason is "can Kelly win the big one?"
All in all, this was a rather shocking conclusion to my simulation. I seriously thought this would have ended up much worse, especially with the injury to Golson and his subsequent issues with turnovers on his comeback.
While I definitely think EA is being overly generous with ND's rating, it does provide just a small glimmer of hope that maybe ND can indeed conquer their rough schedule.
…well, that is, if we bench Rees.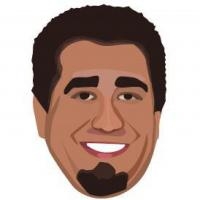 Latest posts by Ryan Ritter
(see all)