I thought we had already settled this before, but Les Miles simply refuses to shut up about Gunner Kiel.
With the way Les Miles talks, you would think that LSU is home to nothing but the most elite quarterbacks in the land. Of course, watching LSU play any football at all last season with their terrible QB duo would shoot that ridiculous assumption down and watching the BCS title game last season would remove all doubt. Different breed of cat indeed.
Now, yes, I'm fully aware that I'm throwing a few stones around in our own QB glass house, but the overall point is that Les has moved from the likable Mad-Hatter coach that fails to understand the concept of clock management while eating a nice snack of grass to a sad, bitter, and rambling old man.
Les, the next time you have a thought about Gunner Kiel, just shut up, go into your office, close the door and let it all out:
(Hat tip to Mark Ennis for the inspiration)
The Roundup
Also needing to shut up: Chip Brown. Realignment guru Texas' favorite puppet The Orangebloods.com writer has again stirred the pot regarding ND. His article isn't worth linking, Swarbrick's response though, is.
Will never talk again: The BCS. They are dead. They cannot read. This will not be read to them.
Probably should have used the right to remain silent. Ex-Southern Cal defensive back, Kevin Ellison, could have used a few Notre Dame theology classes because I'm pretty sure God doesn't tell you commit arson.
Les Miles isn't the only idiot at LSU. Somewhere at LSU, there was a meeting. Someone had an idea, an awful idea. No one told them to shut up because the idea was so dumb. Then this happened.
Don't even think about it, Adidas. One Foot Down was having some fun. Put the phone down.
In the category of "please don't ever shut up": Louis Nix III and Chocolate News.
http://youtu.be/CqUtFGgrNPo
The Beer
Just shut up and drink some.
Since my area is about to break into the 100's (managed to hold out until late June–rather impressed), I'll personally be looking for the following Texas brew:
Think Blue Moon, but much better. Nothing like a nice refreshing brew during the hot summer months and Fireman's 4 definitely hits the spot.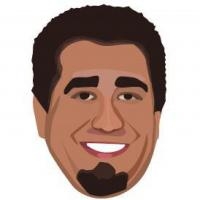 Latest posts by Ryan Ritter
(see all)