Firstly, as a quick aside, I'd like to give my personal farewell to MQ as he rides off into the sunset. Thanks for building up this little corner of the internet to what it is today. There is something very special about having a truly independent voice to discuss Notre Dame, one that also allows for differing opinions within the staff itself. Thanks for giving me the chance to contribute here. I'm proud to write for this site.
Even though you are an asshole for leaving Biscuit in charge. When this thing gets reskinned to include dancing leprechauns in the margins, we will all know who to blame.
I encourage more folks to join the team so we can keep the leprechauns at bay and continue building this site up. The fun's just beginning folks.
Ok (not-so-quick) aside done, time to get to the real reason I'm posting: ND Men's Hoops.
If you haven't been paying attention to basketball this season, it's a damn shame because it has been one hell of a ride so far. However, when the clock strikes 9pm EST tonight, you still have a chance to hop on the Irish bandwagon as the postseason run starts in Madison Square Garden with the Big East tournament, and after the Irish will, against all odds, find their way into the Big Dance this March.
Now, we can't all be the official Volvo Biggest Fan in the Big East (congrats by the way, Lisa!), but I'll do my best to provide you a refresher of how the season went down and what you should look for with this little imaginary Q&A session with the uninformed ND BBall fan in my head (I swear I'm not crazy).
I thought this season was dead in the in water. Didn't our best player get injured at the beginning of the season or something?
Actually, it's worse than you think. Not only did Tim Abromaitis tear his ACL, during a practice of all things, but he was also suspended for four games at the start of the season because Brey misunderstood a NCAA rule. Nothing says "you're season is beyond screwed" or "all the basketball gods are pissed" than your top scorer suffering that combo.
And it sure looked like the season was going straight in the tank too. After starting the season 4-0 against four cupcakes during Abro's suspension, the Irish went 4-5 before Big East play. With that gauntlet in front of us, the NIT looked like a miracle.
So when did it all turn around?
Depends on your point of view really. The Irish started Big East play by taking down then ranked #22 Pitt at home, losing to Cinci on the road, and then pulling a double-OT shocker on then ranked #10 Louisville's home court. All of a sudden, there was a glimmer of hope.
However, there is no doubt that the season took a sharp turn to awesome when Syracuse came into South Bend with a 20-0 record and the Irish shocked everyone by taking them down 67-58 and handing the Orange the only loss they'd have all season (and yeah, their best player Fab Melo was out, but I don't care and neither should you). The Irish then ripped off a school record 8 Big East wins in a row, including beating UCONN on their home court and having an improbable 20 point comeback against Villanova on the road.
NIT prayers turned into a punched ticket into March Madness, a top 25 ranking, and a double-bye in the Big East Tournament.
Let me guess, we just happened to get lucky by raining threes as usual right?
While there is no doubt that this team still loves the outside shot, we are thankfully not completely dependent on it. Make no mistake, if the boys gets super cold form three-point land we will have some issues, but this team, in my humble opinion, does make a better effort to get the ball to the hoop than in previous years.
Just take a look at our three point percentage. From 2007 to last season we have stayed consistently around the 38-40% range. This season though: 33%. Believe me, this isn't just three-point luck.
Hell, even our overall FG is a bit down. We currently sit at 43.5% which is a drop from the last two seasons in which we saw 46% and 47%.
Hold on a second, you aren't about to imply that we can actually play defense this season?
I wouldn't call us a defensive powerhouse by any means, but this team has definitely been able to limit opposing points all season. Some of that can be attributed to the fact that we will employ the burn offense which will limit opposing possessions and therefore their points by its very nature. Still though, this team does need to the defense to play solid ball in order to win.
In Big East play, the Irish have limited opponents to a sub-60 score 8 times and in those games have gone 7-1. Scores above 60 in Big East play has netted a 4-4 record with two wins coming in overtime. Out of conference, scores above 60 have proven to be even more disastrous, netting a 3-5 record.
ND can win a shootout, but that isn't what you want to see.
Ok, so who are the top dogs on the team now?
Without a doubt, our biggest impact player is Jack Cooley. With 12.5 points/game and 9.2 boards/game, Cooley gives the Irish the inside impact that has been sorely missing since Harangody.
Beyond Cooley, enjoy the show our young backcourt can put on. Â Jerian Grant and Eric Atikins both average over 12 points and 4 assists per game and both also boost some of the highest percentages from behind the arc at 35.4% and 36.9% respectively.
The lone senior (with two good knees), Scott Martin, is good for double digit scoring more often than not and Pat Connaughton fills the role of "this guy can go off for 20+ out of nowhere and make you pay"–just ask Marquette and 'Nova.
That should catch me up–so what about tonight? Who do we play and will we win?
Tonight we will take on USF whom we beat easily at home 60-49 earlier in the season.
After their first-round bye in the Big East tournament, USF made quick work of 'Nova 56-47. Throughout the season, USF has been right in the middle of the road, beating the teams below them, but consistently losing to the top teams in the Big East with the lone exception of beating Louisville near the end of the season.
On paper, it should be an easy win–
–but we are still woefully cursed at Madison Square Garden aren't we?
Just had to bring that up…
If the regular season contest against St. John's was any indication, yes. The Irish may have only lost by three, but just shot simply awful all game long, going an absurd 4-31 (12.9%) from behind the arc. From the field, the Irish were 37.3%, but it didn't help that St. John's went 46.8% in comparison.
Here's hoping we got all the MSG hex-type stuff out of our system there. That game was just ugly.
So if we win tonight, what happens next?
Seriously, use the internet:Â http://espn.go.com/mens-college-basketball/tournament/bracket/_/id/83/2012-big-east-tournament
Thanks, smartass. Anyways, what are our chances to win this thing for a change?
Personally, I like the area of the bracket we are in. We've beaten both potential opponents in the semi-finals during the season (Marquette and Louisville), but, if there's one thing I've learned watching us play in Big East tournaments, is that historically our chances aren't good. Our matchups set up fairly well for a run to the finals, but none of these teams are pushovers by any means.
Well you said we will go to the NCAA tourney, how are we looking there?
Look for us to be a 5 seed at best and I would say an 8 seed at worst unless we just totally fall apart tonight. Either way we are in when no one thought we would be, be happy.
Any chance of making a serious run?
Hate to kill any dreams you may have had here, but probably not. Anything could happen, especially with a team that has absolutely nothing to lose. On the flipside though, the Irish have shown some warning signs during the season that they could very well manage to make a first round exit as well.
Basically, enjoy the ride. We weren't supposed to even be sniffing this kind of success this season. Any wins at the dance will be a huge bonus to this great season.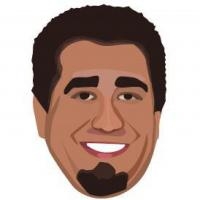 Latest posts by Ryan Ritter
(see all)