While I touched on this a bit in my last post, I wanted to go back and rewatch the game to get a more in-depth analysis of our gameplan.  I saw a few things in the stands that I wanted to confirm before I posted them.  I also wanted to see how Kelly approached these various situations, if our QBs audibled out of the plays too often, and see if it changed the way I see the game overall.
I went back and charted all the plays myself.  I made a few changes (for instance, Cierre's fumble is a pass not a run, same with Dayne's fumble).  I also took a look at how many men USC put into the box against us and if they were showing blitz (I define showing blitz as the defense showing 5 or more pass rushers).  I also checked to see if our QBs called an audible and what the resulting play was after.  I know this can be a fools errand, but for the sake of this post, if the QB adjusted anything presnap, I marked it an audible even though there is really no way of telling exactly what was adjusted (blocking, routes, or the play outright).
To start off, let's take a look at our drives by down, down & distance, and for each drive:
I'll be honest, I was rather shocked with this breakdown.  Primarily the fact of just how often we passed on first down.  Granted, as I mentioned before, a lot of this was due to the fact that we had a two minute drill that was 100% pass (drive 5) and were trying to play catchup for most of the game, but the result is still staggering.
Second down is an even stranger case.  When facing second and short, we mixed it up.  Facing second and medium distances (5-9), we were 100% pass.  Finally, when facing 2nd and long (10+), we actually threw some runs in the mix.  I can understand a mix on 2nd and long plays, and even 2nd and short.  On long downs, you are trying to make 3rd manageable and taking a shot on 2nd and short isn't out of the question.  However, not trying to run at all in the medium distances makes no sense, even for someone like me that will defend going pass happy at times.  There's a difference between being aggressive and predictable, and we were far too predictable in those cases.
3rd down was no shock at all to me.  You need to get to the sticks, so you'll pass unless it is 3rd and short.  What did surprise me though was that only 9 passes came from 3rd downs of 5 or more yards.
While drive 5 was the two minute drill, only 9 passes came from that as well.  The drive responsible for the most passes was the following drive, which was the same one that Crist had a large part of (and the eventual fumble).  An incredible 16 passes came from that drive.  ND was only trailing by a TD at that point and with it being our longest sustained drive, it should be the best example of a balanced offense, but it wasn't.  Even stranger, when Crist came in, all of his plays were passes, including the fumble as it was supposed to be a play action to a wide open Eiffert.
Personally, I had a theory for this, but couldn't prove it until I did my rewatch.  While I watched in the stands, I swore that I saw USC loading up the box and basically daring ND to beat them with the pass.  At my angle with the field though, I wasn't too sure.  However, after re-watching the game, here is what I found:
As I mentioned in my last post, with the spread literally spreading the defense out, it allows the offense to run more effectively, facing far fewer men in the box than normal.  For instance, in a normal two-wide I formation, you will likely see 7 men in the box at all times, possibly an 8 if run support was needed.  In a spread, if you go three-wide, you should expect 6 and if you are four wide, you should expect 5.
USC came at ND ultra-agressive on defense, often stacking 6 & 7 in the box at all times.  Not only that, any time the 7 in the box look was given, they were showing blitz the majority of the time, basically daring Rees to pass to beat them.  It seems that ND was all to willing to oblige.  As the chart shows, just about every time USC put 7 in the box and showed a blitz, we passed.  Of course, not of all these looks were blitzes so we were, in fact, playing right into USC's hand.
The biggest oddity is that we ran the most against a look of 8 men in the box showing blitz.  This would seem to confirm my fear that we were too predictable, but the strange part was the we saw this look on the following downs & distances: 1 & 10 (4), 2 & 10, 2 & 8, 2 & 3, 2 & 1, 3 & 1, which wasn't in the initial pattern that I saw.
Another interesting oddity was that ND saw the 6 man look most often when Crist came into the game.  When they did this, they also rarely showed blitzes as well.
What this all tells me was that USC figured that they could dare Rees to pass on them, but that we would be unable to read the defense properly and force the ball into places that it shouldn't go.  As we have seen throughout the season (one of the best examples was Pitt), Rees does have a tendency to fall into this trap at times.  Rees was unable to properly read these looks and take advantage of them and, in the same vein, it appears that Kelly had a little too much faith that he would.
Knowing Kelly's aggressive nature, I'm sure he thought that Rees would take advantage of USC overloading the box.  While I still have a hard time saying he completely abandoned the run (just check out drive 7, he went right back to it before being forced to go nearly all pass after), it definitely seems that Kelly failed to adjust to the issues Rees & the offense were having with what he thought was a clear mismatch.
And as far as audibles go, well, I highly doubt Rees was thinking about changing any plays to runs:
That's right, only one run called after an audible.  This means that either Rees was adjust protection or routes constantly or was, in fact, changing runs to passes.  Considering that I didn't see Kelly dressing Rees down for changing plays, I have to figure that Rees was making minor adjustments for the most part.
So how do I feel after all of this data?  Well, I have to say my initial thoughts were wrong.  While I know ND fans do have a tendency to lean on the "run more" crutch, I was a bit hasty in my judgement as well.  Call it a knee jerk reaction on my part as this offense overall is a lot more balanced than people give it credit for (43% run despite the unbalanced nature of the USF and USC games).  For the USC game though, you can only give so much leeway for not running more; however, as I said before, I have a hard time saying Kelly completely abandoned the running game as he reverted right back to it on drive 7 which resulted in Gray's TD.  Unfortunately though, by that time it was a little too late.
Had Rees managed to pick apart the defense a bit better, who knows how big of an issue this would be.  In the end, Eiffert slipped on what should've been a TD pass, Dayne fumbled away a play call that would've seen Eiffert wide open, and to top it all off we shot ourselves in the foot with two additional turnovers.  For me though, I'm going to put blame into both sides: the offense for poor execution and Kelly for not trying a few more runs to mix it up a bit more and keep USC a little more honest regardless of what they were daring ND to do or how good the matchup looked.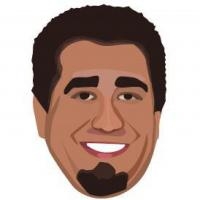 Latest posts by Ryan Ritter
(see all)