Welcome to this week's edition of my little ranking experiment that is the NDtex25.
Last week, I was unfortunately in a bit of a rush trying to introduce the method to my madness to my new reading audience here at HLS, so I will try to give a better explanation as to how these teams get their rankings.
I had an idea to create a ranking system with as simple of a formula as possible.  The main thing I wanted teams to be ranked on was wins and losses, the margin of victory, and the strength of the opponent played.  Margin of victory had been a hot topic before in computer rankings as it can encourage running up the score, but to me, it is still an important metric in rankings (and let's be honest, pollsters use margin anyways as they can't watch all the games).  To curb any advantage to running up the score, I decided to give three distinct categories for every win/loss margin and assigned them multipliers of 1, 2, and 3 respectively:
Close Victory (within one possession, 0-8 points)
Comfortable Victory (within two possessions, 9-16 points)
Blowout Victory (three possessions or more, 17+ points)
As far as opponent ranking, I take the rank of the opponent played from last week's rankings and a multiplier is assigned.  The reasoning behind this is to reward teams properly for wins against tougher opponents and punish teams for losing games against awful opponents.  For instance, a win against number 1 is worth a 120 multiplier and a loss against them would be a 1 multiplier.  On the flipside, losing to 120 in the nation is worth a 120 multiplier and beating up on them only gives a 1 multiplier.  As the rankings change, so do their associated multipliers, leading to quite a bit of movement every week.
Finally, assigning a win a base multiplier of 1 and a loss a base multiplier of -1 gives me the following formula for W/L Points:
W/L Points = Result * Margin Multiplier * Rank Multiplier
Now while wins and losses for this formula are great, I decided that I needed some other metrics to help further differentiate all the teams.  To start, I wanted something that would measure a teams performance on offense, defense, and special teams.  My idea was to come up with some kind of "net yardage" stat from all these areas that I could find in a box score (because sadly, I have to enter all this in by hand and look it up manually right now).  So I came up the following simple formula for "Net Total Yardage" (NTY):
NTY = (Yards Gained + Kickoff Return Yardage + Net Punting) – (Yards Allowed + Penalty Yards + Kickoff Return Yardage Allowed)
To ensure that I get a more consistent result out of this metric, I actually measure the Average Net Total Yards (ANTY) and divide the NTY by games played.
Finally, I figured that since the ANTY metric didn't include interception or fumble return yardage, I needed to find a way to get turnovers into the mix.  This was simple enough, as I also use Turnover Margin as a metric:
TO Margin = TO Gained – TO Lost
Much like NTY, I wanted to get a more consistent result, so I also take the average of this metric as well when I do my rankings.
So with these three metrics, I figured I had enough to get this experiment going.  In order to rank the teams, I rank all teams separately in these metrics.  Each rank is assigned a point value 1-120, with the #1 ranking getting 120 points.  Then, considering that I want wins and losses to be more heavily weighted, I plug everything into this final formula:
Final Score = (W/L Points Rank + (ANTY Rank + Avg TO Margin Rank) / 2 ) / 2
I then rank all teams from this final score to get the results that you will see below.  Each week I will post the new rankings (hopefully I can get them in before any games are played), and point out a few things here and there about how I feel this system is working.  I am keeping track of the results every week so I can examine everything in depth in the offseason and improve it for the 2012 season (including a quicker way to input all this data!).
While this may be an experiment, my end goal is to have rankings that are somewhat similar to the BCS, but are able to have differences that can expose overrated teams and laud teams that aren't on the radar of the polls or the BCS.  With each week, the results have gotten better and better in my opinion, leading me to think by season's end, I'll have a pretty solid top 25 out.
Some final notes on my system before we get into this week's NDtex25:
If the Final Score is tied, tie breakers are as follows: W/L Points Rank, ANTY Rank, Avg TO Margin Rank, and Alphabetical Order!
I did no preseason rankings, week 1 was actually run twice using solely ANTY and Avg TO Margin numbers from week 1 to initially rank teams for opponent weights and then running the rankings as normal.
Games against FCS Teams: I do not count anything for or against a team — it is treated as if it were a BYE week (which is quite similar to bowl selection, FCS wins do not count).  Granted, I also can't punish a FCS loss either which is a downside.
At the end of the bowl season, I will run the rankings twice so I can get new opponent weights after the bowl season is done (as opposed to just having their ranks before bowl games were played)
Most hilarious happening so far: Bowling Green starting out as my number 1 team.
Biggest observation so far: I'm too generous in my definition of blowout.  There are several 19 and 20 point victories that probably shouldn't fit into that category.  At the end of the season, I will double check this, but I think I will need to make close victories a 2-3 possession win/loss and a blowout win/loss a four or more possession margin.
Rank
Team
Score
Last Week
AP Rank
Coaches' Rank
1
LSU
114.5

3

 1
 2
2
Oklahoma State
113.5

1

 6
7
3
Oklahoma
112.25

2

3
 1
4
Boise State
110.75

7

 5
6
5
Alabama
109.25

4

 2
 3
6
Clemson
106.5

5

 8
8
7
South Carolina
104.75

24

15
13
8
Georgia Tech
100.25

8

 12
 12
9
Nebraska
96.25

13

14
 14
10
Stanford
96

11

 7
5
11
Michigan
95.25

10

 11
10
12
Houston
94.75

17

 25
 22
13
Arizona State
94

23

 18
20
14
USF
94

20

 NR
 NR
15
Wisconsin
91.5

12

4
4
16
Penn State
91.25

33

 NR
NR
17
Michigan State
91

21

 23
19
18
Arkansas
90

38

 10
11
19
Georgia
89

14

NR
 NR
20
Texas
88.5

6

 22
21
21
Illinois
87.75

29

16
 15
22
Auburn
86

9

24
 NR
23
Rutgers
85.75

34

NR
 NR
24
Vanderbilt
84

18

NR
NR
25
Oregon
81.75

41

 9
 9
Dropped Out of NDtex25: Ohio (15), Pittsburgh (16), Florida (19), San Diego State (22), Virginia Tech (25)

Just Missed the Cut: Virginia Tech, Florida,

Notre Dame

, Baylor, UL Lafayette
This week marks the first week that my number one matches the number one of either poll with LSU taking the top spot away from Oklahoma State.  The two biggest omissions from last week, Arkansas and Oregon, now find a home in the NDtex25, but nowhere close to their poll rankings as of right now.  The highest ranked team in the polls that is missing this week is West Virginia (13/16).  The only NDtex25 team appearing without a single vote in either poll is Vanderbilt (24).
Your 120th ranked team this week is Akron for the third week in a row. Stay strong, Zips, stay strong.
Notre Dame has dropped a single spot in the rankings to 28.  Last week, Air Force was ranked 76, which really did not help them out much at all.  Giving up a ton of yards also did no favors to their ANTY as well.  This combination allowed several teams to outright leapfrog ND.
ND's next opponent, USC, is currently ranked 57.  Other ND opponent ranks:
USF: 14
Michigan: 11
Michigan State: 17
Purdue: 54 (excuse me while I die laughing that they are ranked higher than USC)
Pitt: 34
Air Force: 101 (yeah, that win won't do us any favors…)
Navy: 76
Wake Forest: 37
Maryland: 94
Boston College: 111 (believe it or not, they actually went up 4 spots)
Stanford: 10
Average ND opponent rank: 51
Next week, the BCS rankings debut and I cannot wait to see my rankings go up with the big, bad computers.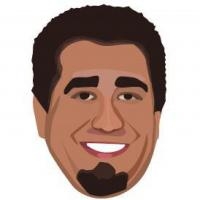 Latest posts by Ryan Ritter
(see all)