That's right, I'm burning the midnight oil here at HLS!
It seems the team here at HLS weren't the only ones that had a crazy week as the Subway Domer had to call a quick audible at the beginning of this week and take over IBG hosting duties.  Please do check out his post which has his questions and answers for this week and make sure you check out his home page for all the other IBG responses.
1.So, uh, the defense has looked pretty good. Give me a stat that most exemplifies what this defense is all about. Are we really as good as we think, or are we inflating the results?
Yes, I believe we are good and it all starts up front.  The Irish rank 19th in the nation in rushing defense and have only given up a single rushing touchdown (on a circus fumble).  We are also one of the few topped ranked defenses that has actually played nothing but BCS AQ teams as well to this point.
Sure our defensive backs lack something to be desired at times; however, being able to stop the run forces teams to lean on the pass which makes defending it far easier.  Plus, we are now getting great pressure on the QB as well.
Which brings me to my next stat that I think will define the Irish for the near future: 2.6 sacks/game (25th in the nation).
2. What concerns you the most about Air Force? How will ND be able to ease your fear?
Well of course, I could start having Navy flashbacks from last year to cause some panic about an option attack, but the thing that scares me the most about Air Force is that it isn't your usual option attack.  DMQ did a great job talking about this earlier in the week and I will let that post do the talking on that point.
How can ND ease this fear?  That's a pretty simple answer and it's really the response I always hope to see on defense: make the first drive a three and out.  If you can do that you set one hell of a tone and start to make your opponent already question their gameplan.  Granted, that isn't always going to happen, but making sure the Falcons don't find their way to the right side of the 50 will suffice as well.
Just show me that this won't be another Navy disaster and I'm good.
3. You're the long snapper. You get into a bit of a fracas on the field and break your hand… just how dumb are you feeling right now?
Remember this scene from Billy Madison?
Yeah worse than that.
4. FYI: Tommy Rees will have 2 more years of eligibility after this year. How is Notre Dame's QB situation going to shake out over the next couple of years?
Besides the fact that Crist will likely transfer to greener pastures, I really don't have a clue.  Golson and Hendrix seem to have all the talent in the world and fit better into Kelly's offense, but honestly, it'll be impossible to tell until we actually see them on the field.
It's hard for me to believe that Rees will be the QB for the next two years with such talent behind him, but you never know.  After Rees' debut last year against Michigan I didn't think he'd be able to rebound and play QB again, much less as effective as he has been able to.
Hopefully, before this season is over, we will get to see either Golson or Hendrix take the field so we can get a better idea of what we have.  Until then, I won't make any predictions one way or the other.
5. Subway Domer has always championed a "People's Champion" if you will. This year, however, I just couldn't make the call before the season began. We dig great hair, tattoos, and at least some playing time. Who would you name as the Subway Domer People's Champ? Keep in mind, at no point in time were guys like Te'o or Floyd eligible and that should help guide you.
I'm going with Jonas Gray. Yes, I know that you are probably looking for me to go a bit further down the depth chart, but this is a guy I expected great things from him in one of my first IBG posts this year.  And then, you know, he promptly had one of the most gut-wrenching fumbles that you could possibly imagine.
Seriously, what happened at the start of the USF game is out of a nightmare or a Hollywood script written by someone that just has it out for ND.
Something like that can seriously mess with an athlete's head, but Gray has made that play a thing of the past.  His rushing yards post USF: 66, 65, 84, and 94 (309 total), giving him an outstanding 8.58 yards/carry in that timespan.  That's coming out of the corner fighting after you've been knocked down twice to deliver a knockout blow of your own.
Definitely "people's champ" material in my book.
6. OK, talk to me about Saturday. Give me: 2 reasons we lose 2 reasons we win Any prediction you might have for the game ______.
We lose if:
We repeat Navy and just can't figure out how to defend the option. More specifically, our defenders don't stay at home on their assignments and sell out to try to make a big play every time.
We revert back to turning the ball over five times in a single game
We win if:
We repeat Army defensively.  Yes, Army had a much weaker rushing attack than what we will face against Air Force; however, the concept is still the same.  Stay home, cover your assignment and force them to pass.  Stated another way, the opposite of number 1 above.
We use our size to our advantage.  There isn't a DB on Air Force that can beat Floyd on a jump ball.  The battle in the trenches will be a mismatch in our favor.  We need to use and abuse this fact constantly.
7. I love hardware. There is no hardware on sale this week… bummer. Give me your thoughts on Notre Dame's "rivalry trophy" situation, and would you change anything about it?
I'm with Subway Domer here. Bring the trophies out on the field.
Sure, some fans might think it isn't worth it at all, but I would wager the kids that bust their asses on the field for 60 minutes will.  It's a great boost to lift up a trophy over a rival right in front of their faces.  On the flip-side, watching your opponent run around with a trophy can piss a player off to no end for major motivation next year.
Let me put it this way.  Remember when Sparty planted their flag at our 50?  Did you take great joy in beating them the following year as a bit of vengeance?  It's the same theory.
Look, I know the goal is the nice shiny crystal football, but I really don't see any harm in bringing the trophies to the field.  As much as Domers love tradition, I'm a bit surprised that we don't do this already.
BONUS: If the 4 Notre Dame scholarship quarterbacks could be quantified as a present or former country in the world; who they be?
First a question about models last week and now this? I don't even…oh well, I'll play along.
Crist: England. He was to be king, but soon had to make way for a young upstart…
Rees: USA. Knocked Crist off the perch to take over as the QB superpower.
Golson/Hendrix: China. They are the great unknown. Do they have the power to replace Rees in his current spot? Or will Rees be able to continue to learn from his mistakes to stay on top? Only time will tell…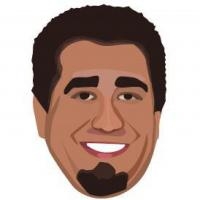 Latest posts by Ryan Ritter
(see all)