Perhaps you're an Aggie that's big mad that Notre Dame and/or Ohio State made it into the playoffs over Texas A&M. Perhaps you're a fan of a Group of Five team like Cincinnati, Coastal Carolina, San Diego State, or even a UCF fan still holding a grudge. Perhaps you are just tired of seeing this system, know the BCS is never coming back, and are just hoping for something different than semi final blowouts.
Now that I've tossed in every possible search keyword that I can think off, I'll get to the point: major college football ain't fair.
I mentioned this on the most recent pod, but football at this level is driven by cash. The brand names and football blue bloods deliver cash; however, preservation of said cash flow required a ton of illogical decisions.
With this in mind, the "brightest" college football minds constructed a way to preserve the ever-expanding, but always profitable, bowl system. Members of various bowl committees keep their well-compensated jobs, expense accounts, and funny jackets. Lucrative TV contracts remain as well.
In thanks for not derailing the gravy train, all conference members, and Notre Dame, receive base payouts for agreeing to keep the peace and additional bonuses for making the bigger bowls/playoffs. It's more Ponzi scheme than postseason.
No other sport works so hard to preserve what Brain Kelly so eloquently (and prematurely–probably should've gotten the playoff bid first, oops!) called worshipping at the ashes of tradition. Keep this in mind when you create a smart playoff expansion scenario in your head. The powers-that-be will inevitably pick the dumbest of all possible options because controversy creates cash.
Look no further than this sport's recent history. The BCS spawned out of a desire to make sure #1 and #2 played each other on the field instead of pollsters crowning a champion. However, because we can't have pollsters deciding everything, in comes a complex, "unbiased" system of computers that very few people actually understood.
To no surprise, this created undesirable matchups, including an Alabama/LSU rematch, and flat out snubs. Enter the playoff, originally pitched to anyone with a brain as a "plus-one" scenario with the current ranking structure.
Nah, makes too much sense.
Instead, let's scrap all the bowls and throw a bunch of ADs and other random big names in a room to create one ranking to rule them all. Oh, and have you heard this committee will actually watch football instead of a silly computer spitting out numbers?! What a novel concept!
No one asked for that scenario, and yet, here we are.
Hilariously, the thing that might blow this one up and push college football further down the path of insanity is that Notre Dame had to join a conference during a pandemic. This created a scenario in which they had to have a rematch against Clemson. Any other year, Notre Dame strolls into the playoffs with an undefeated record and people bitching that we didn't have to play Clemson again. The Irish did, lost, and now a potential rubber-match scenario is in place and people are, to no surprise, now mad that conference membership benefitted Notre Dame.
Irish fans have told you conference memberships are stupid. No one listened. Your conference membership will not save you. Sure, you can try to politick like Jimbo did about your strength of schedule and strength of record because of it, but if you focus only on that, you can create some hilarious outcomes focusing solely on those metrics (sources: SoS, SoR, FPI & SP+, FEI, F+):
Strength of Schedule: Ohio State out, Aggies in
Strength of Record: Clemson out, Aggies in
FPI: No change, unless you want to allow two-loss Georgia in which would bounce ND
SP+: ND out, Cincy in
FEI: ND out, BYU in
F+ (SP+ & FEI combined): ND out, BYU in
What a beautiful mess.
In American sports, playoffs are meant to reduce such mess. They also create wonderful underdog story potential. It's part of the reason we love March Madness so much. In the end, the cream typically does rise to the top, which is why we've seen Bama/Clemson so much and likely will again.
College football however, should be more like European soccer. This idea is far from original, but it makes so much sense and fits too perfectly. For those unware, the various leagues will play their seasons. The champion is simply who is in first place in the standings (similar to how conferences used to do things). The top teams from leagues are then invited to a champions league (oh hey, sounds like NY6/Playoffs) and teams right below that go to a slightly less prestigious league for "postseason" play (like the rest of the bowls!).
However, the reason the above works is because there is also a promotion/relegation element to it. You aren't even eligible for the big tournaments/leagues if you suck and finish in the bottom two, meaning the following year, you are booted down to a lesser league and have to work your way back up. Forget about recruiting headaches, there is absolutely no way college football blue-bloods sign up for that deal, despite how clearly hilarious and awesome it would be (because, hey, revenue hits!)
Keep all of this in mind when you bemoan how games aren't "as entertaining", "don't matter as much", or ultimately "isn't fair" because of the playoff. The system isn't made for fans. Your enjoyment and concept of fairness pales in comparison to the checks handed out every year.
So, you decided you wanted to be a fan of college football? Welcome to a hell that you somehow enjoy and hate all at the same time.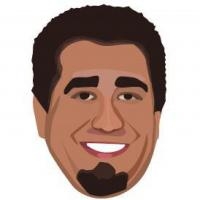 Latest posts by Ryan Ritter
(see all)