If you were having trouble getting your Michigan hate going, Jim Harbaugh's got you covered. Rumors have surfaced that Harbaugh is eyeing an exit strategy off the Michigan Titanic he's captaining, but, honestly, the rumors didn't even hit my radar.
Even if they did, I wouldn't have bothered making a post about it to be honest. Harbaugh, however, couldn't leave well enough alone and this happened:
Congrats, everyone. As Michigan's sworn enemies, we have apparently run/participated in a disinformation campaign that's so good, no one is even aware of it other than a steak-eating-milk-drinking-kahki-wearing coach up north (worst Ric Flair promo ever).
That part is just funny, but what's stoking my Michigan rancor are a couple of whoppers that Harbaugh threw out in his effort to "fake news" the rumors and keep making Michigan great again, or something.
"I don't even have an 'agent or represtative.'"
Really? Who the hell is this then?!
Not only is that link from a Michigan blog, but there are literal photos from an EPSN reporter detailing a day in the life of this guy.
Perhaps the "trusted agent" is not fully an agent in a traditional, 10% off the top sense, but you're telling me a guy that opens Harbaugh's mail wouldn't try to represent his interests and communicate on his behalf?
Sure. Makes sense. Couldn't possibly see Harbaugh asking someone like that to go kick some tires to give him a degree of separation. Nope. Not at all.
"I am committed to your sons."
Let's turn the clock back to a recent edition of the Friday Roundup (RIP):
Oh hey, here's a shocker, Jim Harbaugh might be a dick. Remember when Harubaugh went on the radio and said, because of current transfer rules, kids might make up a mental health disorder? Well, it turns out he may have just had a specific athlete in mind ($) when he said that and the picture isn't a pretty one. None too pleased with his portrayal in this tale, Harbaugh decided to fire back at Cincinnati head coach Luke Fickell, who then fired back at Harbaugh once again.
Harbaugh is so concerned about your son, he'll proactively make up some bullshit under the guise of actually giving a damn about mental health because he knows your son walked out the door and he's going to make sure he makes that, ahem, exit strategy as painful as possible for him. Bonus caring: he'll then attack the new coach trying to stick up for your kid.
Please excuse the informality of this rant, Jim
But you're full of shit.
The only "annual strategy" that's causing disruption to Michigan is whatever the hell it is you do on the sideline every year. You've done a great job at sowing discord and disappointment all by yourself. You don't need our help.
To wit, Michigan is once again on track to finish third or worse in your own division. Consistency, after all, is key!
The better argument here would've been that you've sucked so bad at your alma mater that no NFL GM in their right mind would consider you for a job. After all, no coach has had more success in wearing out their welcome than you have in practically every single stop you've made.
Look, just call the rumors something you don't think deserve the time of day and move on. Stop trying to blow Michigan Man Sunshine up everyone's ass and then have John U. Bacon write a book about how you're the good guy in the cesspool of college football, actually.
You suck. Michigan sucks. Michigan will always suck. Enjoy receiving another righteous ass-whipping at the hands of Notre Dame Saturday night.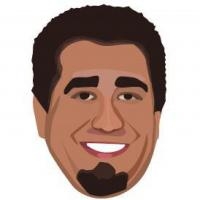 Latest posts by Ryan Ritter
(see all)