Teams are always looking for ways to up their home-field advantage. Iowa paints their visitors' locker room pink. Notre Dame installed a comical tunnel for visiting teams to use. So when Ed Orgeron said that Texas cut off the air conditioning to the visitors' locker room, it sounded plausible even if it bordered on the bush-league absurd (even moreso than Weis' tactic of letting the grass in ND Stadium grow to absurd lengths).
Coach O didn't stop there though. He said Texas pulled the same stunt on Louisiana Tech. In fact, he called them to scout the conditions and brought extra blower fans to combat the under-handed tactic.
Problem is that Skip Holtz, head coach of Louisiana Tech, said that Coach O never called him and he had no recollection that Texas attempted to stoop so low.
Texas of course denied all the allegations and athletic director, Chris Del Conte, launched–and I can't believe I'm about to write this–an internal investigation on their HVAC functionality. The report came back stating the A/C was working just fine and–I also can't believe I'm about to write this–those records were FOIA'd:
But don't worry, y'all, we can get dumber. Because our Austin correspondent and fellow degenerate game picker, NDEddieMac, received third-party confirmation from…*checks notes*…a BBQ vendor:
Friendly reminder, LSU won this game.
For some reason though, Coach O decided to go down this fabricated rabbit hole. Why? I honestly have no clue. It was originally triggered by questions about his players cramping on the field, which, you know happens in upper-90-degree Texas heat. He didn't even have to mention this insanity at all.
But nope, here we are, complete with spreadsheets and BBQ joints calling bullshit.
Never change, college football. Ever.
The Roundup
Note: Some links are from The Athletic and require a subscription to read. These are denoted with ($). If you are considering a subscription, please use our discount!
Friendly reminder if you are looking for ND/SC tickets: HLS is doing a charity silent auction for a pair. Details are here.
Winning is hard, but losing is harder. And losing so badly that it's clear the season is done after just a couple of weeks? That's a whole other level ($).
California passed a bill that would allow players to profit of their image and likeness. So, naturally, the NCAA responded to this first domino of the Olympic model falling by calling the thing unconstitutional and threatening to kick all California schools out of the NCAA. Makes sense.
Tennessee finally got a win. In response to the news that a Florida boy found himself bullied because he made his own Tennessee shirt since he had none, Tennessee not only sent him a care package of swag, but are now selling the very shirt the boy designed to benefit anti-bullying groups. They are selling like hotcakes with over 16,000 sold as of Tuesday.
Mark Richt has lost control of giving a single, solitary fuck:
Want to read a story entirely about an epic punting performance? You know you do ($).
RIP, T. Boone Pickens. While many know him for his contributions to Oklahoma State, it's well worth reading more about one hell of a full life that includes him going to the grave with a promise that 90% of his wealth will go to charity.
Opponent Watch
Regardless if he's on the sidelines or not, this weekend is about Bob Davie. While his tenure at Notre Dame absolutely went south, the coaching staff that he had here was nothing short of incredible ($) and all the more maddening that it never worked. While I'm happy to hear he's recovering from his undisclosed health issues, it is worth bringing up his rather rocky legacy that includes unceremoniously firing Joe Moore and orchestrating a spying operation.
And always remember, now and forever, the hot dog machine incident.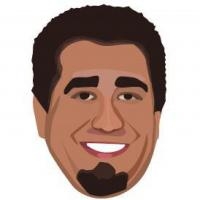 Latest posts by Ryan Ritter
(see all)