I think it's safe to say that I've traveled a rather unique path. Growing up in the Dallas area, the Cowboys were, and still are king. Doubly so in my family. Exhibit A, this is my grandpa:
My grandpa loved the Cowboys. He picked out his casket solely based on which one looked closest to Cowboys blue (and, in perfect irony, the casket had eagles on it). Complete strangers would become his best friend if they mentioned they were Cowboys fans. He was proud to have both his sons, and even his only grandson a couple of times, working the sidelines at Cowboys games with him.
So it should be no surprise that college football Saturdays didn't exist in my house. While many of y'all that read HLS grew up with Lou Holtz, Rocket Ishmail, Tim Brown, and Tony Rice, I had Jimmy Johnson, Troy Aikman, Emmitt Smith, and Michael Irvin.
Neither of my grandparents went to college. My parents didn't either–although my mom did attempt community college when I was a kid. The first person in my immediate family to graduate college was my uncle, a proud Lumberjack of Stephen F. Austin–not exactly a strong college football tradition to brainwash your nephew with.
And yet, through a crazy sequence of events called life, this Methodist, half-Mexican kid raised by parents that didn't go to college and only knew about Notre Dame's existence because of Rudy ended up in the premiere Catholic University in the Midwest. I fell in love with the place after a single visit, which only happened, by the way, because I was "on the way" to DePauw University where I had an official visit scheduled from their baseball team.
I promptly cancelled said visit.
As a student, I fell in love with this beautiful and stupid sport known as college football. I couldn't believe that I lived my life only watching two NFL games on Sunday and not gorging on as many games as possible on Saturdays. I'm still determined to make up for that lost time.
I became a student manager in the sunset of the Willingham era, where I learned what it looks like when a coach completely loses a team. That got me a front-row seat to the Weis era. There are many things that can be said about his shortcomings as a head coach, but the man knew his football. The amount I learned about the game via osmosis from being on the practice field every day was simply absurd.
My senior year, I shifted to golf, but the itch to talk about football persisted. I set up a Blogspot account under the pen name "NDtex" with a tagline of "Ramblings of an Irish Texan" and wrote as often as I could. After college, I took some of my first paychecks and bought the ndtex.com domain and continued said ramblings.
While I was all over the place on that blog, in 2011 I decided to focus solely on ND football. I left like the narrative of the team was being decided purely on knee-jerk reactions and hot takes founded on nothing. I brought in statistical breakdowns, film room breakdowns, and even created my own ranking system in which, I shit you not, involved me inputting in the box scores of every game manually and running it through a PHP script.
Ah, the life of a single, college football obsessed, 20-something.
I came over to HLS that same year and out of the gate went right after the narrative that BK's spread offense didn't have any semblance of power running. I began running HLS in 2012 and now, in 2019, my content…well, it doesn't look anything like that any more.
While my love of #sportsmath and X's & O's hasn't waned, my time to really dive into such things has. While I still very much enjoy writing (and you will absolutely see more of it this season), having two kids and a much more demanding job kinda kills that free time. I found that it's much easier (for me at least) to produce a podcast.
During the season, the pod is where you will find most of my work–three times a week to be exact. Sundays (or immediately after ND night games) you will get a recap episode. Wednesdays are picks against the spread around college football with my buddy Eddie. Thursday will be our own unique take on previewing Irish games: the NCAA '14 Sim. All of these stream live on Twitch as well at 9pm CT/10pm ET on recording days.
I spend much of my efforts on the podcast because I love the improvisational nature it leans into. It's crazy what thoughts pop into your head in the middle of a segment or even mid-thought. Adding in the live elements like chat creates an awesome interaction dynamic that I just can't replicate with a post. Finally, giving all control to an XBox for video game football perfectly mirrors all the absurd and random things that I love about this sport.
And so my unique path continues, attempting to cover a team I love all the way from Texas with no credentialed access, sources, or even the ability to watch a full game without a distraction or twenty from one of my kids.
The only other thing that I take one with as much gusto, outside of my family of course, are my charity efforts with Extra Life. My path there is no less unique, raising money in memory of a Aven, the son of my wife's college roommate. Despite the Space Balls sounding relationship, his passing had such a massive impact on me that I use this platform and following of mostly ND fans to help raise money for a hospital located in Oklahoma City.
I hope that you continue to join me, and the rest of HLS, on this crazy path that I can't seem to ever veer off of.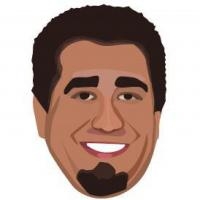 Latest posts by Ryan Ritter
(see all)