Now, to be clear, I'd never encourage anyone to actually lay down their hard-earned American currency on a college football game. That being said, on the day that the picks podcast will go live at 9pm CT/10pm ET, I think it's worth going over just what in the world Eddie and I are talking about.
Oh, and this knowledge can make you feel more at ease in joining this year's Pick 'Em which features some fantastic prizes. No space-bucks or real-bucks required.
Plus, knowledge of the gambling talk can, believe it or not, can help give you some additional insight into the strength of a team or how a game will likely unfold. Think of it as another power ranking or any other form of #sportsmath that tries to take a deeper dive.
The Spread
Simply put, the spread is a handicapping method for any sporting event that keeps score. As casinos aren't known for losing money, these handicapping efforts are insanely accurate. Not only that, they are made to make either the favorite or the underdog an attractive bet.
As an example, Notre Dame is expected to beat Louisville to open the season–it's basically a huge mismatch. Casinos aren't going to give you good value in betting a straight up winner for a game like this (more on that later), so, to encourage action, ND (at the time of this post) is listed at -20.5.
The "minus" number (positive or negative isn't the right term here) means Notre Dame is favored (aka laying points). In order to win this bet, Notre Dame would have to win by 21 or more points (a cover of the spread). If ND won by, let's say only 18, the bet is a loss.
On the other side, Louisville would be +20.5. That "plus" number means Louisville doesn't have to win, just not lose by 21 or more. In the previous example, if you bet Louisville in a 18-point ND victory, you'd win. If they lost by 22, a Louisville bet would be a loss.
You'll notice these numbers are related to very basic football scoring. In this case, ND is basically a three TD favorite. Any time a talking-head mentions something like this, they are referring to the gambling numbers and not some secret stats they have access to.
These lines and values move all the time for various reasons, but that's a whole other tangent that could fill another post. Just be aware that they aren't set in stone.
The Hook
The ND/Louisville game is a great example because it has half a point in the spread, often called "the hook". Here's what you need to know about the hook: it exists to make you mad as hell.
A true three TD favorite would be -21. In a scenario where ND wins by 21, it would be a push, meaning the bet is returned for all tickets.
The hook, however, sits there, taunting you, tormenting you. You can see several scenarios in which ND wins by 21, but you can also see several scenarios in which ND falls just short of that range. The hook offers no comfort for this dilemma, guaranteeing the book has winners and losers for all tickets.
How does Vegas know when to drop this bad boy on a spread? Hell if I know the exact formula and every book is different. I just know it seems to always exist in situations that feel like a coin flip around a certain number every damn time.
Now, you can "buy" the hook, which is basically taking that half point off (or adding a half point for the underdog), but your bet will cost more money and they payout will remain the same. Sometimes, it's insurance. Other times, it's watching more money go up in flames.
Over/Under
This refers to the total points expected in a game. This number is where you can get a bunch of insight into a game as it is very much a complement to the spread. Bettors wager whether the combined total of points from both teams will be over or under a certain number set by the books.
Using ND and Louisville again, the total is set at 58 (no hook, yay!). Now take this number along with the -20.5 spread. If ND is a three TD favorite, yet the total is at 58, the game is handicapped to look something like a 40-18 ND win, especially if I believe ND is going to cover the spread (22 point win).
If the spread was closer, say -7, we are looking at a game more along the lines of 35-24 or 31-27.
If you've ever wondered where in the world some of these final score predictions come from, now you do.
The total alone can tell you a lot about how the game will go. Totals in the mid-to-low-40s means you're watching B1G football punt fests. Totals in the 70s and 80s means you're watching a classic Big XII shootout or a Rutgers beatdown.
The Money Line
Eddie often talks about "sprinkling a little on that money line" when he smells an upset coming. In short, that means betting on the game straight up–no spread, just who will win.
Sounds easy, right? Oh, but this is Vegas, there's a catch.
If you want to go bet ND to win against Louisville, you will see the money line at -1400. The "minus" number is the amount you'd need to bet to win $100 (and you can do the math from here, $140 to win $10, $14 to win $1, etc.). The "juice" as it's called, is far too steep to discourage most from playing, although you will see pros with huge bank rolls go for it.
But in this stupid sport, that's not a safe investment by any means.
On the other hand, Louisville is +925. Meaning if you beat $100, you'd win $925 (greater than 9:1 odds). That's one hell of a payday if you call it, but the likelihood is that you just donated to a casino's fund for another Guy Fieri joint.
So when we look at the money line, we are looking for value and almost always on the underdog. Seeing a +200 – +300 in a matchup we feel as favorable, hell yes, let's get weird! The simple fact is that you, at best are winning just over 50% if you are on a hot streak, so you gotta pick some spots to make a bit more scratch.
Other Lingo
ATS – Abbreviation for "Against the Spread".
Back Door Cover – A score in garbage time that has no meaning for anyone else than the degenerates with money on the game. Often times, these back door covers lead to a…
Bad Beat – You basically have a game in the win column, but then, like a Cam McDaniel fumble against Northwestern, it all falls apart unexpectedly.
Chalk/Chalky – Favorites doing what's expected: winning.
Futures – A bet that's for something in the future, typically things like season win total, champions, and post-season award winners. Not to be confused with Future Alien Tech which is what Eddie and I are convinced Vegas has.
Hedge/Hedging – Typically placing a bet on the opposite side as another to cut losses. Referenced on our show more to hedge happiness, especially in regards to ND.
Lock – A "for sure" winner–more realistically, something that blows up in our faces.
Parlay – A bet that puts multiple bets together. You only win if all of them hit. Lose, or push, just one and it's over.
Pick 'Em – When not talking about a pool like ours, this refers to a game with no spread. You bet on a winner, straight up.
#HAILGAMBLOR – Our rallying cry.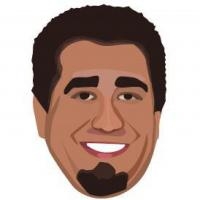 Latest posts by Ryan Ritter
(see all)