Oh how the whining began, and continued, as ND was clearly Playoff Bound after the USC victory.
wah wah wah "But your schedule was weak" wah wah
Boo hoo hoo "But you barely beat Pitt" boo hoo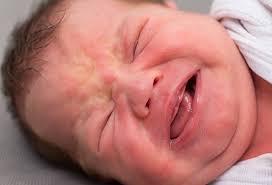 wah wah waaaaah "you're going to lose" wah wah
Boo hoo hoo "join a conference already it's not fair" wah boo-effing-hoo.
I feel like I'm Scott Farkus from A Christmas Story.
Sheesh.
Listen, you little whiny babies, there are counterarguments to all of those silly 'reasons' why ND shouldn't be in the playoff. There's Strength of Record, There's Head to Head, There's Common Opponents, there's 12-and-freaking-0, there's "you also barely beat Pitt / a team JUST LIKE PITT" and there's "No, we won't be joining a conference, because we'd be idiots to do so." So, yeah, lots and lots of ways to debate these kinds of arguments.
Side Note: My favorite argument on why we shouldn't be 'in' is the conference argument. It goes like this:
Other Team Fan: we are in a conference, so you should have to be
ND Fan: Nope. We don't.
Other Team Fan: But you don't have to play a conference championship game!
ND Fan: Nope, we don't. Neither did Bama last year and OSU 2 years ago
Other Team Fan: But seriously, not playing that game is a big deal! You didn't beat the best!
ND Fan: Um, Pitt and Northwestern were in Championship games.
Other Team Fan: But they SUCK. Beating them doesn't count.
ND Fan: So, you're saying conference championship games don't matter? NOW we're getting somewhere!
Other Team Fan: But, but, never mind. Why do we have to play 13 games and you only play 12!?!?!?!? Not. Fair.
ND Fan: Because we don't play 1-2 FCS teams during the season, so yeah, it's pretty much the same thing.
Other Team Fan: WAAAAAAAAAAAAAH BOOOOOOOOOOO WAAAAAAAAAAAAAH.
ND Fan: You should totally leave that conference, it made you a freakin' baby.
THIS MAKES NO SENSE.
I digress…
The point is, if you're a fan of another school and you feel your team should have gotten in, we hear you. We FEEL you. We get it, we really do. Your [insert school colors] glasses are heavily shaded to make you feel that way. And that's okay too. But net net, your opinion matters not. The Committee's does, and they have spoken.
Now is typically when you give up and we all move along. But not you you naughty fan you! I knew it! wah wah wah…boo boo boo……
So here it is folks. That's why you play the games. Read it again: That's why they play the games.
THAT'S THE ENTIRE POINT.
You put teams IN THE GAME to PLAY AGAINST ONE ANOTHER to determine WHO BELONGS. THAT'S IT!!!!!
NOT playing the Irish in there would deprive everyone of seeing whether we belong, or not. I think we do and we have a good shot at Beating Clemson. But, if we lose, we lose. And that won't mean that we didn't deserve to be 'in'. Not in the least. ND has EARNED the right to play Clemson. The Irish have fought and scratched for every inch of every game and they have come out of the other side perfect, just like 2 other teams that also deserve to be there.
Notre Dame, regardless of the result of the first or second round games in the CFP, DESERVE THE CHANCE to play this game. And we all DESERVE to get to see if they win, or lose. Because we know they belong. But whether they deserve to win and play for the CFP is TBD. FYI. STAT.
You see, that's why the games are played!
#NATCH
Latest posts by The Biscuit
(see all)