Back in 2014, I wrote what I felt was the perfect storybook ending to the Notre Dame/Michigan series. Attending that game is still my favorite memory inside Notre Dame Stadium. In fact, I became so consumed with Michigan's destruction that evening, I failed to take a picture of the 37-0 scoreboard before the six were tragically laid to rest (#RememberTheSix). Thankfully, my wife had my back on that one and it is her picture that lives at the top of this post.
But this story isn't over.
Saturday, under the lights once again, it will be a "rivalry renewed" a "new chapter in an historic rivalry" or whatever buzz phrase ESPN and NBC will throw out. Much like one of my other passions, pro wrestling, no storyline between hated foes is ever really over. Even if the hero gets his moment of triumph, it's always on to the next angle but the old foe always seems to return to the fray.
To paraphrase The Joker in The Dark Knight, I feel like Notre Dame and Michigan are destined to do this forever.
This is typically the time in which Notre Dame blogs and sites will fire up all kinds of Michigan hatred. Often times, this involves a well-needed history lesson, but that's been done, on this very site no less, far better than I ever could. I could spew vitriol at Michigan fans and stand on the right side of aforementioned history, but Blue Gray Sky hit that pinnacle in 2005. Even the new blog on the block, Notre Dame Our Blogger, delivered a very succinct and solid list of hate earlier this week.
This post won't be those either of those things. Instead, I wish to make a humble suggestion. If we are truly stuck with returning to the gridiron against a team that is trying to recapture a past glory that never even really existed in the first place, allow me to borrow another pro wrestling term: bury them.
2014 was such a sound beating that it didn't just spell the beginning of the end of Brady Hoke, but for then Michigan AD Dave Brandon as well (and probably Toys R Us too). The 2014 Wolverines finished 5-7 and it probably should have been 4-8, but Michigan narrowly escaped with a 10-9 victory at Northwestern. Ann Arbor basically went ablaze and jettisoned practically everything they could about the program, hiring Michigan Man, chicken-fearing savior, and dream coach, Jim Harbaugh.
The entire ordeal probably sounds exactly like what you may have heard from a Notre Dame fan (or perhaps you may even be that ND fan). Fire everyone, get rid of the marketing/money-focused AD, and back up the damn Brinks truck for the coach that knows how to win and that truly understands the University. Only then will we return to our previous glory!
Don't worry, I'm not here to judge your opinions on ND or BK. I'm just here to say that this path hasn't really worked for Michigan to this point. Sure, he's got a couple of 10-win seasons, but he's 1-5 against Michigan State and Ohio State. Last season's 8-5 effort featured only one win against a team above .500 and that only happened because Purdue won their bowl game. Harbaugh, dubbed a recruiting savant (he has sleepovers!), somehow hasn't recruited a QB worth a damn. Skunkbear fans are now looking to Ole Miss transfer, Shea Patterson, to be their savior.
Oh, and slight aside, Chip Kelly just named one of those terrible QBs as his starter in his first season in UCLA. If he goes off, I'm gonna die laughing.
All-in-all, what you have is a coach that apparently "can't win the big one", finishes in the middle of his division, and Michigan is stuck with a huge tab that includes a crazy life insurance loan. Michigan is all-in on Harbaugh. The only school with a heavier boat anchor of a contract is Texas A&M and Jimbo Fisher. So even if Harbaugh's seat gets white-hot this season, they are stuck with him.
Bury them.
If Notre Dame adds themselves to the list of teams that Harbaugh can't beat, Ann Arbor will find themselves in a fury once again. Except this time, Michigan can't just jettison everyone and start over. The cost is far too high. Even if Michigan were to eat the contract, good luck trying to swing that big of a monetary stick again.
Notre Dame has a chance to mortally wound Michigan football and have the ripple effect last well beyond the BK-tenure. And if the Irish manage to pull off such a feat, they will have done what Yost dreamed of doing to Notre Dame all those many years ago. Except it won't be based in bigotry, refusals to play, and blackballing from conferences, it will be because ND snuffed out every last hope on the football field.
We may be destined to do this forever, but we aren't destined to do this as equals. Turn Michigan into the jobber they deserve to be.
Bury them.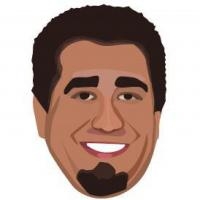 Latest posts by Ryan Ritter
(see all)