The ritual of hatred during SC week comes rather naturally for most Notre Dame fans. Some of y'all probably came out of the womb wearing blue and gold diapers. Growing up, you learned that cardinal was an abomination next to the color gold. It's as easy as breathing. Many of you, like Jimmy, have memories in your childhood of games that helped define this rivalry.
Others, like the Texan writing this post, learn and experience it far later in life. In fact, my first exposure to The Battle for the Jeweled Shillelagh was through the NCAA Football video game that I purchased my senior year of high school. I even had high school friends that would make their way to Southern California, including my girlfriend at the time. There was nothing more than some friendly banter of a thing we barely understood.
As the Irish prepare to face Southern Cal in their first ranked matchup since 2009, join me on my journey of hatred.
2003
"I. HATE. USC."
Those were the first words that came out of Carson Daly's mouth at the pep rally. The former TRL host walked up to the podium clad in the cursed green jersey the Irish had worn against Boston College the year prior. I can't recall anything else that he said that evening. In fact, I'm still confused to this day as to how in the world he, of all people, found himself tasked with riling up the student body and fans against their biggest rival.
The only other thing that I remember thinking that night was that such a celebrity sighting likely meant this rivalry was a bigger deal than I thought. I remained hyped and hopeful for my first ND/SC experience, despite the fact that the Irish sat at 2-3.
As the first quarter concluded with a 21-14, I still had some of that hope left. The way I saw it, the Irish were trading blows with a vastly superior opponent. Maybe some magic would find its way into Notre Dame Stadium.
24 unanswered points later and about the 1,000th reprisal of the only song the Southern Cal band knows, I wanted everyone and everything in cardinal and gold to spontaneously combust.
2004
My sister was in her senior year of high school. Being home for the Thanksgiving holiday meant that I needed to head out to watch her school play the rare Saturday night high school football game. My parents didn't see ND/SC as important enough to miss, that's what a VCR was for (yes, no DVR technology in the Tex household yet).
They know better now. I know better now. (Quick tangent: with my sister then attending Auburn and my parents learning how serious the Iron Bowl was, Saturday after Thanksgiving is now a football day. ND/SC and Auburn/Bama will be watched. No questions asked.)
Twitter wasn't a thing at this point, so avoiding the score wasn't too hard. My dad somehow found out the result and tried to spare me with "you sure you want to watch that when you get home tonight?" I knew it was code for "they got killed, don't watch", but I did anyways.
Silver lining: I knew there was likely no way Ty wouldn't get the axe after that 41-10 embarrassment.
2005
As a student manager, my excitement for this game was simply absurd. Charlie Weis had the Irish back on track (lol), but knocking off the #1 Trojans was all any Irish fan wanted.
ESPN's College GameDay was in town. I was able to barely see Lee Corso don the Leprechaun's hat for his pick through the bars of the main stadium gates. Shortly after, Southern Cal arrived. I have no idea why, but the thing that forever stuck in my head wasn't the reaction of the crowd, but Matt Leinart, at the front of the pack, flippantly tossing an empty water bottle into a trash can. For whatever reason, I couldn't shake the fact that every Trojan felt like they owned the place and the (very perceived) arrogance made me want nothing more than for the Irish to humble them.
Later on the field, one of the equipment managers got my attention while I was assisting with pre-game drills, informing me that my services were needed in the locker room even though that wasn't my assignment. "Great," I thought, "what kind of stupid last-minute bullshit am I going to have to do now?"
A few minutes later, I ran into the locker room and was greeted with the sight of forest-green jerseys hanging in the lockers. This wasn't bullshit. This was awesome.
I never had such a hard time helping players in and out of jerseys and pads, my hands shaking too much with excitement. For the first and only time, the managers were allowed to stay in the main room when the pregame speech started (typically, we went out of sight behind the equipment desk). I witnessed Weis' speech, the pre-game prayer, and the most hyped that I'd ever seen that team. While cleaning up, we heard the eruption of the home crowd clear as day.
Sadly, as we all know, it was all downhill from there.
My assignment that game was on the SC sideline. My job was to place the first down marker in front of the chains. Oddly enough, and I still have no idea why, they wanted me to place it half a yard or so beyond the chains. This made zero sense to me and I had them repeat it again just to make sure I wasn't imagining things. When the game started, I even confirmed with the chain gang that I was doing it right.
I tell that story to tell this one: when Brady Quinn snuck for a fourth down conversion and made it, Ken Norton Jr., a former Cowboy that I grew up cheering for, verbally tore me a new asshole when he saw where my marker was. He stalked me down the sidelines and resumed his tirade when I placed the marker down again. All I said was for him to talk to the refs, waiting for them to speak up. Thankfully one did, saying I was doing as instructed and I got a sheepish apology. To this day I still laugh that a guy with a Super Bowl ring was somehow convinced that I was personally responsible for tricking his defensive unit as to where the first down marker actually was.
I tell that story only because that same attitude permeated throughout the SC sideline. Pete Carroll had these guys convinced the world was out to screw them over. Here was the #1 team in the nation, clearly the more talented group on the field, and I heard nothing but whining from everything from the height of the grass to every single call or perceived non-call that went against them.
Yet at the end of the day, it was Pete Carroll's refusal to have instant replay present at the game (visiting coach was allowed to decide that season) that allowed a shitty spot after the Lienart fumble out of bounds and the referees' failure to properly enforce the rules on the Bush Push that allowed the Trojans to escape South Bend with a W.
And then I got to clean up the locker room they trashed. Wet toilet paper and SC helmet decals were everywhere.
Hate: sealed forever.
2006
If 2005 was the year that sealed my hate for the men of Troy on the field, 2006 was the year that sealed my hate for the majority of their fans.
In a stadium best described by my sister as "it looks like Roland McDonald threw up everywhere in here", I witnessed what happens when you have fans in a pro-league city devoid of pro football and have those folks attach their focus to their local college team. Yes, I know this isn't every SC fan, and it still pales in comparison to what I've seen in Ann Arbor and East Lansing, but, holy crap, was I in a section of awful.
Biggest memory from this game: a guy admonishing a group of ND fans for dropping a celebratory f-bomb to themselves within ear-shot of his child…only to turn around to a completely different ND fan and unleash a string of four letter words that would make a sailor blush.
Oh, and ND lost again. I was 0-4 against SC as a student.
2007
Best part of this game were ND's throwback uniforms. Everything else about this game needed to be thrown back into the garbage.
I was so mad about this blowout that I didn't even care to drink the booze that we snuck in.
2008
2009
Want to know what's worse than watching your team lose their eighth straight against their biggest rival? Watching Duval Karmara slipping out of his break thanks to Weis' tall grass gimmick on what could have been a game-tying TD in the game's final second. Oh, and that was after it looked like Kyle Rudolph came down with a TD the play prior and SC rushed the field thinking they had won.
It was all literally set up to avenge, in storybook fashion, 2005. Instead, Jimmy Clausen watched his pass on a timing route fall harmlessly in the endzone.
And then there was this after the game:
RT @LAMase: #USC Coach Carroll press conf: "It was nice to beat Notre Dame twice."

— Paul Epps (@paulepps) October 20, 2009
Fuck you forever, Poodle.
2010
A young man named Thomas Rees saved us from the ninth circle of hell as the BK first season of the BK era ended in the most glorious way it possibly could have after such a rough start. Allow me to let puppets relive this magical moment:
And yes, Robert Hughes shouldn't be forgotten in this one. In fact, just watch the final drive and smile:
This was my first taste of victory over SC as an Irish fan. How do you know when you really hate a team? When your somewhat decent team rises to 7-5 to bring down your somewhat decent rivals down to 7-5 and it makes a crappy season simply glorious.
…fast forward to 2017
So here we are: #13 Notre Dame vs. #11 Southern Cal. While I've finally been able to watch the Irish beat SC multiple times in the same decade, including one that concluded a 12-0 season, there's still one thing missing: beating a ranked Trojan team (sidenote: SC hasn't beaten a ranked ND team since 2009, Pete Carroll's last season).
The last time the Irish accomplished that feat was 1995. I was ten years old. It's been over 20 years since the Irish were able to kick SC down the rankings. Should the Irish pull it off, they will launch into the top ten off the backs of their bitter rivals.
And I want nothing more than to have that feeling of satisfaction over those bastards.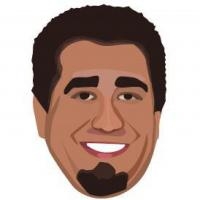 Latest posts by Ryan Ritter
(see all)