I don't know about y'all, but I had one hell of a week. I must say that I really need a bit more levity in my life and recording this episode with Shane and Eddie was just what the doctor ordered.
We talk about those other Tuesday night results–you know, the college football playoff rankings–and take a hard turn into as many of the fun and hilarious stories that we could find in the world of college football.
But what to do about a bad Notre Dame football team playing a not very exciting game? Well, the preview is largely tossed to the side to discuss a couple storylines heading into the game as well as our feelings on the Shamrock Series, uniforms and all.
And while there may not be a whole lot of interesting games to pick with Eddie this week, if blowouts and shootouts are your thing, we got you covered.
Come get ready for the weekend with us and let's have some fun.
The Roundup
There was one really not fun headline we had to cover. No it wasn't Baylor either. Kent State enters the picture with a case of felony kidnapping. Yeah…
ROUNDUP INCEPTION: QB Shoulder Injury edition. Sad news for Aggie fans (hate you so much, 2016 CFB season) as Trevor Knight is out for the season, but could potentially return for a bowl. Josh Rosen got some good news after his surgery as the words "nerve damage" are no longer linked to his throwing arm.
I knew Saban and Alabama were already at another level, but not like this. When you can field a scout team that features former Tide stars that saw time in the NFL, and still find a way to squeeze it in NCAA rules, you're operating in what I call "Cut Play" level (listen to the pod for the backstory to this).
Remember when we talked about Aggie fans destroying opposing helmets? TexAgs had found the Aggie peak: blowing one up with a tank. BONUS: read the comments on that link as TexAgs may have faked a moon landing here.
This is the best field storming story ever. Charging the field solo, getting banned from your own student section, having your dad buy you a ticket to the next game, channeling your inner Bobby Valentine–this story has it all.
Eddie had one of the best weeks of picks ever. Let's see how we follow that up.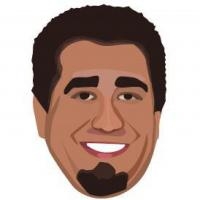 Latest posts by Ryan Ritter
(see all)